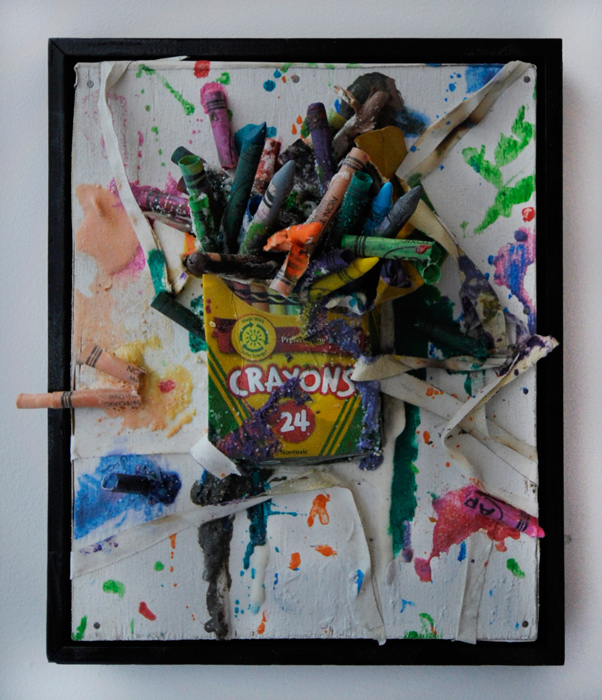 7 September-5 October 2013
Greg Haberny: "Burn All Crayons"
In a nutshell, "Burn All Crayons" is the artist's first-hand account of the over medication of our youth. Drawing upon his childhood experiences with dyslexia and ADHD, "Burn All Crayons" exemplifies and amplifies Haberny's concerns about society's preoccupation and over-zealous practice of prescribing pills as the panacea. "Burn All Crayons" is an unapologetic assault on the educational, medical and pharmaceutical industries. It grapples with how these industries inundate us with their advertising and marketing and 'quick-fix' prescriptions to feed their billion dollar empires.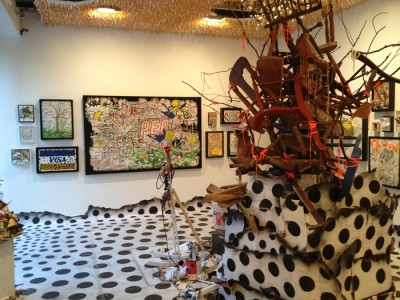 Haberny continues to utilize his no holds barred sensory over-loaded installation schema to convey a very personal, truthful and sometimes painful glimpse into his personal struggles. "Burn All Crayons" epitomizes the diagnostic impact of his own childhood and conveys a thought provoking dialogue that has a profoundly comedic overture bordering the absurd. Haberny states, "All through my formative years I was either misdiagnosed by doctors and/or dismissed by my teachers. They [the teachers] had no idea what to do with me… I was often told to just go draw." Although this apathetic practice worked well for Greg's artistic journey, there are millions of people who have not been so lucky.
Greg Haberny's installations have been exhibited at international art fairs in New York, The Hamptons (New York), Basel, Miami, Dallas, and Toronto, as well as in gallery shows in New York, Chicago, London, Berlin, Cologne, Dusseldorf, and Tokyo. He has also exhibited in museums and institutions in New York and North Carolina. His work has been reviewed by publications including Artforum, Artnet, Nylon, Juxtapoz, The Miami New Times, and Whitehot, among others. Greg Haberny lives and works in New York City.
(adapted from the gallery's press materials)
---
INFORMATION
Lyons Wier Gallery
542 West 24th Street
New York, New York 10011 USA
(212) 242-6220
Hours:
Tuesday-Saturday, 11AM-6PM or by appointment
Image (top):
Burn All Crayons
by Greg Haberny
11″x9″
mixed media
2013
Courtesy of Lyons Wier Gallery, New York
Image (centre):
Installation View: "Burn All Crayons"
by Greg Haberny
mixed media
Courtesy of Lyons Wier Gallery, New York