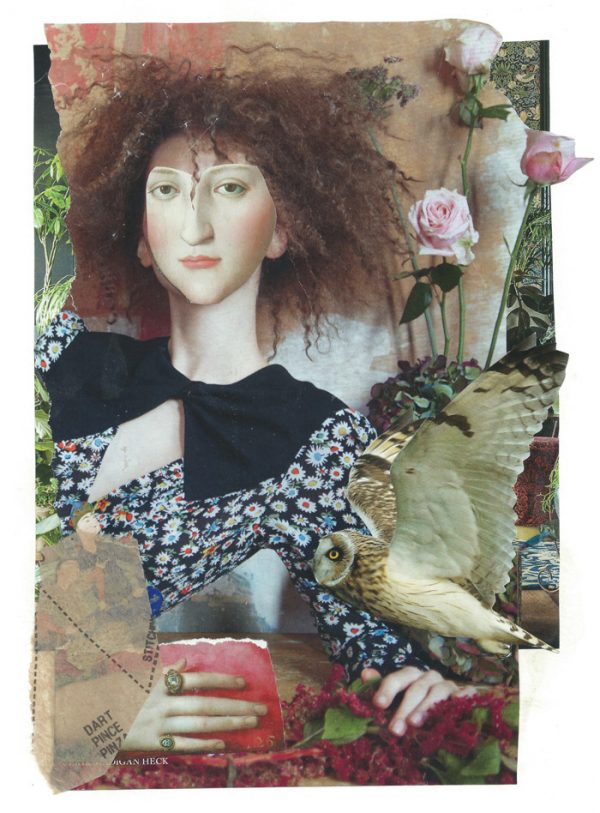 COLLAGE ON VIEW
Constellation
at LHQ Gallery in Cork, Ireland
10 March-31 December 2021
Online only: View the exhibition HERE
For its first virtual exhibition of 2021, LHQ Gallery presents "Constellation", an exhibition by artists Carol Reid White and Amna Walayat. Reid White incorporates collage methods, while Walayat uses the traditional and neo-miniature painting technique in her work.
Through their work, the Cork-based artists both explore and interrogate history and its related iconography, allegories and metaphors through fragmentation and re-contextualising. The artists then create new constellations through painting and collage. These images, layered with historical connotation in eastern and western subjects, articulate new meanings and generate a fresh dialogue with its viewer to recall their own personal experiences and knowledge of history. The artworks create a visual tension between naïve images which are loaded with critical, ironic, social and political commentaries on history.
Reid White explains her fascination with collage over several decades: "Collage is a scavenger's medium. It provokes. Collage can have political messages or allow experimentation with digital media. Found paper, found objects, fabric or vintage ephemera can exist beside art history or yesterday's news. Paper and glue. Never be deceived by simple materials. The world can be torn open on a page."
Learn more about Carol Reid White on the Kolaj Magazine Artist Directory HERE.
(text adapted from material provided by the gallery and the artists)
---
INFORMATION
LHQ Gallery
Cork County Library and Arts Services
County Library Building
Carrigrohane Road
Cork T12 K335, Ireland
+353 21 4546499
Hours:
This exhibition is only viewable online: WEBSITE