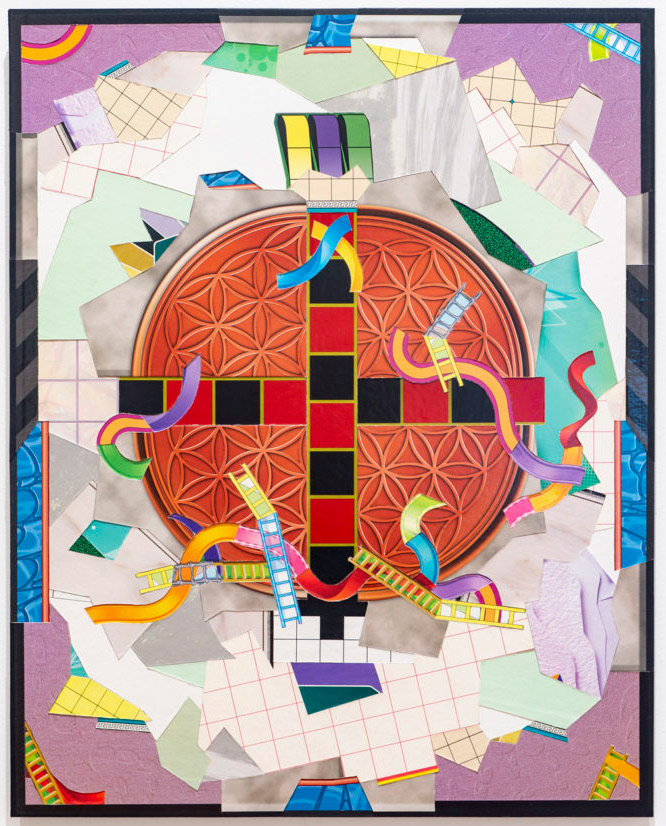 Brent Birnbaum: New Work
at Epsilon Spires in Brattleboro, Vermont, USA
18 September-6 November 2020
Brent Birnbaum's latest series of assemblages is composed of board games that the artist systematically deconstructed into hundreds of smaller "spaces" that he then recombined in collage. He began by cutting the pathways and territories out from existing games to break the set logic of the boards and then created the final compositions through a combination of chance and intervention by dropping the pieces from a great height and then adjusting them slightly by hand to achieve a final harmony.
The resulting images pop. The vivid colors and textures of the original boards invite the familiar excitement of gameplay from memory while chutes, ladders, and checkered blocks lay out strange circuitous passages with unclear arrivals. Table games often hold a miniature mirror to the processes of life. Since ancient times people have invented board games and learned to inhabit their small worlds of rules to find loss, gain, and sudden twists of fate unfold before them.
In his artist statement, Birnbaum asks, "What has your path in life looked like? How much control did you have despite your environment?" By opening the closed systems of found games to reconfiguration by chance the artist sets a tension between predetermined systems and outcomes with an existential edge.
Brent Birnbaum holds an MFA and BFA from the School of Visual Arts in New York City.
(text adapted from the gallery's press materials)
---
INFORMATION
Epsilon Spires
190 Main Street
Brattleboro, Vermont 05301 USA
CONTACT
Hours:
Socially-Distanced Opening: Friday, 18 September, 4PM
other times by appointment only