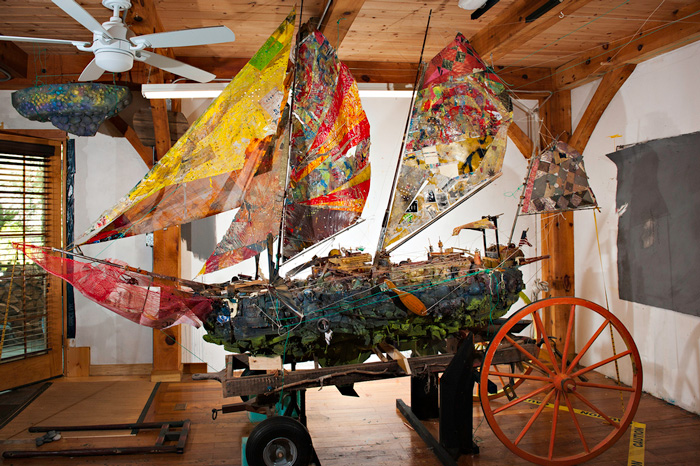 William Hemmerdinger: The Duxbury Merchant
7 July-28 August 2016
Using a wide variety of historical, painterly, photographic and even whimsical styles to express particular world-views, The Duxbury Merchant offers a highly personalized visual narrative on topics ranging from family, history, and friendship to the connection to nature, to protecting personal space, and to belonging.
The Duxbury Merchant is a monumentally-scaled modernist sculpture in the shape of a ship model, telling a sweeping story, both a personal and family history. The work is made up of over 100,000 small components, collected by the artist from a wide range of sources worldwide. Initially, observers will note the artist's references to his own life, but then there are clearly narratives about a broader history that we all share–the story of our founding immigrants and seagoing merchants from the 17th century, and the legacy they have left.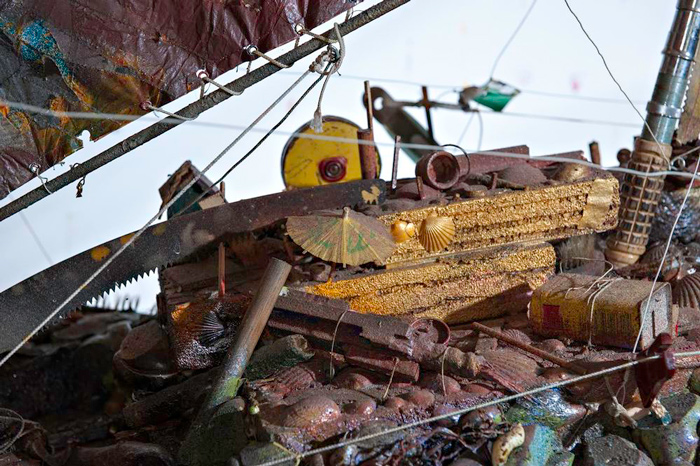 This will be the first-ever installation of The Duxbury Merchant, a decades-long personal and passionate project for the artist.
William Hemmerdinger is a Cape-Cod-based artist who is internationally recognized for both his art production and his art writing. A painter, sculptor, and printmaker, he has works in the permanent collections of many public and private institutions, including the Museum of Contemporary Art, Los Angeles, the Whitney Museum of American Art, the Getty Research Institute, and the National Library of Canada, Ottawa. A Los Angeles Times review has called him "a serious modern painter building upon and expanding a vocabulary of abstract imagery begun in the 1970s."
(text adapted from the artist's press materials)
---
INFORMATION
Cape Cod Museum of Art
60 Hope Lane
Dennis, Massachusetts 02638 USA
(508) 385-4477
Hours:
Tuesday-Saturday, 10AM-5PM
Sunday, Noon-5PM
Image:
The Duxbury Merchant
by William Hemmerdinger
156″x108″x54″
assemblage
2004-2014