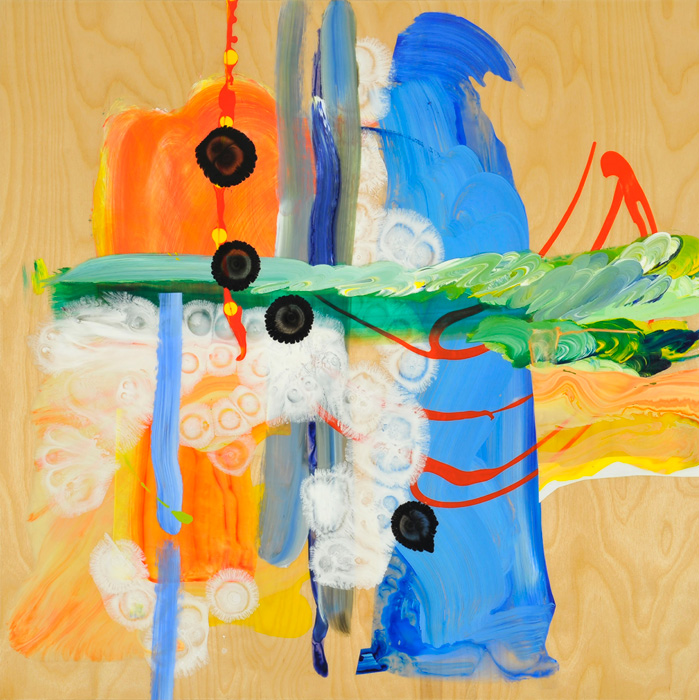 1 April-25 May 2014
Mary Zeran: "All Things Beautiful"
Mary Zeran creates abstract collage bursting with joyous colour and layered abstract forms. She paints on acetate, cut out shapes, and arranges them on a painted surface. This spontaneous and collaborative process gives her the chance to be responsive to the cutting and gluing. She has been creating mixed media collage and assemblage for over 20 years.
Every day, Zeran seals the current piece in a layer of glaze. She fixes the image in time, one layer after another. Her process repeats itself. It is cumulative.
Mary Zeran's life, like her artwork, is a story of always coming back, spurts of moving out and then returning to the source, a circular migration pattern. Each time she returns to Iowa, Zeran is reminded of the fertility of the land. Although, she has lived in many cities, Iowa is the land of her heart. It is a soothing landscape of undulating hills, large puffed clouds, fields of one colour, and the Mississippi River. Stepping back and take the long view, the aesthetic is minimal, but up close it is an active abstract filled with millions of living organisms and small worlds surviving together within the larger whole.
Zeran holds a bachelor's degree and a Master of Fine Arts degree in metalworking, drawing and sculpture from the University of Iowa in Iowa City. Her work has been exhibited both nationally and internationally, including solo exhibits at Cornell College, the University of Iowa Hospitals, and in the Public Safety Building Plaza in Seattle. In addition to her solo exhibits, Zeran has been invited to display her work in group exhibits, including a 2011 exhibit titled "What to Dip" at Chiang Mai University, Thailand; a 2013 exhibit titled "Contemporary Expressionism-The Creative Spirit" in San Diego; and several others across the United States.
(adapted from the college's and the artist's press materials)
---
INFORMATION
Luther College
Centre for Faith and Life (upper balcony level)
700 College Drive
Decorah, Iowa 52101 USA
(583) 387-2000
Hours:
Daily, during regular building hours
Image:
Ice Crystals and Hope for Snow
by Mary Zeran
40″x40″x2″
acrylic and Dura-Lar on cradled panel
2013
Courtesy of the artist