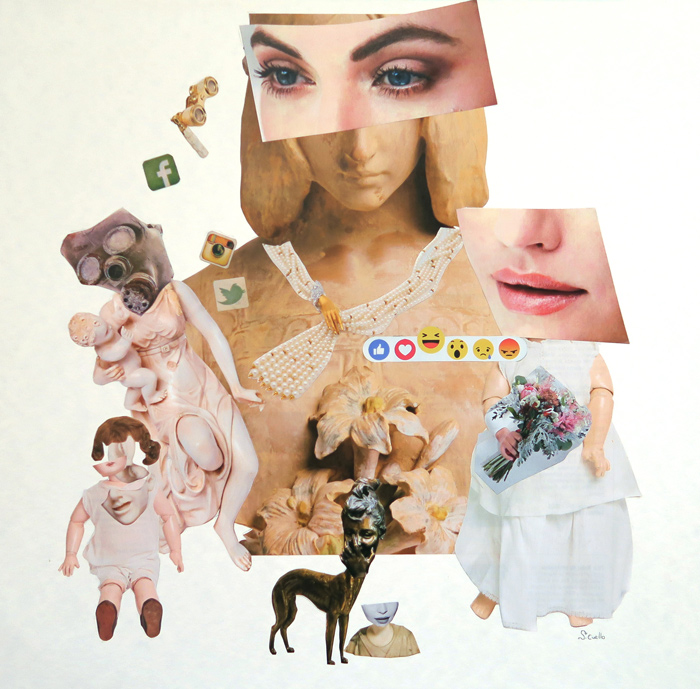 COLLAGE ON VIEW
Mujeres Tijera
at the Centro de la Cultura Plurinacional in Santa Cruz, Bolivia
13 March-18 May 2019
Mujeres Tijera (Scissors Women) is the first group of visual artists in Bolivia focused on the use of collage. Founded by Alejandra Dorado, Erika Ewel, Antagónica Furry and Silvia Cuello, with this exhibition, the group presents its feminine and sharp proposal for the first time.
The idea of forming the group came about as a result of an article about collage in Bolivia by Silvia Cuello that appeared in Kolaj #24. Cuello, a Spanish collagist, interviewed the three Bolivian artists who would later form the collective with her.
Collage is an artistic language based on the appropriation, decontextualization and resignification of other people's images, what makes of it an unparalleled tool for the deconstruction and questioning of the representational fictions that surround us.
Mujeres Tijera aspires to be a sample of the quality of contemporary art made by women in Bolivia and to contribute to the birth of a strong collage movement at a national level.
(text adapted from the organizer's press materials)
---
INFORMATION
Centro de la Cultura Plurinacional
René Moreno 369
Santa Cruz, Bolivia
Hours:
Monday-Saturday, 9AM-Noon & 4-8PM
Image:
Redes
by Silvia Cuello
14.6″x15.75″
collage
2018
Courtesy of the artist