FROM KOLAJ #24
How Collage Fares in Latin America's Landlocked Nation
"Bolivia is a fascinating and seductive country, still in the process of catching up with the standards of modern society. That's why I enjoy living here so much, because globalization hasn't contaminated completely everything and local traditions are still powerful." In Kolaj #24, Silvia Cuello offers a report on how collage is received in the landlocked Latin American country of Bolivia. "From the perspective of contemporary visual art, though, the Bolivian attachment to tradition has been a barrier to accept new genres, making it rare to find a collage exhibition." Cuello reports on fellow collage artists Antagónica Furry, Erika Ewel, and Alejandra Dorado.
This article appeared in Kolaj #24. To see the entire issue, SUBSCRIBE to Kolaj Magazine or Get a Copy of the Issue.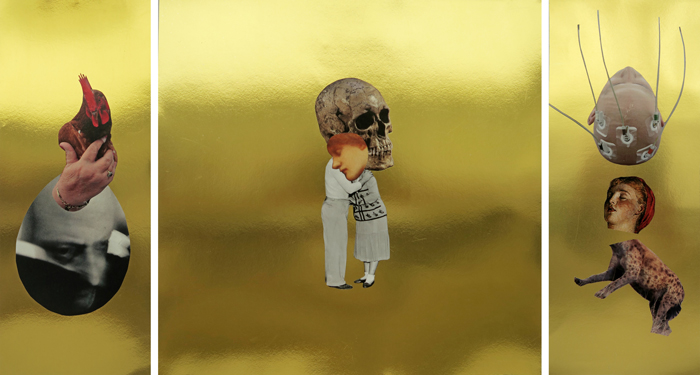 Originally from Spain, Silvia Cuello lives and works in Cochabamba, Bolivia. She studied Fine Arts at the University of Barcelona. Her works have been showcased in Spain, the United States, and Bolivia. She has also been featured on Bolivian radio, television, newspapers and magazines talking about her work. Visit her Kolaj Magazine Artist Directory page to learn more or go to www.silviacuello.com.
Images:
Top (left to right)
Drinking Life in Lotus by Antagónica Furry
Courtesy of the artist
From the "Wallpaper Series" by Erika Ewel
(48"x24"; collage, ink, watercolour and pastel on cardboard; 2015). Courtesy of the artist.
image by Alejandra Dorado
Centre:
Triptych by Silvia Cuello
((l to r) 13.8″x5.5″, 13.8″x13.8″, 13.8″x5.5″; collage; 2017)
Courtesy of the artist