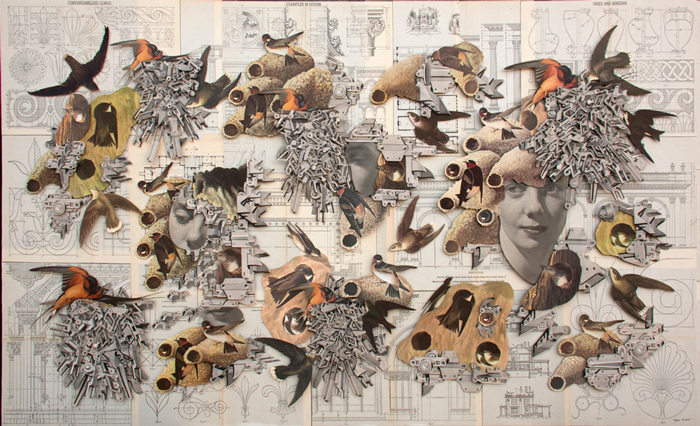 COLLAGE ON VIEW
Fragmented Memories: Lizzie Gill & Hope Kroll
at Hashimoto Contemporary in San Francisco, California, USA
2-23 March 2019
"Fragmented Memories" is a two artist exhibition by Brooklyn, New York-based artist Lizzie Gill and Northern California based artist Hope Kroll, curated by Jennifer Rizzo.
These two artists with distinct approaches to collage were brought together to consider not only the varying techniques utilized within the medium, but also overlapping themes. The contemplation of memory, the past and the incorporation of vintage ephemera create unifying themes in Gill's and Kroll's work, calling to question how we recall the past, as well as the ability to create something new, transforming our own sense of memories.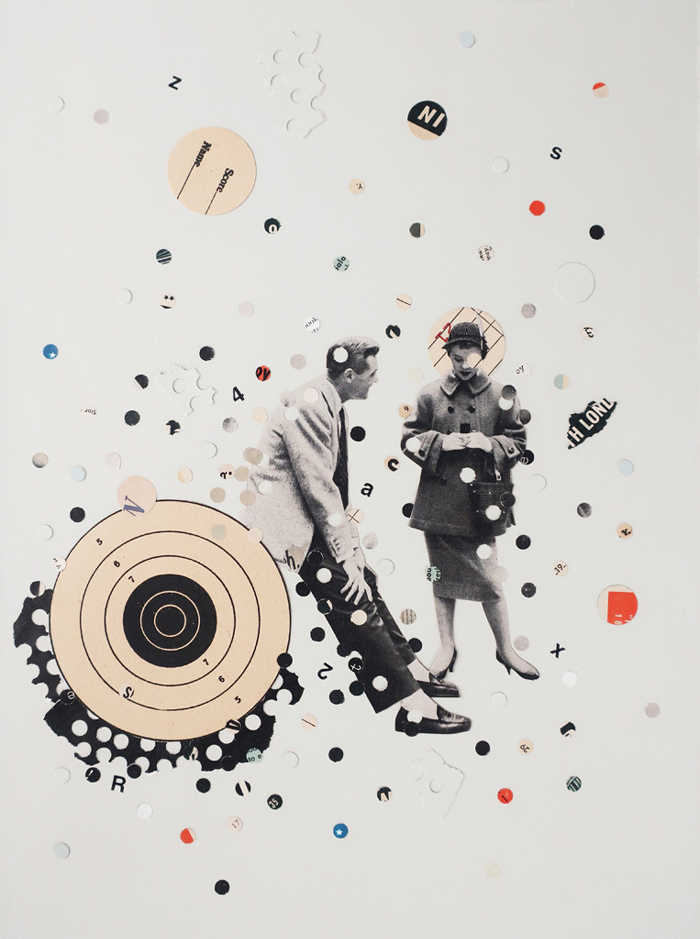 Lizzie Gill explores concepts of romance and its evolution over time, particularly through the digitized era. For the exhibition, Gill has also created a series of nine new cut paper collages, addressing issues of modern day dating and romantic pursuits through their cunning titles. Casting a nostalgic and clever lens on classic 1950's Americana, Gill's minimal and restrained mixed media works serve to point out that memories are often constructed in hindsight. Details are forgotten, hyper focused or altered and as a result, a memory is often just a fragment of what may have actually occurred. Memories, and the materials we utilize as reminders (photography, writing, etc.) can also be digitally and figuratively altered, leading to a story rather than a concrete definition.
Hope Kroll combines elements of collage with the three dimensionality of assemblage, creating collage work that is saturated with movement, energy and detail. Utilizing antique hand cut paper and photographs,
these complex works focus on the materials and their own unique histories, deconstructing and reconstructing the materials before re-contextualizing them. For the exhibition, Kroll used a recurring portrait of a woman referred to as Kay, which the artist collected over the years. Juxtaposed with a variety of animals, mechanical parts and equipment, the artist asks the viewer to question who this woman was, and beyond that, what are the types of things we project onto others? What is fact vs story? Kroll's fantastical works create beautifully condensed portraits of the many magical stories of Kay.
---
INFORMATION
Hashimoto Contemporary
804 Sutter Street
San Francisco, California 94109 USA
(219) 874-4900
Hours:
Tuesday-Saturday, 10AM-6PM
Images: top to bottom
Homebound by Hope Kroll
But It Says (Active 2 hrs Ago) by Lizzie Gill