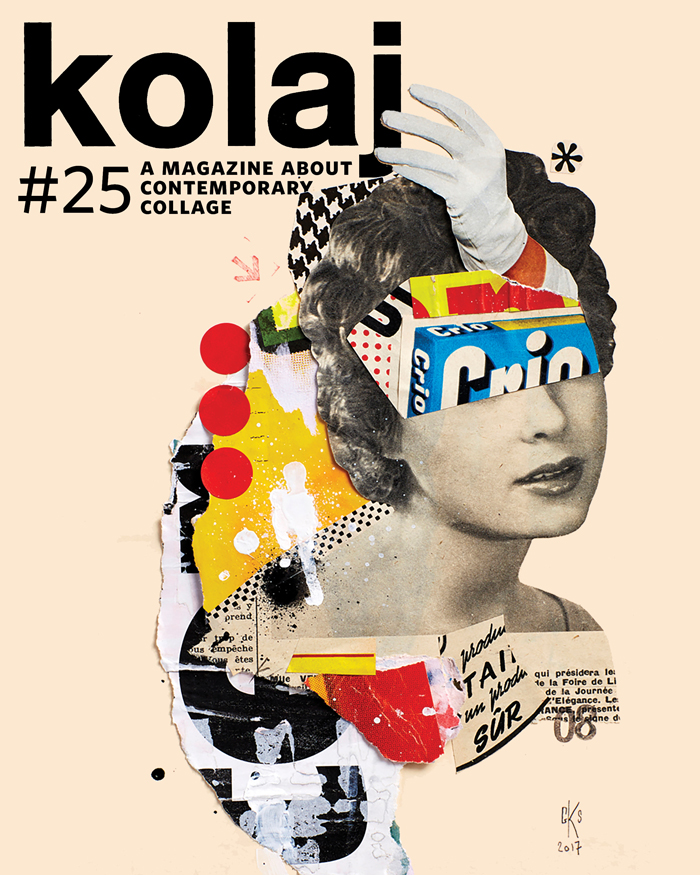 In this Issue
Kolaj Magazine exists to show how the world of collage is rich, layered, and thick with complexity. By remixing history and culture, collage artists forge new thinking. To understand collage is to reshape one's thinking of art history and redefine the canon of visual culture that informs the present.
A collage by Lille, France artist Arnaud Sagnier is on the cover of the issue. He writes, "Using advertising codes, I compose, I play with shapes, colours, typos. I create, from posters, clippings, a pop and rhythmic visual for a harmonious, original and surprising graphic rendering." An artist portfolio of Sagnier's work is in the issue, along with artists from Sydney, Australia; Lisbon, Portugal; London, United Kingdom; and Gouda, The Netherlands.
In the essay "The Medium, the Message, & World Collage Day," Ric Kasini Kadour reflects on World Collage Day, May 11, 2019.
"We make art, in part, for ourselves. And we make art because we want to make a connection with the world around us. We do it because we have an idea that we want to be seen and heard….World Collage Day is an opportunity to just that."
We share what Bonnie Denver Ruttan learned from her year of daily collage making.
Diana Thompson Vincelli investigates the terrain of Chuck Scalin and discovers his "Unnoticed Urban Elements."
The world is not composed of pastoral utopias and beautiful people, it also contains the mundane street junk that surrounds us, unnoticed, forgotten, discarded.
In "Speak & Be True", Ric Kasini Kadour reviews Mary Schmidt Campbell's new book about Romare Bearden.
In the first person essay, "The Catharsis of Collage", Ben DiNino recalls how he found peace when he collaged his grandfather's paint-by-number paintings.
Matthew Rose reflects on the place of Czech collagist Jirí Kolár in art history in "Controlled Madness".
Plunge through the intellectual morass and confusion of his lifetime with just a simple tool—a sharp knife—to produce works that attempt to seize the mind and liberate the soul.
In our round of News & Notes from the world of collage, we report on a new book from The Flying Glue Project. An important exhibition of collage is on view through August 2019 at the Mint Museum in Charlotte, North Carolina. Academics from the University of Edinburgh are spearheading a Collage Research Network. And the Belgian collage collective, Coupee, is looking for artists for their World Collage Atlas project.
Special Series
In this and future issues of Kolaj Magazine, Todd Bartel explores the idea of "Uncollage" and its implications for how we see art history. "Uncollage: An Introduction" introduces the basic idea of the concept. And in "A New Word for a Particular Set of Collage-Based Operations Defining Uncollage" he looks at the work of Giuseppe Arcimboldo, Thomas Eakins, Cornelis Norbertus Gysbrechts, and Mark Tansey.
The issue's Cut-out Page comes from The Mystic Krewe of Scissors and Glue also known as the New Orleans Collage Meet-Up.
And as always, a Kolaj Artist Directory & Collage Books.
Already subscribed? Don't worry, you will be receiving your copy by 15 March 2018.
SUBSCRIBE OR ORDER A COPY

(US dollars)

(Canadian dollars)