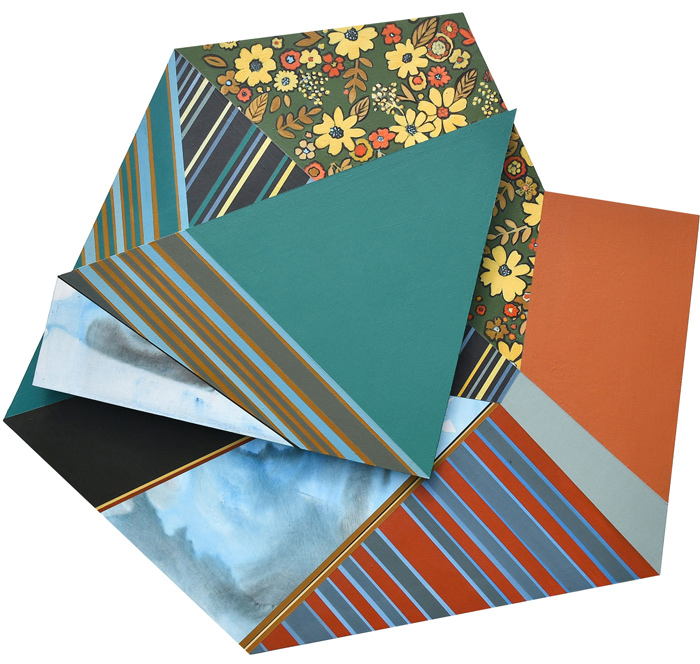 COLLAGE ON VIEW
Nichole Gronvold Roller: Shape Maker
at BoxHeart Gallery in Pittsburgh, Pennsylvania, USA
10 August-16 September 2022
How do we see? What does it mean to examine our surroundings with a fresh vision? Images may become mundane with the familiarity of repetition, resulting in a neglected or unnoticed importance and significance.
Nichole Gronvold Roller constructs imaginary spaces. As a means to organize the sensations of both actual and emotional interpretation of place, Gronvold Roller's paintings are representational of her thoughts and describe the vivid energy of her invented worlds. She explores structures and systems in chaos. Her paintings manipulate the rules of perspective by twisting and distorting the invented spaces she creates, resulting in new discoveries of place and space. The process of looking and experiencing her surroundings is an essential element for Gronvold Roller's art-making method. Her paintings are built upon a catalog of daily experiences within a framework of looking up, down, and through. Gronvold Roller's world is contradictory to its vastness of space and smallness of being overlooked.
She experiments with a variety of materials and processes while painting to aid in her portrayal of active movement. Gronvold Roller's attention to text and image has evolved through the influence of map making, autobiographical automatism, journaling, and research. She often works with shaped canvases to further emphasize active movement in her paintings. When combined with her use of vortices, fragmentation of planes, and energy pathways, space is energized. She finds it liberating to move beyond the rectangular or square format of a traditional canvas. The design of her shaped canvases informs her painting process–a response to the outer edge and shape of her painting surface.
In Gronvold Roller's recent geometric abstractions, she depicts both tangible and visual interpretations of her daily viewings. Even though her art is devoid of the figure, she often thinks of people being present in the spaces she creates. Humans leave an impression on the landscape through agriculture, urban sprawl, rural development, building roads, erecting signage, bridges, factories, and domestic and public spaces. With human-made structures in harmony or discord to nature, the theme of nature and architecture is a subject she never tires of investigating. She is currently exploring aerial views of cultivated farmland and urban landscapes because of the appealing geometric patterns. Her curiosity about the altered landscape through the conditions of urban and rural planning has shifted her artwork. The overlapping and intersections of these areas are exciting, specifically next to the untamed land.
(text adapted from the gallery's press materials)
---
INFORMATION
BoxHeart Gallery
4523 Liberty Avenue
Pittsburgh, Pennsylvania 15224 USA
(412) 687-8858
Hours:
Wednesday-Thursday, 10AM-6PM
Friday, Noon-4PM
Saturday, Noon-6PM
Sunday, 1-5PM