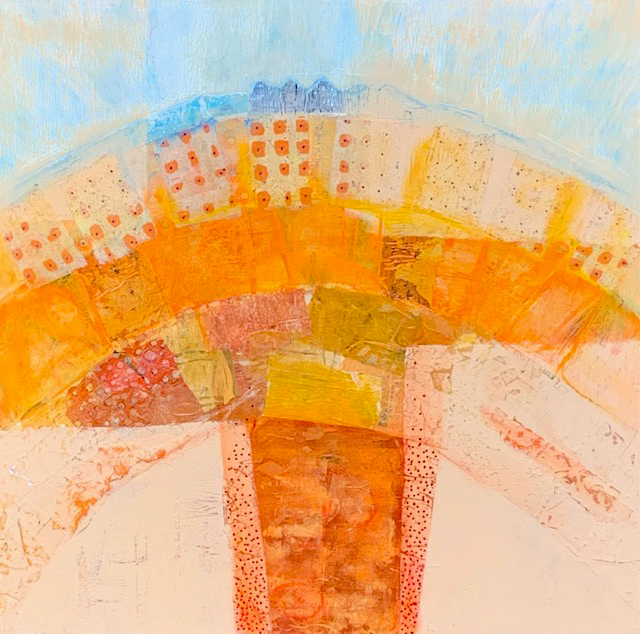 COLLAGE ON VIEW
Peggy Wright: Stratum in Abstraction
at Nevada City Winery in Nevada City, California, USA
3-26 September 2021
Artist Peggy Wright says about her work in this exhibition:
The earth is comprised of four main layers. The crust is the outer layer composed of land and oceans. The mantel is the densest layer with continuous convection currents believed to cause the tectonic plates to move. The outer core is liquid nickel and iron and is responsible for the Earth's magnetic field. The hot and solid inner core is 90% iron and also contains gold, silver, palladium, platinum and tungsten.

Strata are layers of material formed by natural or artificial means.
Layering, as a concept and metaphor for the complexity of our world, attracted me as a broad concept to explore in this body of work.
The list of substances that are formed in layers is long and varied. The earth, oceans, and forests are layered, as are bird feathers, ancient archeological sites and human skin.
When I began to research and examine these subjects in detail, their distinct characteristics were revealed.
Mixed media collage seemed the perfect medium for me to represent these unique characteristics.
(text adapted from the artist's press materials)
---
INFORMATION
Nevada City Winery
321 Spring Street
Nevada City, California 95959 USA
(530) 265-9463
Hours:
Thursday, 2-7PM
Friday-Saturday, Noon-8PM
Sunday, Noon-7PM