COLLAGE ON VIEW
Susan Lerner: Connect-To-Cut: Here, There and Everywhere
at the Woodbury Public Library in Woodbury, Connecticut, USA
2-30 September 2021
Susan Lerner says about her work in this show:
As a collage artist, I am intrigued by the physical and metaphorical connection of the map. How a map both literally and figuratively connects us to a place or a time from the past and brings us to the present. Using vintage imagery in hand-cut collages, I conjure up nostalgia for the county I've considered my second home for the past two decades. In this exhibit, "Connect-To-Cut: Here, There and Everywhere", I explore location and memories, often fictionalized, of now and then.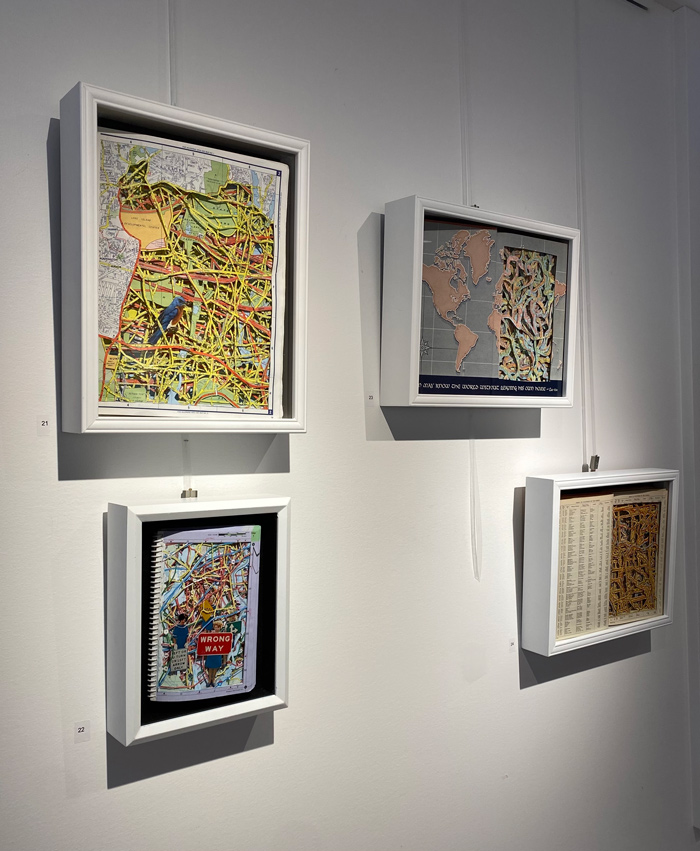 I also introduce excavated books in this exhibition. Where collage is about the addition and flow of imagery, the deconstructed books are a careful dissection and removal of 'land' from the page. Like an archeologist, I track the winding paths of the map's topography gently digging deep into the layers and sediment to unearth what lies beneath.
(text adapted from the artist's press materials)
---
INFORMATION
Woodbury Public Library
269 Main Street South
Woodbury, Connecticut 06798 USA
(203) 263-3502
Hours:
Monday, Wednesday, Friday, Saturday, 9:30AM-4:30PM
Tuesday, Thursday, 9:30AM-8PM