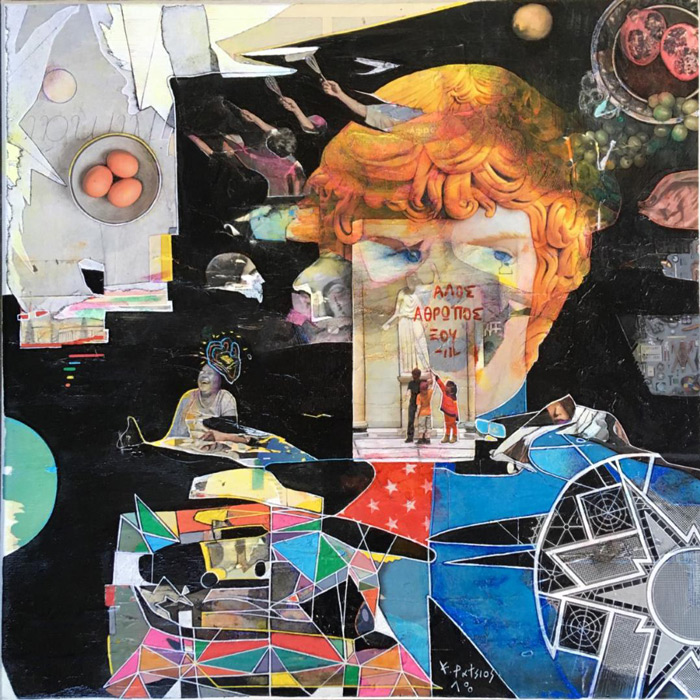 COLLAGE ON VIEW
Konstantine Patsios: The Scrambled Papers Theory
at Alma Contemporary Art Gallery in Athens, Greece
28 March-4 May 2019
Konstantinos Patsios calls his new work "The Scrambled Papers Theory". If the unconscious is structured as a language, the juxtaposition of his "Scrambled Papers" structures a new communication code. The double meaning of the title is also a word game, an indirect reference to the Egg, as the conflation of the material in art with the flavour, and as the archetype of creation and birth. "My artistic work has to do with the creation of another body" the artist says.
"There is a psychoanalytical dimension and an obsession with the automatic writing in the whole of my work. My work has to do with the random. Every little paper fragment of the city walls and every fragment of moments in my own life are transformed into a surrealism that draws its force from the unconscious, adopts its unruly and free structure, expresses desires and fears through the language of the symbols and emerges through the logic of the dream, where everything is possible.
Konstantinos Patsios was born in Athens in 1977. He studied Economics and Law in the University of Pireus and in the Grand école de commerce in Poitiers, France. Later he studied painting at Athens School of Fine Arts with professors G. Psychopaidis and M. Spiliopoulos, sculpture with N. Tranos and then he continued his studies at Rhode Island School of Design, Providence. He has had eight solo exhibitions and has participated in several collective exhibitions in France, Germany, Greece and the United Kingdom.
(text adapted from the gallery's press materials)
---
INFORMATION
Alma Contemporary Art Gallery
Ipsilantou 24, Kolonaki
106 76 Athens, Greece
+30 2114003160
Hours:
Wednesday and Saturday, Noon-4PM
Thursday and Friday, Noon-8PM
Image:
The Scrambled Papers Theory by Konstantine Patsios
(31.5″x31.5″; mixed media on canvas; 2018)
Courtesy of the artist