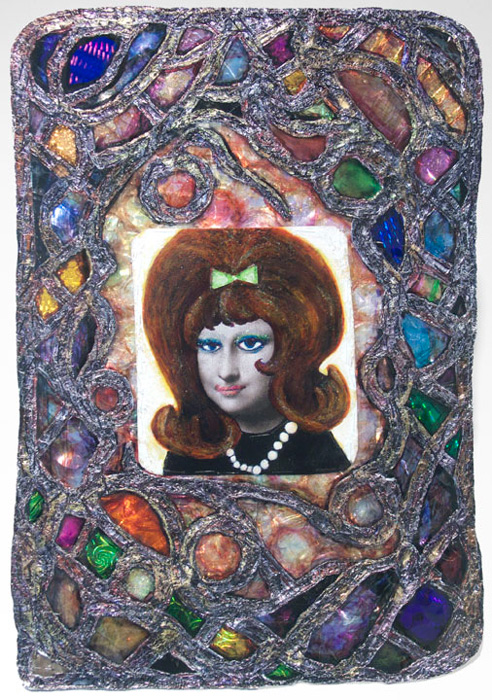 6 June-9 August 2013
"Ecce Homo": celebrating the work of pioneering artist Thomas Lanigan-Schmidt (b. 1948)
The exhibition includes historical precedents, with works by Jack Smith, Florine Stettheimer and icons of the Stonewall rebellion, as well as a second group exhibition featuring eight artists who continued to mine gay aesthetics and sensibility through their use of reflection and refraction, beauty and glamour, and a collective embrace of found materials.
Ecce Homo ("behold the man"): The suffering of Christ evoked by this well-worn phrase is the inspiration for an early work by Thomas Lanigan-Schmidt, and has special resonance within the context of gay experience, particularly in the pre-Stonewall era when gay identity was publicly verboten and often articulated through an intricately coded, subterranean language of love and desire. Since the transformative Stonewall rebellion of 1969, in which a young Lanigan-Schmidt was an active participant, he has evolved a unique visual language that has endured over four decades of artistic practice and influenced subsequent generations of artists. His audacious mixed-media constructions and installations, stapled and taped from all manner of found material and glittering oddments, have given form to his experiences in the New York City environments of the Lower East Side and Hell's Kitchen. He has been a pioneer both in his use of reflective and alternative materials (plastic, Mylar, colored foils, chenille stems, household staples) and in his unique confluence of aesthetics, religious and secular thought. His art celebrates gay sensibility and history not simply through the lens of  homoeroticism, but through the more complex path of materiality and process.
Thomas Lanigan-Schmidt is represented in the collections of the Metropolitan Museum of Art, the Whitney Museum of American Art, and has exhibited extensively throughout the United States and Europe, including the Venice Biennales of 1980 and 1984, the Whitney Biennial of 1991 and the 1999 exhibition "The American Century" at the Whitney Museum. He has been an instructor in the M.F.A. Program of The School of Visual Arts in New York City since the mid-1980s. The artist has also served on the Governing Board of the Skowhegan School of Painting and Sculpture in Skowhegan, Maine since 1992. In June of 2009, Lanigan-Schmidt was honored at the White House by President Obama for his courageous participation in the 1969 Stonewall rebellion. In 2011, he was awarded a prestigious Louis Comfort Tiffany Foundation Biennial Grant and in 2012 was the subject of the critically acclaimed retrospective, "Tender Love Among the Junk", at MoMA P.S.1 curated by Peter Eleey.
The exhibition also includes work by Arch Connelly (1950-1993), Christopher Tanner, Tony Feher, Hunter Reynolds, Oliver Herring, Nayland Blake, Greer Lankton (1958-1996), and Christian Holstad.
(from the gallery's press materials)
---
INFORMATION
Pavel Zoubok Gallery
531 West 26th Street, 2nd Floor
New York, New York 10001 USA
(212) 675-7490
Hours: Tuesday-Saturday, 10AM-6PM
Closed 4-7 July 2013
Summer Hours (starting 8 July 2013): Monday-Friday, 11AM-6PM
Image:
Mona in High School
by Thomas Lanigan-Schmidt
mixed media
2012
Image courtesy of Pavel Zoubok Gallery