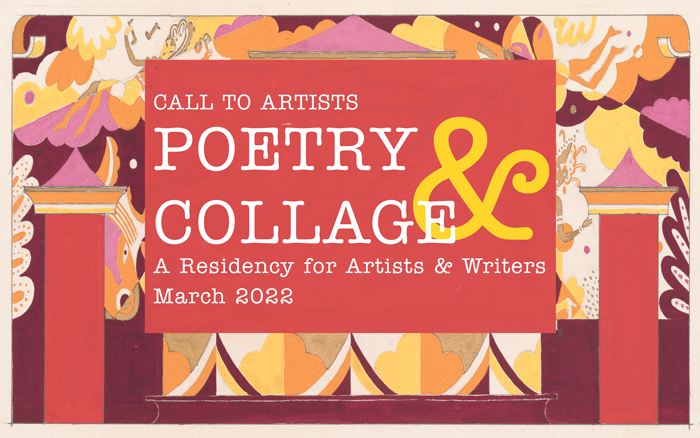 COLLAGE RESIDENCY
Kolaj Institute Announces the Second Round of Artists Selected for the Poetry & Collage Residency
Kolaj Institute is excited to announce the twelve artists selected to participate in the second round of the Poetry & Collage Residency.
It says something that in the Poetry Foundation's Glossary of Poetic Terms, "collage" is one of the few visual art terms they define. Perhaps this is because so many poets have also been collage artists. In recent years, we've seen exhibitions from John Ashbery and Marc Strand, whose collage "dates back to his student days at Yale in the 1950s where he studied with Josef Albers, the renowned Bauhaus artist and color theorist, and also Bernard Chaet." Arthur Solway recalled, "Though we were eight thousand miles apart we would have weekly Skype calls, and he was always eager and excited to show me the latest batch of collages he was working on." A 2017 book of Helen Adam's collages, which fellow poet Robert Duncan referred to as "pleasing weird", has sold out. Keith Waldrop, Barbara Guest, John Wieners, Norma Cole, the list is long.
Participants will work together to investigate the intersection of collage and poetry by exploring concepts of found poetry, blackout poetry, collage poems, haikus, centos, response collages, response poems, word scrambles, concrete poetry, scatter collage poems, and other poems and artwork that inhabit this world. Together we will create working definitions and document techniques.
Guest speakers will share their practice, knowledge and experience. Portland, Oregon-based Kevin Sampsell is an editor, publisher, bookstore employee, collage artist, and author. His forthcoming book of collage art and poems, I Made an Accident, is being published by Clash Books. Renée Reizman is an interdisciplinary curator, artist and writer specializing in social practice and civic engagement. Her workshop, "Deconstructing Legalese", uses found poetry to examine contracts and codes imposed upon us by bureaucratic systems, and reconstructs the language to reclaim our personal histories. Rod T. Boyer creates art and poetry under the moniker our thomas, exploring themes of redemption, mystery, and transformation. In Kolaj #32, his article, "Mind the Gap," explored how collage and haiku share similar mechanisms of juxtaposition and disjunction.
In several virtual meetings over four weeks and through ongoing, online discussion, artists will leave the residency with a deeper understanding of the intersection of collage and poetry. Individual participants will each create multiple page spreads that will be included in a forthcoming book of collage and poetry from Kolaj Institute. The pages may be entirely text, entirely images, or some combination of the two.
---
PARTICIPATING ARTISTS
Adam Farcus is an Urbana, Illinois based activist, artist, curator, feminist, teacher, writer, and burgeoning linguist. Farcus received their M.F.A. in studio art from the University of Illinois at Chicago, B.F.A. in painting and drawing from Illinois State University, and A.A. in fine art from Joliet Junior College. Farcus' creative writing has been published in journals including Rattle and Funny Looking Dog Quarterly; and the 2016 book, MACRO: An Anthology of Image Macros. Their artwork has been exhibited at numerous venues, including the Modern Art Museum of Fort Worth; the American University Museum; and Advance Art Museum, Changsha, China. They have lectured on their work at The School of the Art Institute of Chicago and the Performance Studies International 16 conference, among many others. Farcus is the director of Lease Agreement, a nomadic curatorial project and they are currently an MA candidate in Teaching English as a Second Language at the University of Illinois at Urbana-Champaign where they also teach academic writing for ESL students.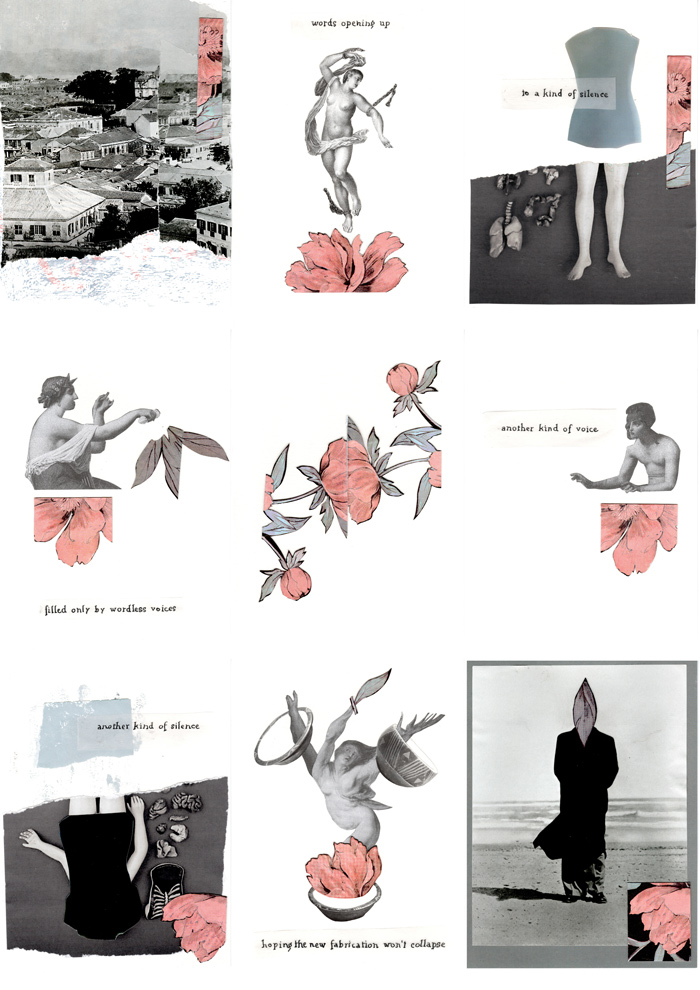 Carolina Martins has worked as a cultural producer in areas such as contemporary dance, literature, performance, visual arts and music. She has degrees in Art Studies and Literary and Cultural Studies (University of Coimbra) and is currently a doctoral candidate in the Advanced Studies Program in Materialities of Literature ( CLP/FLUC – University of Coimbra). Her thesis focuses on the influence of architectural spaces in the construction and reading of graphic narrative installations. She was linked to experimentation and disciplinary interrelation in the digital area and some of her works were present in international art festivals, such as PLUNC 2015 (Lisbon, Portugal), FILE 2017 (São Paulo, Brazil), ELO 2017 (Porto , Portugal) and the FOLIO 2017 (Óbidos, Portugal). More recently, she published the artist book like glass (2019), with João Carola, which evolved to the installation VAST/O (Atelier Concorde, 2019; Banco das Artes Galeria, 2020). In 2021, as part of the Stereo & Immersive Media conference, she worked on the virtual exhibition of the estate of Jorge Marçal da Silva, in collaboration with the Lisbon Municipal Photography Archive. This year (2022), another poem in partnership with João Carola was published in the international anthology of Abstract Comics "Autofagia" (Selo Risco Impresso). She published comics-poem zines, such as This Machine is Obsolete, Paradise, and Square her first solo comic book – Sudden Death Hunters – will be out this May (2022).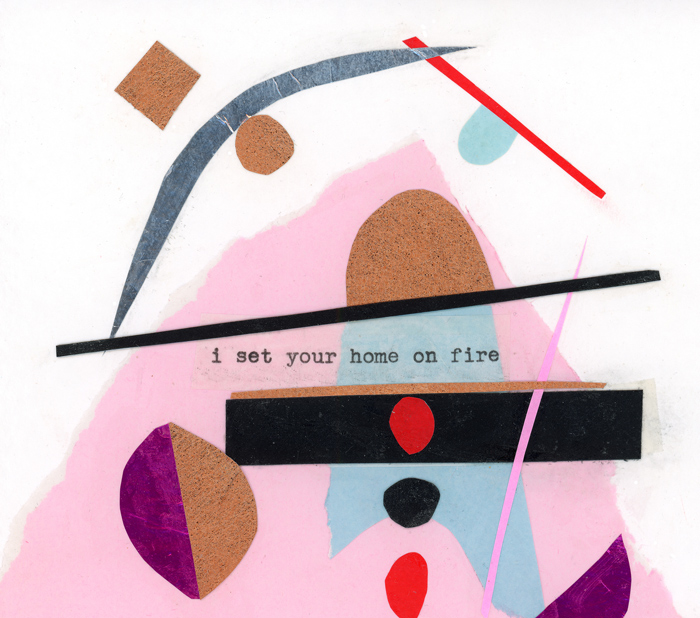 Émilie Karuna is a photographer and collagist residing in Montreal, Canada. Karuna holds a BFA in Film Production from Concordia University. During her studies, she received the Prix René Malo for Outstanding Achievement in Filmmaking. She has also taken numerous classes in photography (including extensive training in darkroom printing), ceramics, and printmaking. Karuna is currently a PhD candidate in Clinical Psychology at Université du Québec à Montréal specializing in the fields of art therapy and cultural psychology. As part of her doctoral research, she facilitates expressive art workshops with immigrants, asylum seekers, and refugee children. She has participated in conferences at the Musée des Beaux-Arts de Montréal and McGill University on the subject of how expressive arts contributes to the mental health and wellbeing of immigrant youth. Her photographic work has been exhibited at the National Film Board of Canada (Montreal), Galérie Pangee (Montreal), and Antigonight Art After Dark Festival (Nova Scotia). She was awarded an honorable mention by the Magenta Foundation for the Flash Forward Emerging Photographers Competition and 2nd prize by Le Mois de la Photo de Montréal in conjunction with the Consulat de France de Montréal for their emerging photographer contest.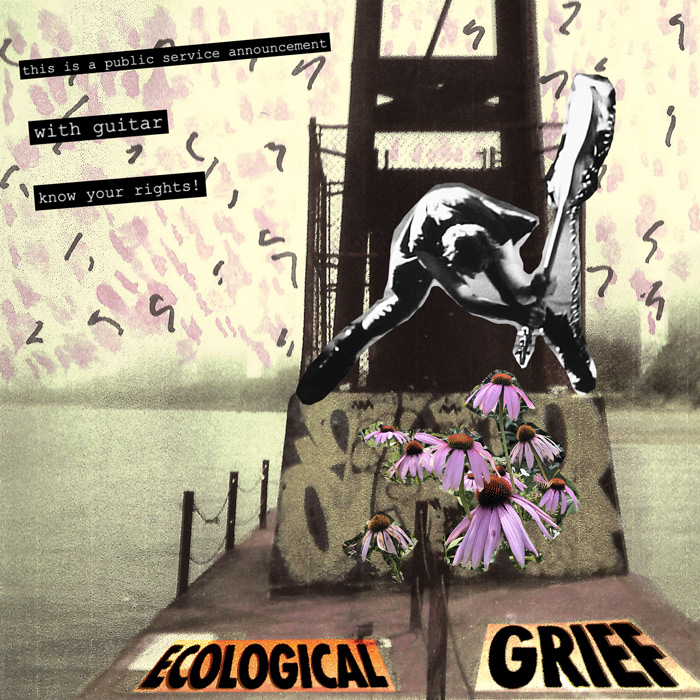 Jenn Arras is a text-based collage and video artist based out of Brooklyn, New York, though she's also spent significant time in Bordeaux, Chicago, Los Angeles, Eugene, Oregon, Minneapolis and living out of a suitcase on tour, all spaces which inform her work. She works between three languages, French, English, German, and punk and queer culture have strong influence on her work. Inspired by DIY aesthetics, her work has been self-published in the Psychosexual Zine and animated into video for online spaces. She currently works in the event production industry and continues her education through graphic design and mixed media courses.
Jessa Dupuis is an emerging collage and mixed media artist living and working in Victoria, British Columbia. Originally trained as a designer and illustrator at MacEwan University, Jessa has spent 16 years dedicated to client-driven design and illustration projects. She has recently shifted her focus to furthering her creative practice in collage and mixed media.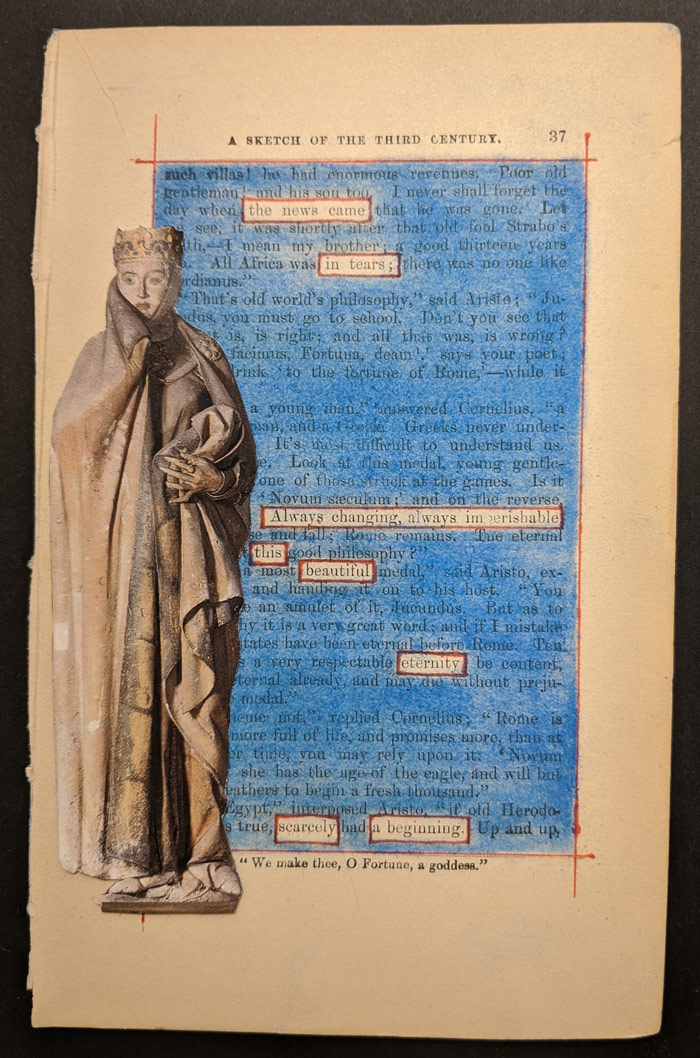 John Rigney is a poet and collage artist, a high school English teacher, and a used bookseller living in Buffalo, New York. Rigney's collage work has appeared in Cut Me Up Magazine (Cover, Spring, 2021) and Contemporary Collage Magazine. His poetry and other writing has appeared in Instagram Poetry For Every Day (Edited by the National Poetry Library, UK), Resist Much, Obey Little, BlazeVox, Dispatches from the Poetry Wars, The Buffalo News and Traffic East Magazine. Rigney has participated in a Poetics roundtable at the University of Buffalo in conjunction with The Annual Robert Creeley Lecture in 2017 and has given a paper at the International Robert Graves Conference in 2000. Some of his collage and poetry can be found on Instagram @postpoetical.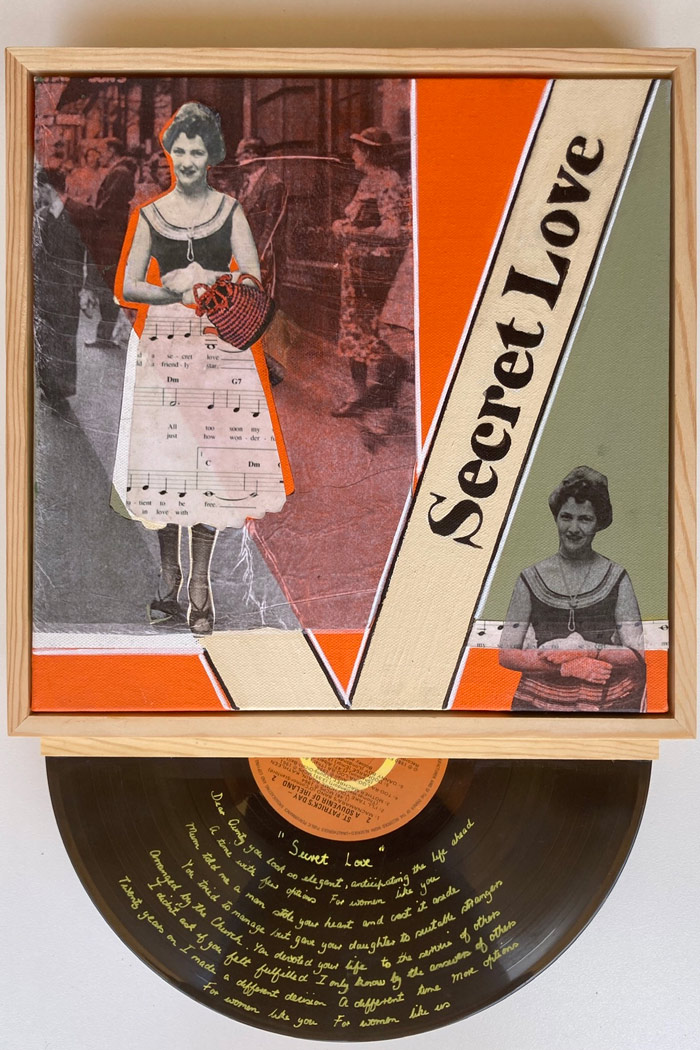 Julie Byers is a multidisciplinary artist born in Sydney, Australia (Gadigal country) to a family of musicians and creatives. Named after jazz crooner Julie London, music and creativity was always going to feature strongly in her life's direction. Her own family experiences and early motherhood and marriage gave Byers a desire to work in the area of community development and social justice. Undertaking a Bachelor of Arts (Welfare Studies) focused on community development kicked off her professional life and a career in social planning, policy, and international development followed. Despite not following art as a career choice she continued to write and perform music, attend art workshops, and incorporate as much creativity into her professional work as possible. Understanding and expressing the human condition was a constant. A few of life's unpredictable twists and turns, including bushfires, COVID-19, and a loved ones cancer diagnosis, gave her the opportunity to follow her artistic path full time in 2020-2021 when Julie completed a Diploma of Visual Arts at the Technical and Further Education College (TAFE) in NSW. Julie has participated in numerous group exhibitions locally and is planning a solo exhibition later in 2022.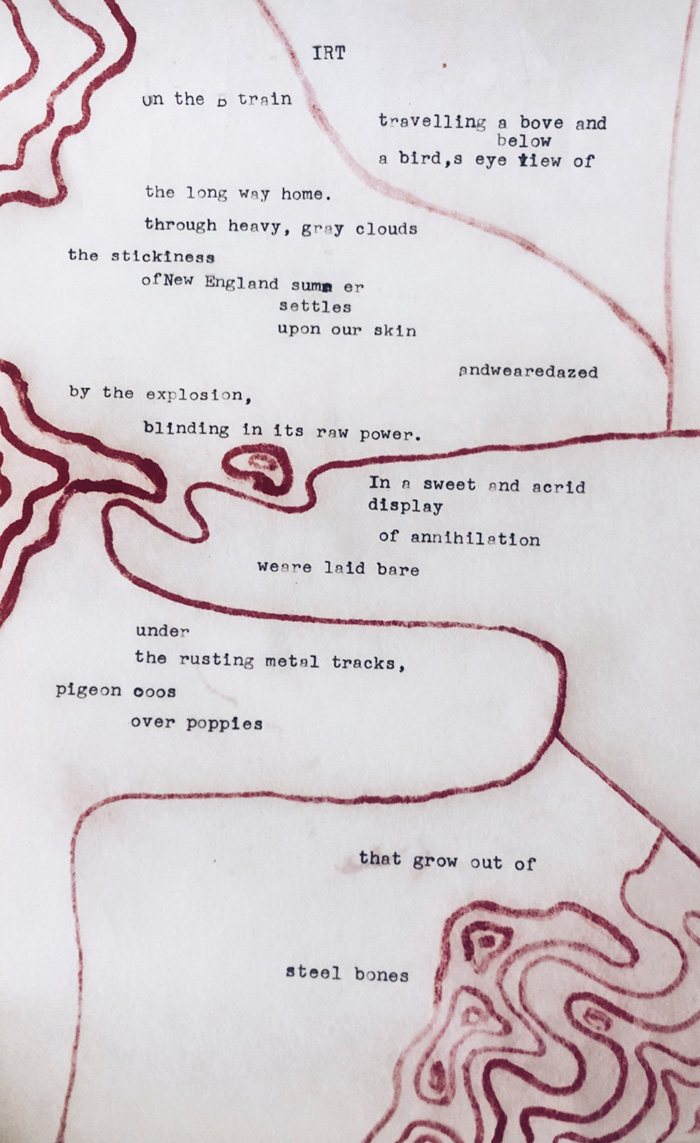 Kait O'Brien is a visual artist based out of Albuquerque, New Mexico. Working in a variety of mediums and modalities, combining encaustic and mixed media with painting, she captures the soft light of the desert and the strange spaces that exist in its wide spaces. Born on the east coast, O'Brien began painting and printing desert scenes long before moving to the Southwest. Before arriving in the desert, she spent two years studying fine art at Pratt Institute in Brooklyn, NY. After finishing her degree in Psychology at CUNY City College, she returned to fine art practice after intentionally moving to New Mexico for this purpose. Currently, O'Brien is exploring the liminal space between dreams and landscape through encaustic painting, print making, poetry, and mixed media. Her interests include maps, textile practices, and pushing the boundaries of encaustic media. She is also a poet, and incorporates the written word into her visual work. O'Brien works to combine disciplines in an approach that blurs the traditional boundaries of visual and language arts.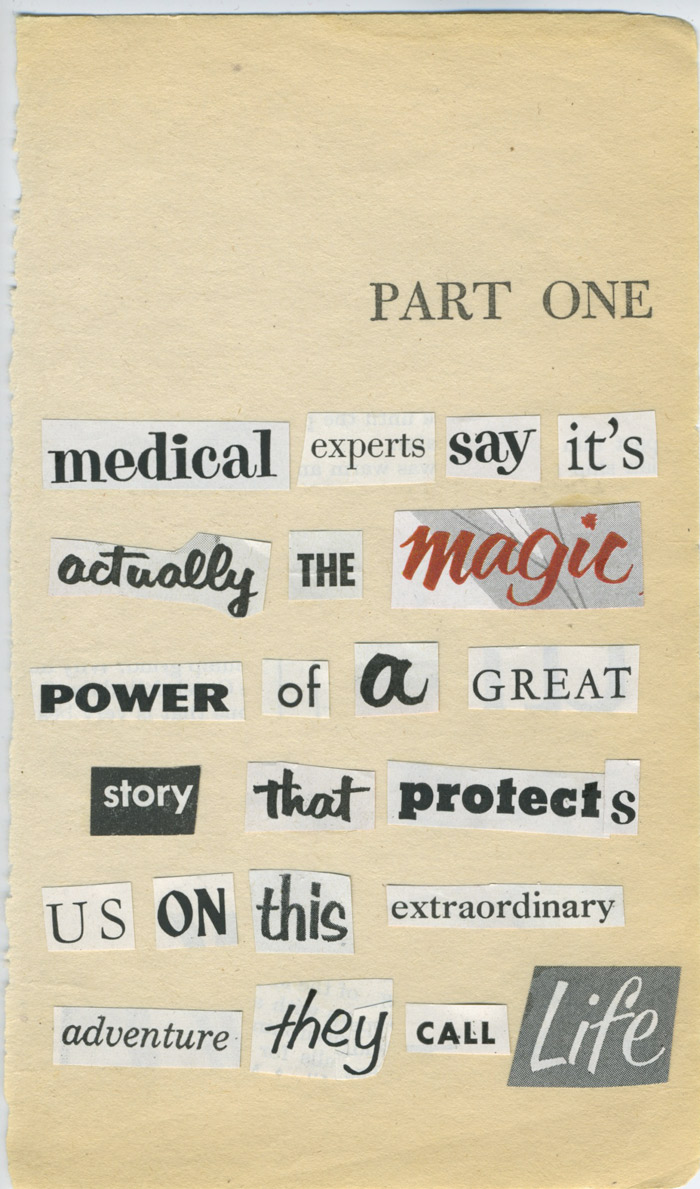 Kerrie More is a school librarian, writer, and emerging artist whose world has been shaped by the power of words for as long as she can remember. As a core contributor to Uppercase Magazine she embraces the opportunity to write about two of her favorite subjects: art and artists. Her collage work focuses primarily on found-poetry allowing her to combine her love of words with a medium she adores, paper! A recent discovery of the vibrant online collage community has inspired her to explore and expand her collage portfolio. When she's not cutting and pasting, she can be found reading a good book or exploring the mountains of Montana through the lens of her camera.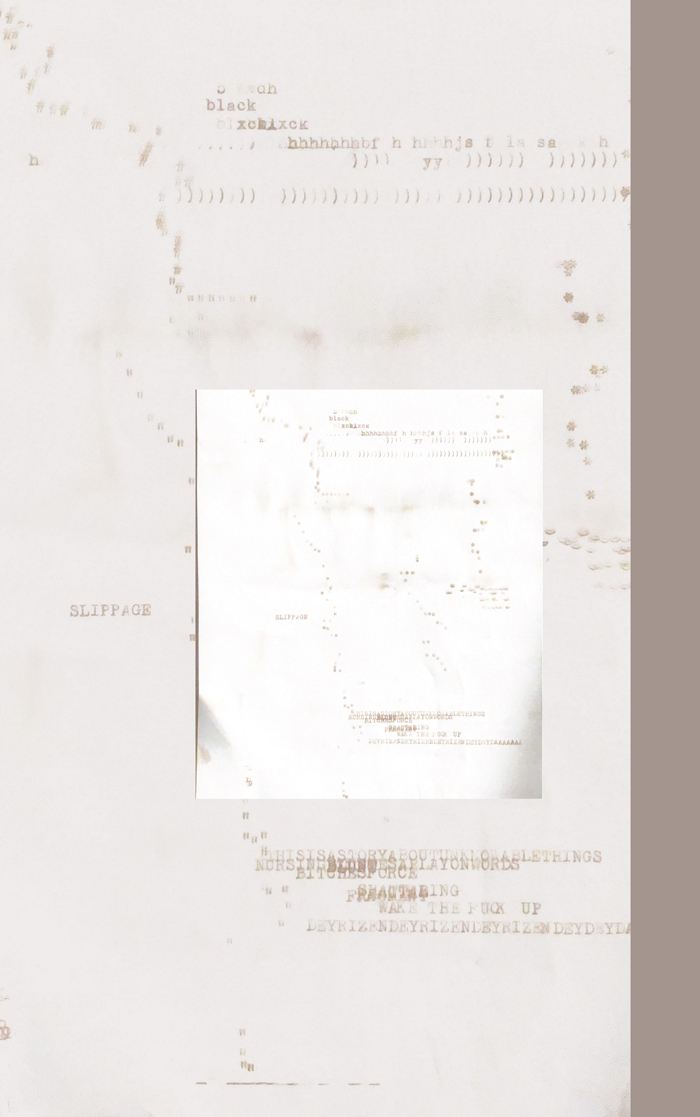 sadé powell is a native New Yorker and fugitive artist, exploring legibility, representation, and interobjectivity through visual and concrete poetry. Inspired by her upbringing and black feminist poethics, she uses the sonic, kinesthetic, and linguistic elements of her 1940s typewriter to experiment with dissemblance as proximity and relation to otherwise potentialities. sadé holds a BA in cultural anthropology from San Francisco State University and an MA in performance studies at NYU Tisch. her first-ish chapbook wordtomydead is forthcoming in Ugly Duckling Presse.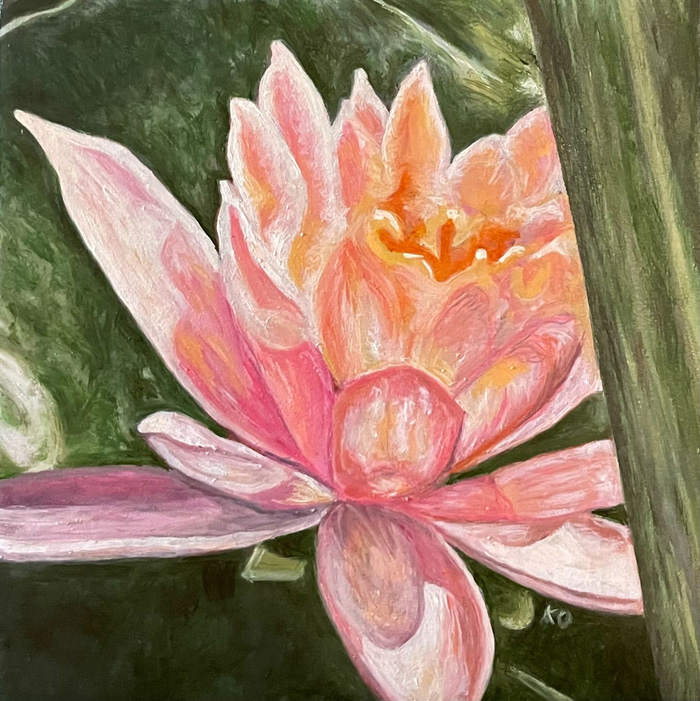 Yoomee Ko is a multidisciplinary artist based in New York City who uses visual art and written word to explore memories and depths of feelings that often stay hidden in the stillness of our surroundings. As a TCK (Third Culture Kid), she grew up in Indonesia, South Korea, Poland, Vietnam, and the US. She holds a Certificate in Fine Arts from Parsons School of Design. Her works focus on capturing moments in time that exist as pockets of real and imagined memories that live on in their own right. She is inspired by both nature and man-made structures, and the inseparable relationship between the two.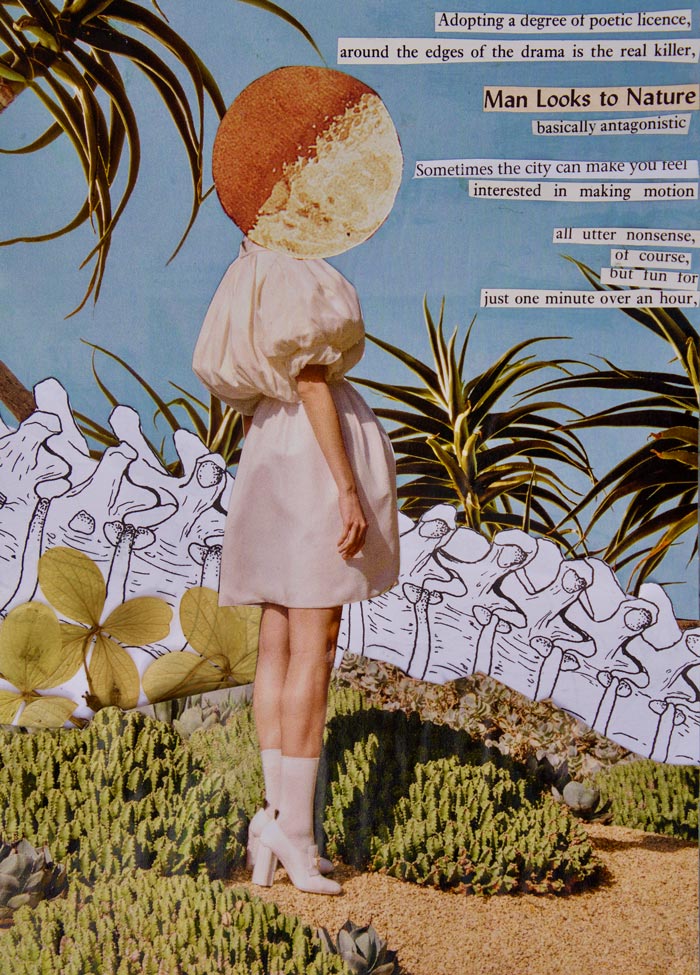 The kingdom of the eye is being invaded and tiled over with delinearized mythmaking apparati. Consciously picking and curating from the material subset of these images is a personal act in the face of ruthless de- and re-individualizing cybernetic flows. Z. L. Raymond aims to undermine the impersonal nature of contemporary media by creating intimate scenes out of materials whose proper context is one of blind distance. The work is grounded in the surrealist hope that collage can uncover personal truth through the mindful juxtaposition of dissimilar images, and the initial selection of stoicheia is drawn from astronomy and architecture books, fashion magazines and newspaper. Z. L. Raymond is a Montreal writer and collage artist. They hold a Master of Arts in Creative Writing from Concordia University. Their writing has been featured in The Valley Below, Veils, Halos, and Shackles: International Poetry on the Oppression and Empowerment of Women, The Blasted Tree, Corpus, Spectral Haunts, and Anti-Languorous. Their French translation of 805-4821 has been performed at the OFFTA Festival and Théâtre Catapulte. Their visual art has been featured in What The Pop!, Headlight Anthology, the Emerging Artist Showcase in collaboration with the Canada Arts Council, and Porter House Review. Their current art practice focuses on exploring collage as a virtual container for poetry rather than a purely visual art form.
---
FACULTY & GUEST SPEAKERS
Kevin Sampsell's books include the memoir A Common Pornography, the novel This Is Between Us, and a forthcoming book of collage art and poems, I Made an Accident (from Clash Books). He has written about collage for The Rumpus, Kolaj Magazine, and elsewhere. He co-curates (with Cheryl Chudyk) an international collage website called Sharp Hands Gallery. In 2021, he was featured in The Weird Show. He lives in Portland, Oregon, USA. www.kevinsampsell.com
Renée Reizman is an interdisciplinary curator, artist and writer specializing in social practice and civic engagement. Working within diverse communities, she studies the ways infrastructures shape our culture, policy, and environment. She is currently the 2019-2022 Creative Catalyst, an Artist-in-Residence situated within the Los Angeles Department of Transportation, and a professor at Pepperdine University. Renée has organized a number of exhibitions, performances, interactive installations, and workshops for organizations like Kolaj Institute, the Library Foundation of Los Angeles, The Feminist Center for Creative Work, 826LA, the University of California, Irvine, and Machine Project. She has exhibited work at Access Gallery (Vancouver, British Columbia), the Irvine Fine Arts Center (Irvine, California), Unit 5 Gallery (Los Angeles), UCLA Broad Arts Center, California State University Long Beach, and the Museum of Human Achievement (Austin, Texas). Her writing appears in Art in America, New York Magazine, The Atlantic, Vice, Teen Vogue, InStyle, Chicago Magazine, Slate, Hyperallergic, ARTNews, The Awl, and more. Renée has been an Artist-in-Residence at Northwestern Oklahoma State University, NAVEL, Art Farm, and the Museum of Human Achievement. Renée holds an MFA in Critical & Curatorial Studies at the University of California, Irvine. www.reneereizman.com
Rod T. Boyer creates art and poetry as our thomas, exploring themes of redemption, mystery, and transformation. Like the rest of the world, he's trying to make sense of the endless and overwhelming stream of flotsam (physical and metaphoric) that accompanies his life. His collage work has been exhibited in his local area and his haiku have recently appeared in the journals Modern Haiku, Acorn, is/let, Sonic Boom, the Asahi Shimbun newspaper, Trash Panda, and Failed Haiku, among others. His article, "Mind the Gap: Collison and Context in Haiku and Collage" appeared in Kolaj 32. He was named a finalist in the first annual Trailblazer Contest and has had work selected for the forthcoming The Red Moon Anthology of English-Language Haiku, 2021. He can be found wandering the streets in Exeter, New Hampshire, USA and, online, at ourthomasart.com and on Instagram @our.thomas.
Christopher Kurts is a storyteller, artist, and the Coordinator for Kolaj Institute. Kurts is also the co-founder and lead organizer of The Mystic Krewe of Scissors and Glue, a group of creatives in New Orleans who meet monthly to collage, converse and foster community. His work appeared in "The Heart of a Dark Universe" at Bar Redux and in "Unfamiliar Vegetables", a group show and book Kurts helped organize for Kolaj Fest New Orleans at Artisan Bar & Cafe in Summer 2019. In the fall of 2019, Kurts curated, "The Lifting of the Veil: The Optimist's Apocalypse", a group show. He was the art director for the collage illustrated edition of Oh, Money! Money! by Eleanor H. Porter, published by Kolaj Institute and Maison Kasini. His art was also featured in issue #4 of Loner Magazine. www.christopherkurts.com
Ric Kasini Kadour, a 2021 recipient of a Curatorial Fellowship from The Andy Warhol Foundation for the Visual Arts, is a writer, artist, publisher, and cultural worker. With the Vermont Arts Council, he curated "Connection: The Art of Coming Together" (2017) and Vermont Artists to Watch (2018, 2019, 2020). In New Orleans (2018-2019), he curated "Revolutionary Paths" at Antenna Gallery and "Cultural Deconstructions" at LeMieux Galleries. As Curator of Contemporary Art at Rokeby Museum in Ferrisburgh, Vermont (2019-2020), he curated "Rokeby Through the Lens", "Structures", and "Mending Fences: New Works by Carol MacDonald". At the Southern Vermont Arts Center (2019), he curated "Contemporary American Regionalism: Vermont Perspectives" and "Where the Sun Casts No Shadow: Postcards from the Creative Crossroads of Quito, Ecuador". With Frank Juarez, he co-curated "The Money $how: Cash, Labor, Capitalism & Collage" at Saint Kate-The Arts Hotel in Milwaukee, Wisconsin (April-September 2021). For the 52nd Annual Birr Vintage Week and Arts Festival in Ireland (August 2021), Kadour curated "Empty Columns Are a Place to Dream", which will travel to the Knoxville Museum of Art in early 2022. Kadour is editor and publisher of Kolaj Magazine. His writing has appeared in Hyperallergic, OEI, Vermont Magazine, Seven Days, and Art New England (where he was the Vermont editor). In Winter 2020, he was artist-in-residence at MERZ Gallery in Sanquhar, Scotland. He holds a BA in Comparative Religion from the University of Vermont. www.rickasinikadour.com