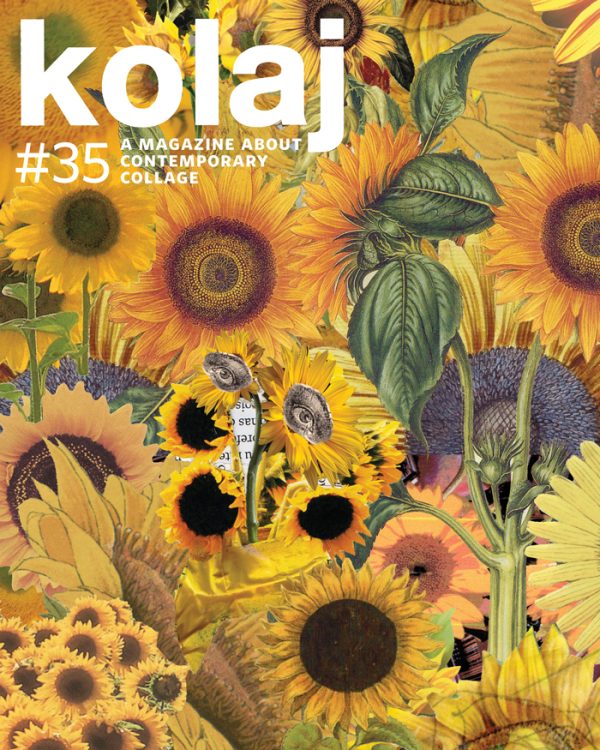 INSIDE THE ISSUE
In "Altered Redouté," Georgina Coburn writes about a body of collage from Colin Brown's 2021 exhibition at Kilmorack Gallery, Scotland. Brown's collages respond to the work of 18th century Belgian, botanical artist Pierre-Joseph Redouté. Coburn describes his art as "a prescient, life affirming body of work, an unconscious reflection of our deepening need for reconnection with Nature."
Kolaj Editor Ric Kasini Kadour interviews Ian Berry, Dayton Director of the Tang Museum, about Ellsworth Kelly's postcard collages. Known for hard-edge painting, Color Field painting and minimalism, Kelly's collages reveal an intimate side to the artist.
In "Uncollage in Action", Todd Bartel reports on his experience using his theory to interpret artwork on view at the Knoxville Museum of Art in Tennessee. He writes, "Uncollage is rather like water's capacity to morph, eddy, flow, and conform to any shape, but also transform between solid, liquid, gas, and 'inframince'—to borrow Duchamp's collage-based term of subtle co-mingling changes."
Kolaj 35 contains two first-person stories from collage artists. From London, Ontario, Sarah Cowling writes about her practice of making collage en plein air. She writes, "During my first few attempts at en plein air collage, there were lots of questions and some strange looks from my colleagues. The worst was probably 'So is that really art?' and lots of questions about how I was managing." From Atlanta, Georgia, Dixon Adair writes about his practice of collecting fragments, "Images are like actors auditioning for a play which may not get produced for many years."
We report on BOOOOOM, a Black Collagists installation by Baltimore artist Anthony Grant, on display in Baltimore, Maryland, USA. Kolaj Institute is hosting a series of residencies that explore the intersection of collage and poetry that will result in a number of books on the topic. Kolaj Fest returns to New Orleans on June 15-19, 2022. World Collage Day is May 14, 2022. What are you planning?
From Montreal, Quebec, Clint Enns shares an interview with James Schidlowsky, "a creative polymath whose diverse output includes photography, collage, electronic circuitry, and computer programming." Enns writes, "Schidlowsky is also involved in the experimental music scene and has collaborated with a wide range of Montreal artists. In addition to making art, Schidlowsky is also a mushroom and pinball enthusiast, and has a blog devoted to identifying pinball machines found in movies…He is rigorous and meticulous, but his work often allows space for free association and randomness–a space that allows for the novel or unique."
While rarely is collage, and the issues the medium raises, a central focus of critical or curatorial attention, a collage-centric view of Prospect.5 in New Orleans affords us the opportunity to see how collage plays in the international art scene. We report on a number of collage works that were on view at this city-wide triennial exhibition.
ABOUT THE COVER
Slava Ukraini Героям слава!
On 24 February 2022, Russian President Vladimir Putin ordered an invasion of Ukraine by Russian armed forces, thus setting off a humanitarian crisis that (as of early April 2022) has resulted in over four million refugees fleeing the country. At the time of this writing the situation is ongoing. At Kolaj Magazine, we wanted to express our solidarity with the Ukrainian people, a small gesture of hope for a more peaceful world in the future. We put a call out to collage artists and asked them to send us fragments of sunflowers, Ukraine's national flower that has become an international symbol of peace and solidarity. Kolaj Editor Ric Kasini Kadour collaged them for the cover of Kolaj #35. Thank you to artists Francine Alves, Jerome Bertrand, Carolle Caouette, Celia E. Crane, Gayle Gerson, Cherie Rahkola, Jenn Ruff, Astrid Stiasny, Michele Taber, and Elisa Tkatschuk for contributing fragments of sunflowers that made this project possible.

ARTIST PORTFOLIOS
Anthony Muisyo
Mombasa, Kenya
"I like the process of snapping photos, collecting posters, wrappings and other mundane objects with quirky colours and design whenever I'm out on walks and bringing them into my work."
Garth & Pierre
Bellingham, Washington, USA
"Collage is a reinvestment into our own history, making our own presence viable in new ways."
Heidi Mraz
Great Falls, Virginia, USA
"I follow the history from every person I can get a hold of that touched that car, owners, race car drivers, restorers…huge historical search and interview anyone who is still alive."
Erin McGean
Oakville, Ontario, Canada
"Collage is about the selection process to me. Which images and materials the artist combines."
Melinda Tidwell
Santa Fe, New Mexico, USA
"This setup is my little heaven because the elements start to speak to each other, and to me…"
Kolaj Magazine relies on our subscribers. Their support of this magazine keeps us going and makes it possible for us to investigate and document collage and to promote a deeper, more complex understanding of the medium and its role in art history and contemporary art.