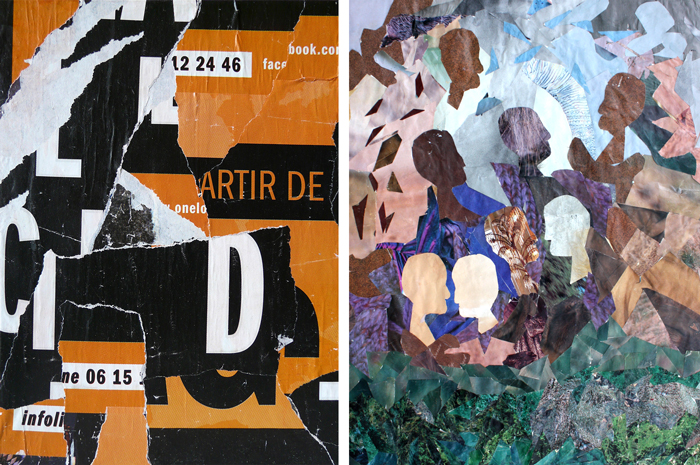 Institutional collection of collage and assemblage is an ongoing challenge to the medium. Too few institutions collect collage, and those that do often don't catalogue or present the medium in its own context. Little critical research is done. There is one museum that works to change that.
The International Museum of Collage, Assemblage & Construction (IMCAC) opened a few years ago in an historic building in the Midtown district of Santa Fe, New Mexico. Located on the second floor, the IMCAC's archives include over 20,000 works of collage, assemblage, mail art and Fluxus objects, as well as space for collage parties and workshops. The ground floor is home to Nisa Touchon Fine Art, Santa Fe, a commercial gallery focused on collage and assemblage by artists who have participated in IMCAC projects in the past. Founded in 1996, IMCAC is dedicated to the collection, study and exhibition of collage, assemblage, construction, montage, photomontage, digital collage, concrete poetry, collage poetry, Fluxus, sound collage, and other constructive arts.
In Kolaj #13, we published an article about the museum and its founding. LINK
About 10 years ago, The International Society of Assemblage and Collage Artists was founded as a society for artists who have contributed works to the museum's collection. Cecil Touchon, the driving force behind the museum and the Society, is working to "help create an ongoing fund so that we may operate the museum with confidence and start getting a little more ambitious with promoting works from this amazing collection to the general public."
"We want to continue to help develop this communal spirit among collage and assemblage artists and to document and archive examples of contemporary artists' work that normally might never make it through the commercial gauntlet that leads to major museum representation," said Touchon. The Museum is asking interested parties to become members of the Society and contribute $5-20 per month.