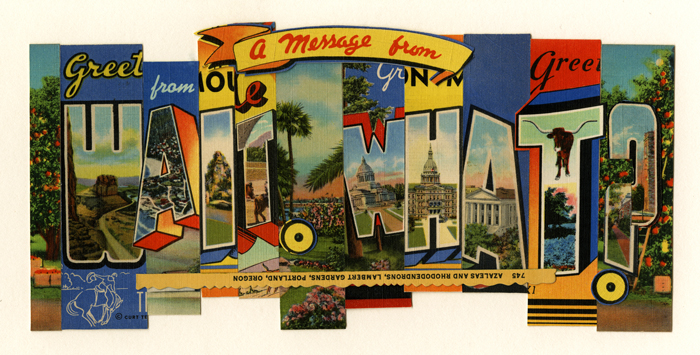 World Collage Day 2020: Saturday, May 9th
One of the reasons I created World Collage Day in 2018 was that I wanted to encourage collage artists to step outside the bubble of the collage community. I see the event as an opportunity for collage artists to reach out to and partner with art institutions who may not regularly think about collage. The day is also an opportunity for collage artists to shine, to show their community what they do.
World Collage Day 2020 takes place during a time when much of the world is self-isolating. We cannot, in good conscience during a pandemic, encourage people to gather. Depending on where you live, this may be perfectly fine to do, but reports from many places say otherwise. What do we do now?
One of the many remarkable things about collage is its ability to extend across borders and to involve people regardless of skill level. Professional artists at the top of their game sit side by side with members of the general public who are picking up scissors for the first time. This is unique in an art world that often trades on hierarchy and status. The collage community is generous and kind and welcoming. It is one of our greatest strengths. On World Collage Day 2020, Saturday, May 9th, let's show the world how we do that.
To that end, we are opening World Collage Day to individual projects in addition to events. See the call for individual projects below.
—Ric Kasini Kadour, Editor & Publisher, Kolaj Magazine
Visit World Collage Day WEBSITE
---
Plan an Individual Project
Now is the time to plan. How can you share collage with your neighbours and community during this time of self-isolation? Here are a few ideas we came up with:
Window Exhibition where you install collage in your street-facing windows. Or team up with other neighbours to create a walking exhibition tour.
Hang a World Collage Day 2020 poster in your front window.
Make Collage Starter Packs and distribute them to your neighbours as Danielle Cole has been doing in Toronto.
Organize an online Collage Happy Hour as Emma Campbell has been doing in New Orleans.
Make and Mail World Collage Day cards to friends and family.
Perform an online challenge like making and posting a collage an hour as an independent Collage-A-Thon.
Reach out to your local art museum or centre and brainstorm ideas with them. Offer to curate an online exhibit of collage in their collection.
Offer to write your community newspaper an article about World Collage Day.
Whatever you decide to do, we want to hear about it. Give the project a name. Write 3-5 sentences about your project and make or find 1-2 images that represent what you are doing. (Note: We don't mean posters. These should be images of artwork.) Submit your project by 1 May 2020.
Plan an Event
If you are in a community that is not practicing social distancing to prevent the spread of COVID-19 and you are planning a World Collage Day event, we encourage you to share your event with us.