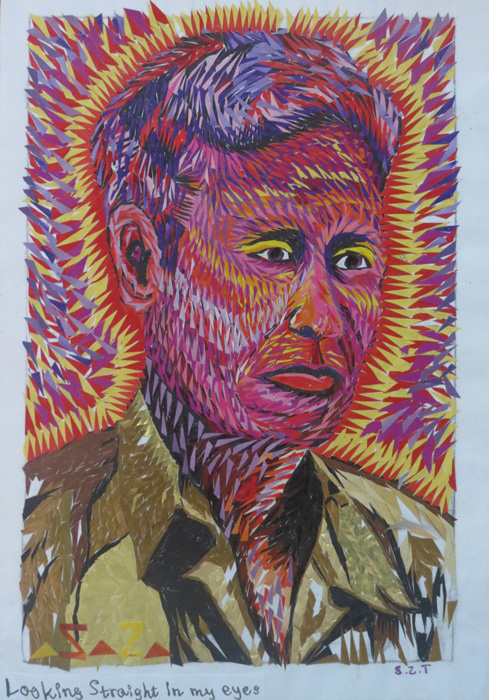 San Zaw Htway: A profile of a Burmese collage artist
by Luigi Galimberti Faussone
Collage artist San Zaw Htway of Myanmar (Burma) started making art in prison, where he was sent on political grounds, betwen 1999 and 2012. As he didn't have access to paints, brushes, canvas or paper, he started to make collages from food wrappers, cake boxes, and plastic bags that were brought in by other prisoners' families. He had his first solo show in Yangon (Rangoon) in 2012.
Luigi Galimberti Faussone writes:
His oldest surviving composition is Looking Straight in My Eyes (2007), a portrait of General Aung San, who is considered a national hero in Myanmar because of his commitment to Burma's independence from British rule. More significantly, General Aung San is the father of the country's leading democracy advocate Aung San Suu Kyi. The portrait is simple, colourful and energetic. It was created as a symbol of hope for a more fair and free country. Portraying the father for the daughter was a trick good enough not to incur in the ever-present censorship from prison staff.
To read the entire profile of San Zaw Htway and see more images of his work, purchase Issue Six or SUBSCRIBE to never miss an issue.
Image:
Looking Straight In My Eyes
by San Zaw Htway
11.7"x8.3"
plastic wraps on cardboard
2007