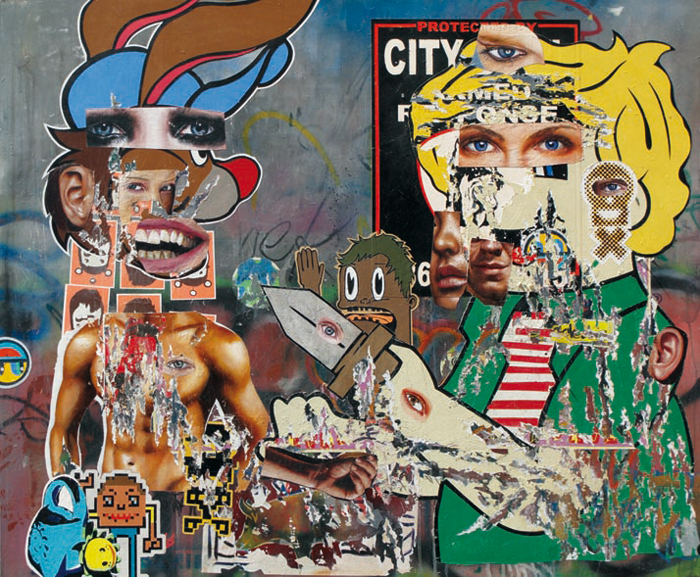 Kolaj Magazine presented a discussion of work by South African artist Asha Zero in Issue Four.
The profile was written by South African writer Shane De Lange, who has written extensively about the artist/phenomenon over the years. De Lange says, "Asha is one of my closest friends…Although Asha and I enjoy playing Dada-esque identity games like that, I see myself more like Asha's [Clement] Greenberg to my [Jackson] Pollock."
What is in a name, other than signifying cancellation? Asha Zero's paintings are testaments to this question. Even if read as a name, Zero as a moniker would nonetheless signify a vacuum, an indecipherable title with no discernable gender, politics, ethnicity, or socio-economic standing. Much like a brand, Zero interrogates the anonymity of the subject, the value of deception, where information is ubiquitous, and schizophrenia combines with anxiety to construct a benchmark for the here and now. From this basis, Zero appropriates from the media, creating trompe l'oeil painted surfaces that not only resemble collage, but also resign to the conceptual underpinnings of collage.
To read the full profile, purchase Issue Four or SUBSCRIBE to never miss an issue.
Image:
smedective and friends
by Asha Zero
39″x47″
acrylic on board
2011
Courtesy of the artist