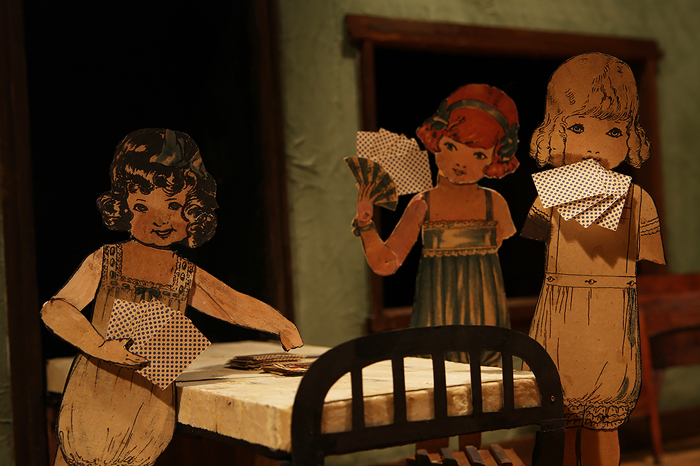 FROM KOLAJ 31
Lisa Barcy Wins Awards
Collage artist and filmmaker Lisa Barcy's stop animation work, The Ephemeral Orphanage, is getting serious recognition. Barcy won the Stellar Animation Award at the Thomas Edison Black Maria Film Festival in Hoboken, New Jersey. The award is the top animation prize in the festival. Normally, the festival travels, but it is unclear if the festival will travel in 2021 due to the COVID-19 pandemic. The film will be available online starting 5 February 2021 through the end of 2021.
Barcy also won Best Stop Motion Short at the Los Angeles Animation Festival. The Ephemeral Orphanage tells the story of a group of paper dolls who "daydream alternate realities and surreptitiously explore the hidden lives of their strict and secretive caregivers. Hijinks ensue and discoveries are made as the characters live out their childhood fantasies." To make the film, Barcy cut out paper dolls from a 1920s newspaper. "The film explores the adults' attempt to dictate what girls learn, and the children's talent for discovering forbidden knowledge."
This News & Notes item appears in Kolaj #31. To see all the News & Notes items in this issue, SUBSCRIBE to Kolaj Magazine or Get a Copy of the Issue.
Lisa Barcy is an independent filmmaker and collage artist whose animated work has been screened internationally at film festivals. In addition to her most recent recognitions, Barcy was awarded the Director's Citation twice at The Thomas Edison Black Maria Film Festival, and Best Animation at both the Chicago Underground Film Festival and The Ann Arbor Film Festival. She also created the music video Anonanimal for Andrew Bird and Thomas Comerford. She wields her X-acto knife in Chicago and teaches animation at DePaul University, (sometimes at the same time). Barcy's collage, Beware, was on the cover of the program for Kolaj Fest New Orleans 2018. Learn more at www.lisabarcy.squarespace.com