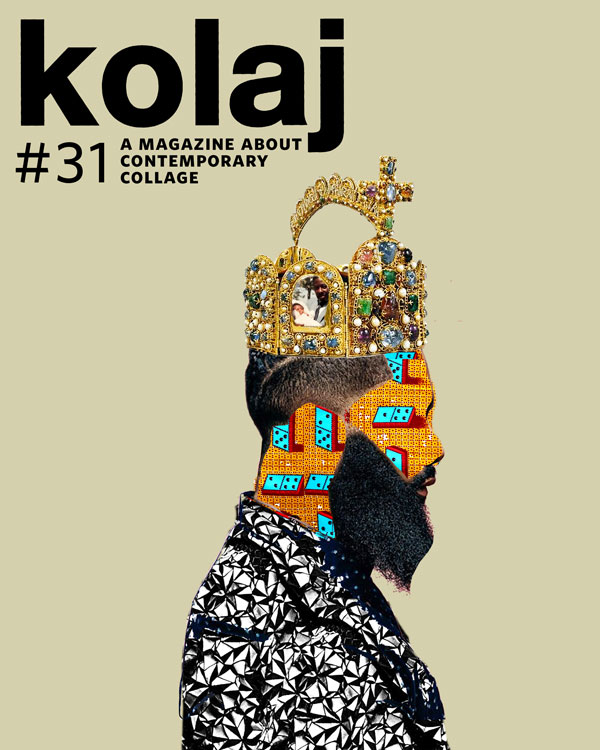 If Kolaj #31 has an overarching theme, it would be about how artists are pulling from the past to speak to the now. We swim in a stream of ideas, some of which come at us so quick and hard that we rarely have a chance to consider where they come from…or where they are going. What ever happened to those stolen collages? Why do we think these things about some people but not others? Why can't we name five scientists who are women? What is my place in the art world? How do I speak to my community? These are deep, critical questions that artists are trying to make sense of for themselves and for the people around them. It is exciting to tell their stories. Learning about them, what they did, how they work makes us better artists, writers, and, hopefully, better people. Collage is powerful magic. Our goal with every issue is that Kolaj Magazine is essential reading for anyone interested in the role of contemporary collage in art, culture, and society. We not only hope you enjoy the articles and images in Kolaj #31, we hope it leads you to asking great questions.
ABOUT THE ISSUE
The front cover of Kolaj #31 is a collage from Gavin Benjamin's "Heads of State" series. The back cover is a photograph of street art by Caiozzama. It was taken by the artist on 24 October 2019 at the Plaza de la Dignidad in Santiago, Chile as the streets of the city erupted in protest over inequality. Portfolios of each of these artists' work appears in the issue. In the editorial, "Bending History", Ric Kasini Kadour reflects on what collage has to offer the world: "We understand that something beautiful, something meaningful can come from chaos."
In News & Notes, we report on a new book of collage, award winning collage artists, and we remember Varujan Boghosian, who passed away in September.
Mother and daughter artist duo Jann Haworth and Liberty Blake are using collage to remember great women of history. We profile "The Work in Progress Mural" project.
We review Benny Andrews: Portraits, a new book from Michael Rosenfeld Gallery: "The book…speaks to how Black artists used collage to make space for themselves in American art."
Marco Antonio Núñez tells the story of the collages stolen from UNCTAD III during the 1973 military coup in Chile and how some of them have been found and what it means to his country.
Patricia Leeds collages mid-20th century advertising to deconstruct whiteness and patriarchy. In "Passion in Action", Suzanne Winkel recounts the birth of the Arizona Collage Collective. In "Getting Good", Hazel Pitt shares how she uses collage as a tool for wellbeing.
An article on Februllage, the annual month of collage prompts from the Edinburgh Collage Collective and the Scandinavian Collage Museum, reflects on the importance of play to artist practice and process.

ARTIST PORTFOLIOS
Gavin Benjamin
Pittsburgh, Pennsylvania, USA
"My work investigates the intersection of culture, media, politics, fashion, and design, addressing questions that (continue to) confront a man of color in America today."
Caiozzama
Santiago, Chile
Chilean street artist Caiozzama uses large-scale, public collage murals to "make the revolution irresistible".
Guy Vording
Amsterdam, The Netherlands
"I'm always searching for a hidden story that I can bring back to life."
Nancy Baker
Brooklyn, New York, USA
"My practice focuses on the ephemeral nature of paper and the ease of its transportability, this allows me to create large scale constructions."
Jay Riggio
Los Angeles, California, USA
"In the last few years, I began experimenting with resin and using paper and paint between layers of resin…The work has a lot more depth and dimension that's created through the cast shadows within the resin layers."
Kolaj Magazine relies on our subscribers. Their support of this magazine keeps us going and makes it possible for us to investigate and document collage and to promote a deeper, more complex understanding of the medium and its role in art history and contemporary art.