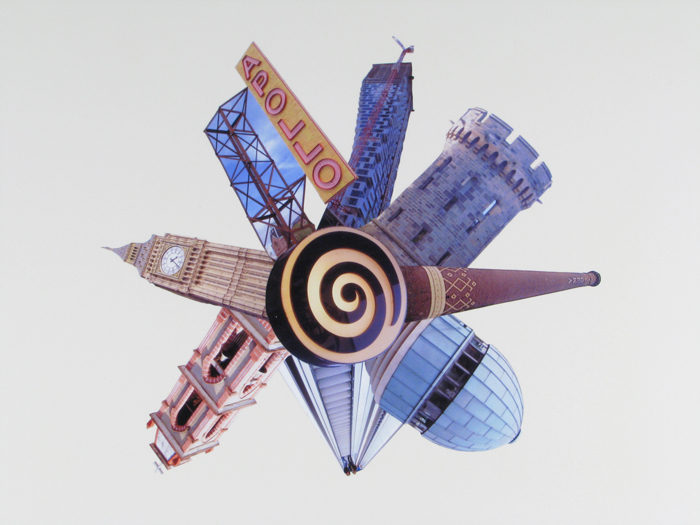 COLLAGE ON VIEW
Collage from Valerie Arntzen and Seema Shah
at Outsiders and Others in Vancouver, British Columbia, Canada
3-31 January 2021
Valerie Arntzen has lived and worked in the Strathcona neighbourhood of Vancouver for 27 years. Her art practice consists of collage, assemblage and photography. The series of collages on exhibit consist of the artist's own photographs on heavy watercolour paper. Inspiration for her work comes from her travels and interest in religious icons and architecture. Her diverse careers have included drafting, tree planting, live theatre, film and now a full-time artist. She is passionate about her community and uses her studio to host artists in her storefront windows and events for artists to cometogether to make art and learn from each other. The building she owns with her husband and another couple is home to other artists working in painting, studio furniure, mixed media, and photography.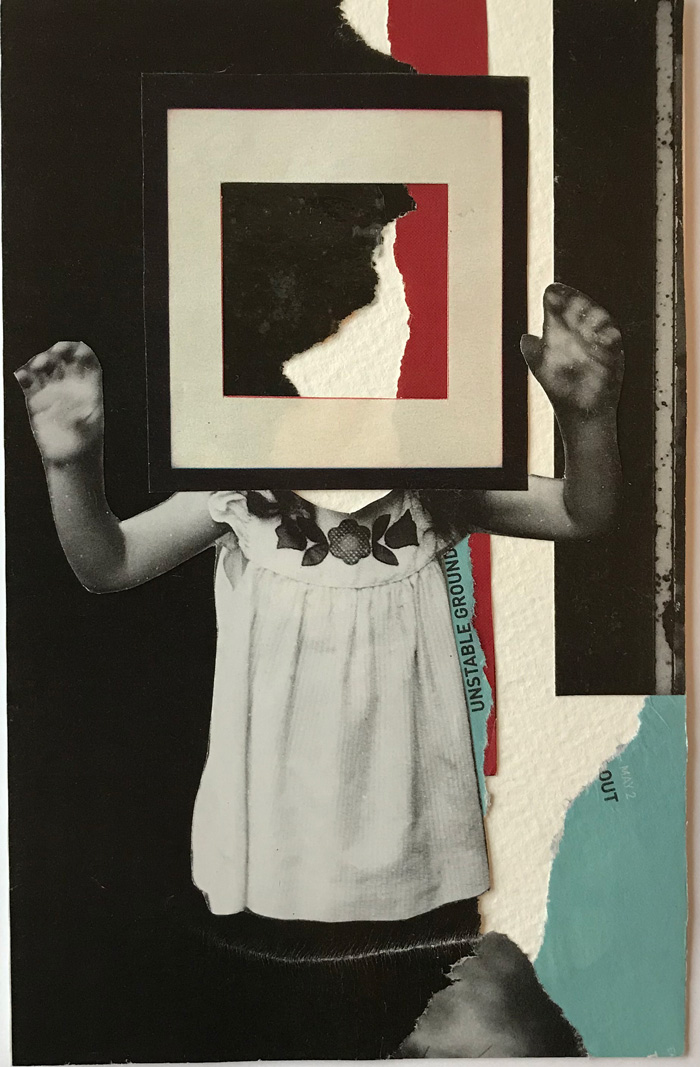 Seema Shah writes: I am a self-taught visual artist and writer. Since 2014, my creative focus has been visual art (often incorporating text into my art). Although I didn't set out with the intention of becoming a collage artist, my visual work almost always includes an element of collage. I'm innately drawn to the piecing together of disparate elements to form a new meaning and aesthetic–trying to create something of value from scraps that would otherwise be thrown away.
The process itself a metaphor for many aspects of my life and self. When creating, I always start from a place of intuition, with no set idea in mind. If I am able to let my subconscious be my guide, the process unfolds in a way that can feel almost magical. I search for images, colours, and words that speak to me in the moment, even if it's not yet clear to me why. Through much reconfiguring, meaning tends to reveal itself as I go, often obliquely, such as through the use of metaphor, characters and/or humour. Invariably, my collage work is a reflection of my inner landscape. Over time, I often discover additional layers and meaning in a given piece.
(text adapted from the gallery's press materials)
---
INFORMATION
Outsiders and Others
716 East Hastings Street
Vancouver, British Columbia V6A 1R5 Canada
outsidersandothers@gmail.com
Hours:
The gallery is a window-based experience where visitors can see the entire exhibition through the storefront window. Visits inside the gallery are by appointment only.