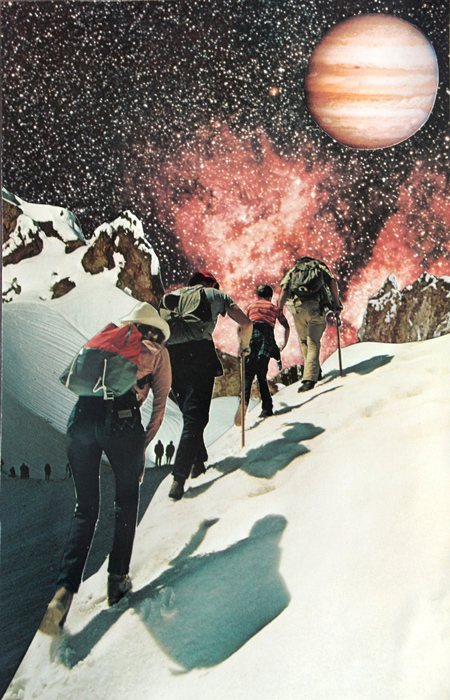 Barbara Hauzinger's collage work is an experiment in fantasy. She says, "The art of collage allows me to create places I wish I could see, sky-scapes I wish occurred every day, mountains with views I want to experience. (How beautiful it would be to look up and see multiple celestial bodies or vibrant galaxies in the sky!)"
Ariane Fairlie profiled Hauzinger in an Artist Portfolio in Kolaj Magazine Issue 11. She wrote:
In Ascending Mt. Apolonikdt (2013), Hauzinger collages pointed mountain peaks to the horizon of a clear starry sky. This time the scale is closer to realism, save the massive planet dominating the upper right hand corner. Hikers ascend the mountain, presumably to reach the ledge where a small crowd is gathered to witness the mesmerizing sky beyond. Once again, it is easy to imagine the chill of the air and the open expanse, even the possibility of crossing over the final ridge and walking right off the edge of the earth.
Barbara Hauzinger lives and works in Burlington, Vermont, USA. Learn more about her on her Kolaj Magazine Artist Directory page: HERE.
To see all of Barbara Hauzinger's Artist Portfolio, purchase Issue Eleven or SUBSCRIBE to never miss an issue.
Image:
Ascending Mt. Apolonikdt
by Barbara Hauzinger
3759 pixels x 2400 pixels
paper, cardboard, decoupage
2013
Courtesy of the artist