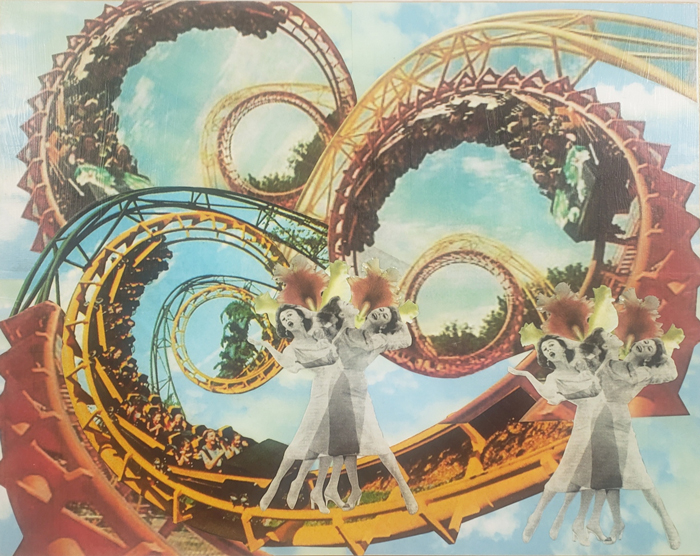 FROM KOLAJ 30
Work by Lisa Sheets Joins Ranks of other City-Collected Collage
For over four decades, the City of Seattle, Washington has been using 1%-for-Art funds from city construction budgets to build a Civic Art Collection that is displayed throughout city galleries and offices. Purchases are made through a competitive call to artists in the Pacific Northwest (Washington, Oregon, British Columbia, Montana, Idaho, and Alaska). The works from this latest call to artists will enter the Seattle City Light Portable Works Collection, managed by Seattle's Office of Arts and Culture.
This News & Notes item appears in Kolaj #30. PURCHASE THE ISSUE
The city recently added two works by Kenmore, Washington collagist Lisa Sheets to the collection. Sheets describes her collages as her "subconscious' ongoing communication about relationships, culture, and my own life." Tendrils reflects her recent interest in women's historic contributions to the workforce. In Her Dream, women dance with each other under roller coasters.
Sheets joins the ranks of other contemporary collagists like Mieko Hara, Natalie Ball, Deborah Lawrence along with historic collagists like Paul Horiuchi, Nola Ahola, and Susan Garson, among others.
Explore the collection at seattlearts.emuseum.com.
Learn more about Lisa Sheets at www.lisasheets.com.