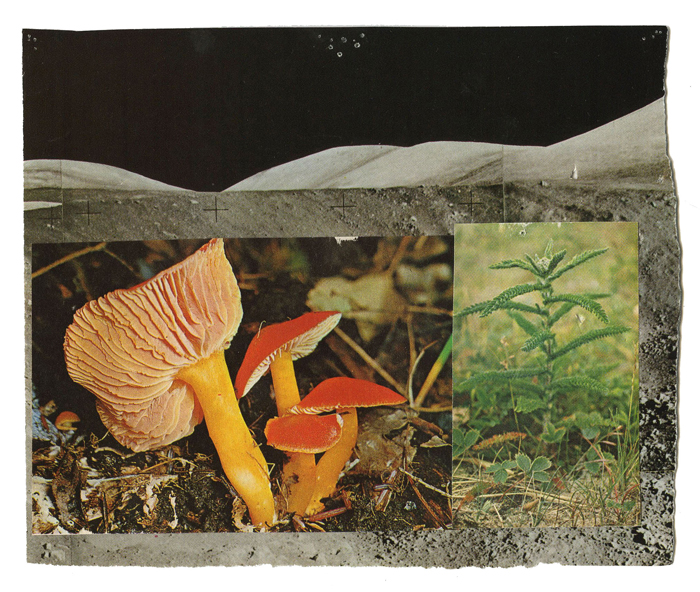 Studies For Possible Futures by Maggie Groat wins 2012 Artists' Book of the Moment.
The annual competition held by the Art Gallery of York University (Toronto) collects and reviews artists' books and selects one title as the Artists' Book of the Moment. Groat is interested in the "interdisciplinary potential of artistic intervention and envisioning." Her art practice often involves assuming the role of researcher, embracing a discipline, and conducting a study. These activities aid in the exploration of "what occurs in the intersections and gaps between dichotomies, particularly between art/science, politics/poetics, utopia/reality, romanticism/conceptualism." Studies For Possible Futures is a collection of twenty-two collages. Organizers described the book, "Utilizing found images, the artist engages in subtle manipulation of the printed-matter to provide meditations on place, hope, and utopia. The resulting images serve as visual-proposals, such as the visions of lunar communes, the creation of new lands, green spaces, or cosmic monuments, all of which attempt to document the artist's accumulation of research activity and discovery through primarily non-linguisitic means. Approached with curiosity and the inquisitive spirit of a field scientist, the works in this book are small acts of envisioning; they are maps of sorts, made from fragments of the past which are now compiled, combined, re-configured and fragmented into portraits of possible futures."
Learn more about Maggie Groat's work at her website.
This News and Notes item originally appeared in Issue Three. To see other News and Notes from the world of collage, SUBSCRIBE to Kolaj or PURCHASE ISSUE THREE.
Image
Studies for possible futures, Vision #6: Lunar Forage
by Maggie Groat
from the self-published book Studies for Possible Futures
8.7″x8.7″
48 pages, unpaginated
full-colour digital offset
perfect-bound
2011