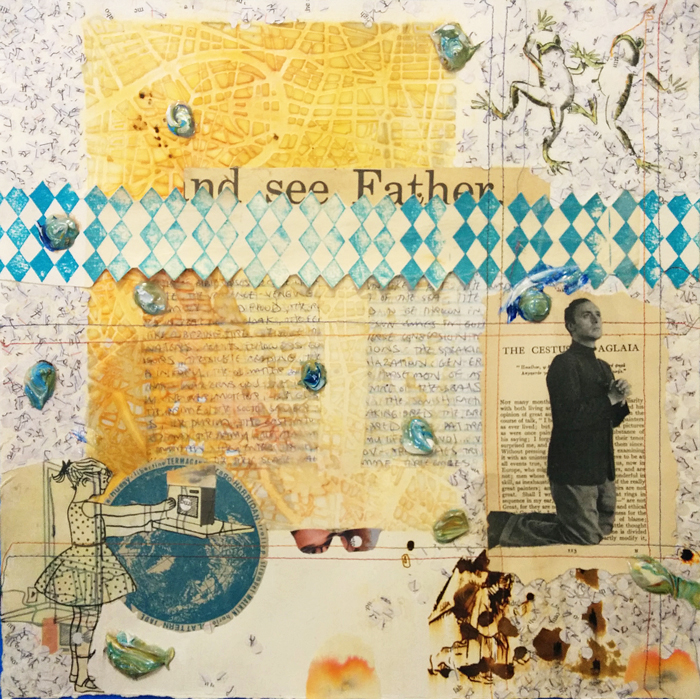 FROM KOLAJ 27
The Karkhana Collaboration Project
What can the sixteenth century imperial workshops of the Mughal Empire teach us about working collaboratively? In KOLAJ #27, Carlyn Clark writes about her experience of The Karkhana Collaboration Project where eight artists from Canada, the United Kingdom, and the United States collaborate on a single series of work.
"In January 2018, a group of eight artists began a collaborative art experiment. What would happen if each artist worked in succession on sixteen pieces of art? Beginning with a 15" square of sturdy paper, each artist needed to complete a layer in a month, the work must stay flat enough to mail, and should include documentary notes on the back of the piece. Beyond these guidelines, anything was allowed," she writes. "Each layer required a different approach and a new way of proceeding."
To see the entire issue, SUBSCRIBE to Kolaj Magazine or Get a Copy of the Issue.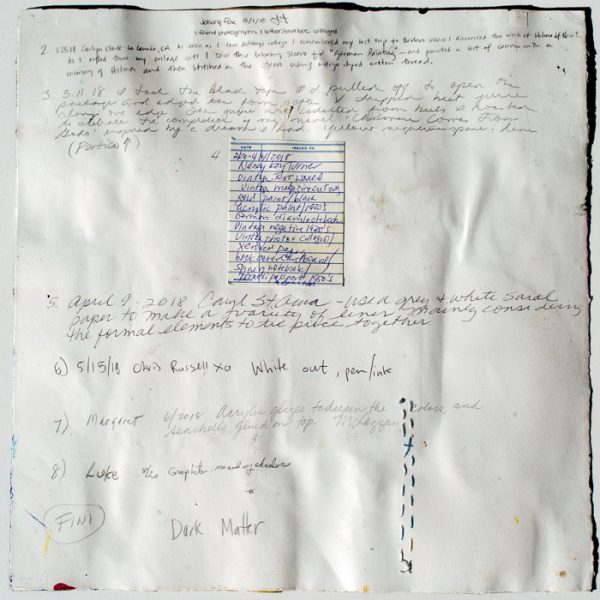 The notes artists made on the back of Dark Matter reflect their thoughts about making.
"Nancy Kay sought out eight artists to attempt a new iteration of the modern Karkhana model. Rather than sharing a singular artistic practice, each artist brings something different to the mix," writes Clark.
Contributing artists: S. Portico Bowman creates installation art, ceramics and mixed media; Carlyn Clark is a textile artist; Johnny Fox works in collage, printmaking and assemblage; Margaret Lazzari paints and draws; Luke Reichle is a painter; Chris Russell is an illustrator; Caryl St. Ama is an encaustic painter; and Nancy Kay Turner is a mixed media artist.
To see the entire issue, SUBSCRIBE to Kolaj Magazine or Get a Copy of the Issue.
Hana Kark is a "single and collective art identity" whose mission is "to make visual art in communal conditions, emulating what is common to theater, music and film." The participating artists live in Canada, the United Kingdom and the United States and currently include S. Portico Bowman, Carlyn Clark, Johnny Fox, Margaret Lazzari, Luke Reichle, Chris Russell, Caryl St. Ama, and Nancy Kay Turner. To see more of Hana Kark's work and learn more, visit www.hana-kark.com.