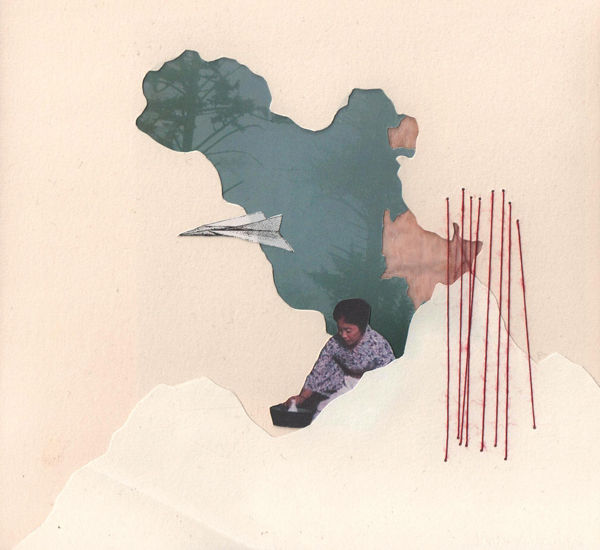 SALEM, OREGON, USA
Joshua Stringer uses a variety of visual languages in his work, collected from various sources such as family photographs, second-hand books, found images and bits of text, and mundane materials found throughout the day such as a hair from someone's comb or a dried leaf found on the sidewalk.  He is inspired by minimalist painting, sculpture, and music and is thus interested in maintaining the integrity of the materials he uses.  Stringer's work was recently included in an exhibition of contemporary collage artists titled "Meaning to Glue" curated by Cory Peeke at Eastern Oregon University.
Joshua Stringer's portfolio appears in Issue Three where Ariane Fairlie writes,
[Stringer] incorporates figures and characters into his artworks, having them emerging or trapped within these constructed moments. Sometimes they are aware of their surroundings, other times they seem blissfully ignorant. The viewer is able to enjoy a moment somewhere in between. They are immersed in the moment but not trapped, and are free to explore every inch of the paper and contemplate every movement, action, and their significance in a silent two-dimensional space.
To read more about Joshua Stringer, purchase Issue Three or SUBSCRIBE to never miss an issue.
Image:
mono no aware 1
by Joshua Stringer
7″x 6.5″
found images, paper, tea bag, thread
2012