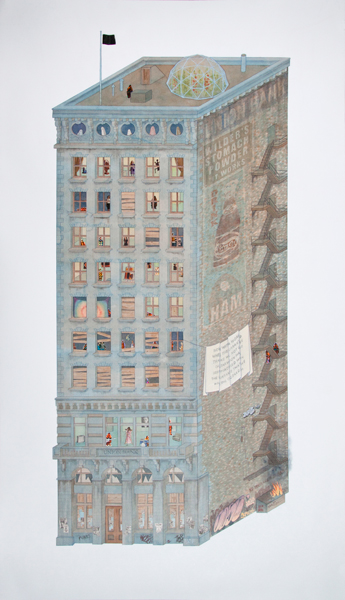 Simon Hughes
at Galerie Division, Montreal
Writing about this work for "Kolaj Goes to the Fair", Ariane Fairlie writes:
Simon Hughes creates a comparison between our perceptions of traditional aboriginal life and contemporary realities. His use of text within the work is pointed and philosophical.  He uses collage to play with Canadian stereotypes. His works consist of watercolour, quotes cut from popular literature, and stickers depicting aboriginal peoples bought from tourism shops.
This artist's work appeared at Papier 12, held in Montreal, Quebec, Canada, 12-15 April 2012.
To read the entire article, purchase a subscription to Kolaj Magazine or purchase Issue One.