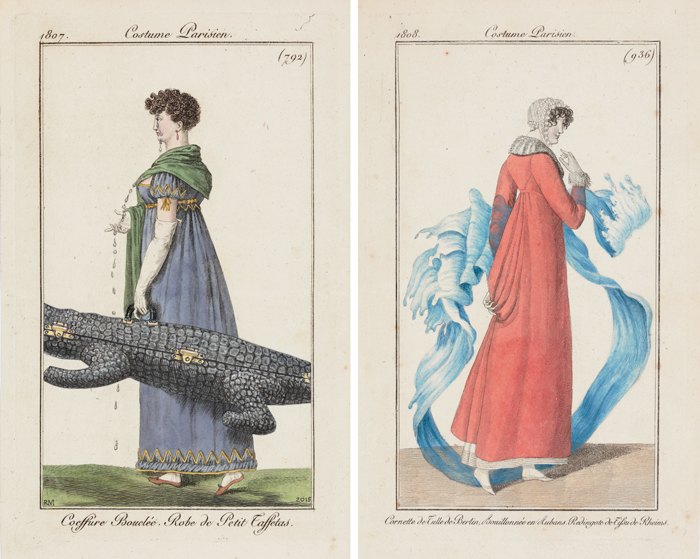 FROM THE PRINT EDITION
Ruth Marten's Latest Obsession
What do gushing waters have in common with large ungainly reptiles? Why is that delicate woman nearly drowning in water? Why are all these elegant Parisian men and women wearing reptiles? And why would two distinguished gentlemen dressed for the opera be standing, oblivious, in fountains of water? What about riding an alligator to tea?
Ask Ruth Marten, artiste extraordinaire, who has taken 19th century antique engravings of beautifully dressed men and women, and deftly using watercolor and ink, wrapped and escorted these ladies and gentlemen with alligators.
Dian Parker profiles this remarkable artist in Kolaj #17. To read the entire article, SUBSCRIBE to Kolaj Magazine or Get a Copy of the Issue.
"Once you drape an alligator shawl around a lady's shoulders or build some serious plumbing into an evening dress, the game is on," Marten said. "Any and all interpretations are welcome."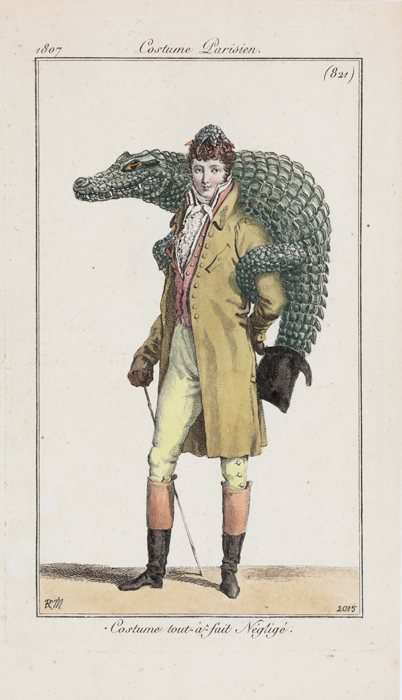 In one collage/illustration, she paints a lovely scene of a bonneted woman, sketching on a lap desk. Tacked to the wall behind her are displayed her drawings of fountains (Marten's addition). At the lady's feet is an alligator (or is it a crocodile?). The reptile looks to be smiling. Like all Marten's work, this illustration is delightful, entertaining, and full-on whimsically enchanting.
This article appeared in Kolaj #17. To read the entire article, SUBSCRIBE to Kolaj Magazine or Get a Copy of the Issue.
Ruth Marten lives and works in New York City. She studied at the High School of Art and Design in Manhattan and the Boston Museum of Fine Arts. After working in New York's tattoo underground in the 1970s and early 1980s, including tattooing at the 10th Paris Biennale, Marten had a 30-year career illustrating magazines, music and book covers. Since 1989, she has expressed herself "exclusively through drawings, paintings and sculptures". Her work is in the collections of Charles Saatchi, Don Ed Hardy, the De Young Collection and others. She is represented by Van der Grinten Galerie in Cologne, Germany and John Marchant Gallery, London.
Image (top-left):
No. 792 from the "Fountains and Alligators" series
by Ruth Marten
7.4″x4.6″
watercolour and collage on 19th century copperplate engraving
2015
Courtesy of Van der Grinten Galerie, Cologne
Image (top-right):
No. 936 from the "Fountains and Alligators" series
by Ruth Marten
7.7″x4.6″
watercolour and collage on 19th century copperplate engraving
2015
Courtesy of Van der Grinten Galerie, Cologne
Image (centre):
No. 821 from the "Fountains and Alligators" series
by Ruth Marten
7.9″x4.6″
watercolour and collage on 19th century copperplate engraving
2015
Courtesy of Van der Grinten Galerie, Cologne