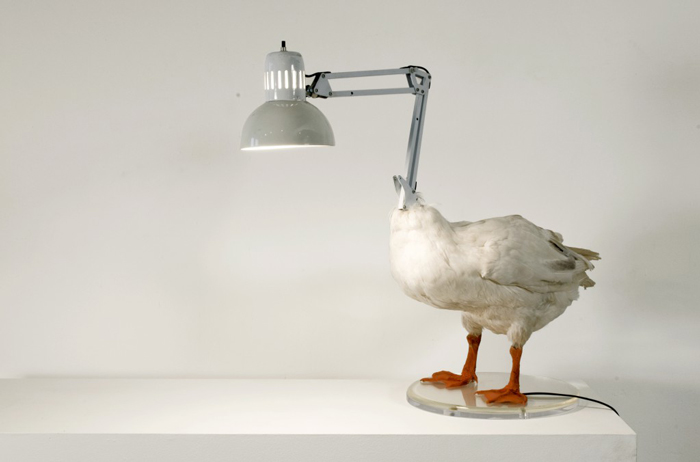 On now through 12 January 2015 at the Carnegie Museum of Art in Pittsburgh, "Look Now" features the work of Chilean-born, New York-based artist Sebastian Errazuriz. Kolaj publisher Ric Kasini Kadour reviewed this show, Errazuriz' first solo exhibition, in Issue 10 of Kolaj Magazine.
In the review, Kadour wrote:
Errazuriz's practice moves from art to design and back to art with a peculiar sense of humour. Complete is an homage to Marcel Duchamp in which the artist finished the Dadaist's Bicycle Wheel with gears and handle bars mounted to stools. He mounts an adjustable desk lamp to the body of a taxidermy duck in The Duck Lamp. Boat Coffin is a full-sized black coffin fitted with a fin and an outboard motor. He explains, "The Boat Coffin has a functional motor and a plug on its side so the user can let the water sink the boat once he or she is ready to go." Often, Errazuriz's wackiness is fueled by a social, political agenda. The letters on the back of Modified Varsity Jacket spell out "rapist". Occupy Chairs collapse into two-dimensional protest posters that echo the Occupy movement: "Hungry? Eat a Banker." "Wall Street Is Our Street."
This article originally appeared in Issue Ten. To read the entire article and other writing about the world of collage, SUBSCRIBE to Kolaj or PURCHASE ISSUE TEN.
---
INFORMATION
Carnegie Museum of Art
4400 Forbes Avenue
Pittsburgh, Pennsylvania 15213 USA
(412) 622-3131
Hours:
Monday, Wednesday, Friday, and Saturday, 10AM-5PM
Thursday, 10AM-8PM
Sunday, Noon-5PM
Image:
The Duck Lamp
by Sebastian Errazuriz
taxidermy duck, metal, acrylic, and lamp components
2004
Courtesy of Sebastian Errazuriz Studio
Photo by Ari Espay