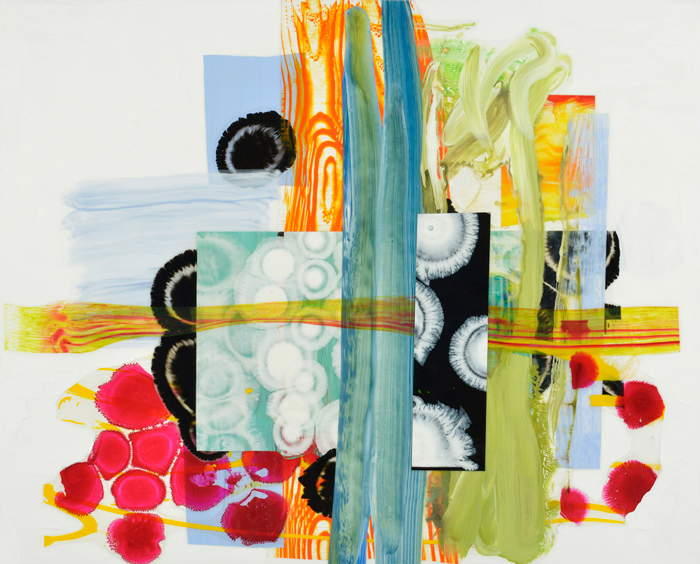 5 December 2014-31 January 2015
Mary Zeran: "La Tierra de Mi Corazón…The Land of My Heart"
Mary Zeran is known for her innovative painting and collage techniques using archival polyester film. Zeran's work evolves over time. The final pieces are compilations of scraps, isolated brushstrokes and forms created from her stock of individually painted polyester sheets. She finds this spontaneous, painterly way of working allows her to be responsive to the cutting and gluing, collaborating directly with the process and materials.
The new abstracted landscapes presented at Gilded Pear Gallery celebrate the land of Zeran's heart, Iowa: a place flowing with small rivers, and creeks, bursting with bountiful fields of corn, powerful oak trees, and expansive skies.
"I've been working to develop a series of abstract brush marks that describe the sense of joy and wonder I feel when I look at the Iowa landscape," said Zeran. "One of the symbols I've been using is wood. Not only is this my way of honouring Iowa's majestic Oak trees, it is a way of celebrating my rich family."
"I'm fascinated with tree rings and how they are an annual record of a life well lived."
About Mary Zeran:
Mary Zeran is a third generation American artist known for her innovative painting and collage techniques using polyester film. She grew up in a family of women folk artists. Textiles, embroidery, and surface decoration, were the visual language of her family. Each time Zeran picks up a brush or scissors, she immerses herself in the language of her family. When she abstracts flowers, trees, and all the colors of nature, she speaks her mother tongue. This language brings her closer to her family traditions, history and stories.
(adapted from the gallery's press materials)
---
INFORMATION
Gilded Pear Gallery
808 Third Avenue SE
Cedar Rapids, Iowa 52403 USA
(319) 366-0205
Hours:
Tuesday-Friday, 10AM-5PM
Saturday, 10AM-4PM
Monday, by appointment
Image:
All the Best Laid Plans
by Mary Zeran
24″x30″x2″
acrylic and Dura-Lar on cradled panel
2014
©Mary Zeran