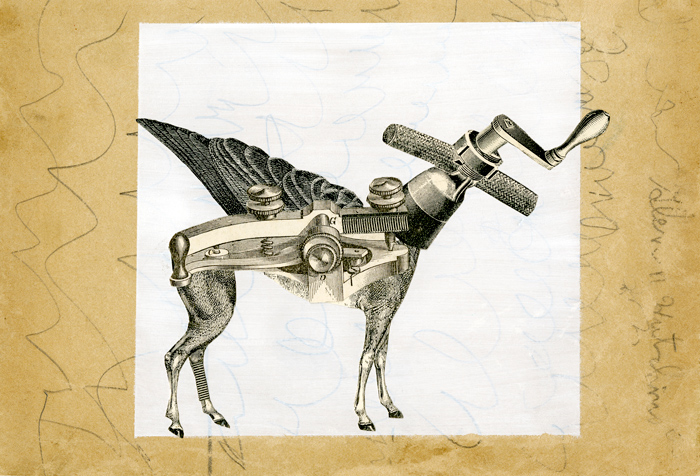 Vanessa Woods is an internationally exhibited artist who works in photography, collage, and film. Her collages combine found paper ephemera with disparate images to create systems that juxtapose the mechanized and biological world. Current pieces are often comprised of found material that includes images of birds, animals, machines and scientific objects that span decades. In Woods' work, collage provides a tool for examining the conceptual relationships between time and memory. Vanessa Woods lives and works in the San Francisco area.
In Vanessa Woods' Artist Portfolio in Issue 10 of Kolaj Magazine, Ariane Fairlie said:
It's surprising how organic the animals feel, even with so much machinery. Woods' compositional strategies seem to transform the mechanical pieces into something more natural, rather than the other way around. The machinery makes the animals powerful, but rarely into Frankensteins denying us the ability to emphasize with them.
To see all of Vanessa Woods' Artist Portfolio, purchase Issue Ten or SUBSCRIBE to never miss an issue.
Image:
Hybrid 3
by Vanessa Woods
5″x7.25″
collage on paper
2012
Courtesy of the artist