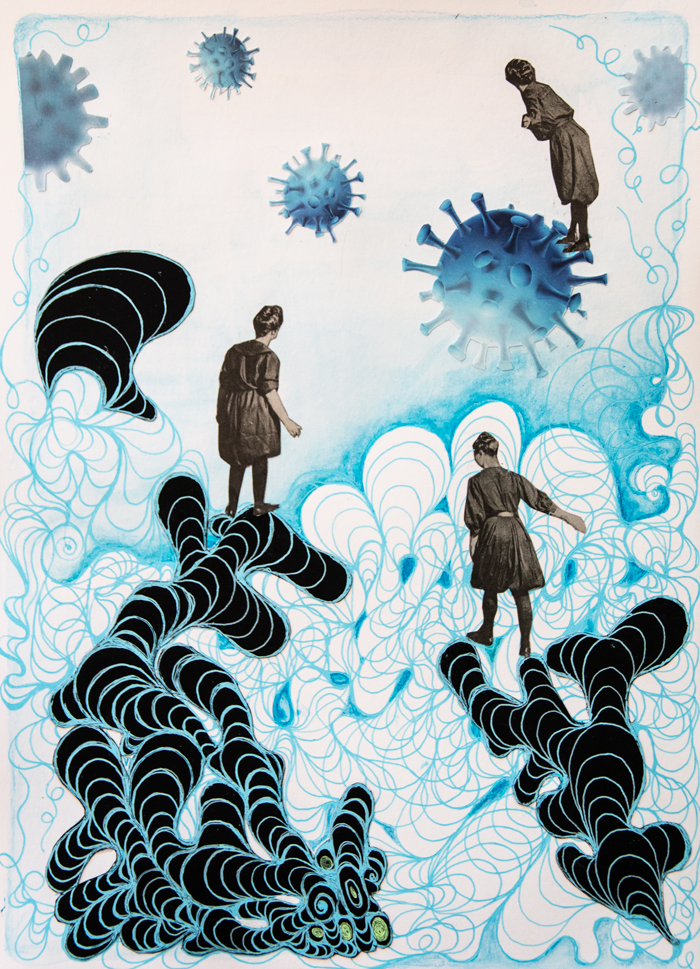 FROM KOLAJ 32
Collage Takes the Stage in Historic TELEPHONE Web-based Interactive Art Project
Based on the popular children's game, TELEPHONE is a multidisciplinary ekphrastic art project that started in March 2020. "Ekphrasis" is the description of a work of art in another work of art. Launched at the start of the COVID-19 pandemic, the goal of TELEPHONE was to use the Internet to foster an international community, connecting isolated artists from cities and nations around the world. At the time of this writing in early 2021, more than 950 artists from 457 cities and 67 countries have collaborated to create the largest compendium of ekphrastic exchanges ever assembled. From bedroom studios in Mexico and Iran to workshops in Rio De Janeiro and London and Hong Kong, TELEPHONE has made hundreds of complete strangers real to one another.
In Kolaj 32, Celia Crane reports on this facinating art initiative.
Celia Crane's article appears in Kolaj 32. To read the full article and see the full issue, SUBSCRIBE to Kolaj Magazine or Get a Copy of the Issue.
An encouraging and inspirational arts and culture story written over the course of an unprecedented international health crisis, TELEPHONE is not only an impressive body of ekphrastic artworks, but a single collage of collaborative ideas expressed by a thousand artists from every corner of the Earth—most of them strangers to each other—during a turbulent time when art is needed most. Though our perspectives are typically restricted to the views we glean through our own small windows, it is beyond any doubt that there are also invisible threads connecting our experience to those who came before and after. On April 10, 2021, TELEPHONE will make those threads visible as it shares its secret message with the world. Learn more at www.phonebook.gallery.
About the Writer
In 2019, Celia Crane left an 18-year marketing career to focus on fiction writing and other creative pursuits. Collage soon became the primary interest and motivation in her life. During the isolation of the COVID-19 pandemic, she celebrated World Collage Day 2020 by converting an 8'x8' garden shed into the Vayo Collage Gallery and held its first show, "Garden Within the Garden" in June 2020. Crane lives and works in Rochester, New York. Learn more by visiting her website www.celiacrane.com or Instagram @celia_crane and @vayocollagegallery.