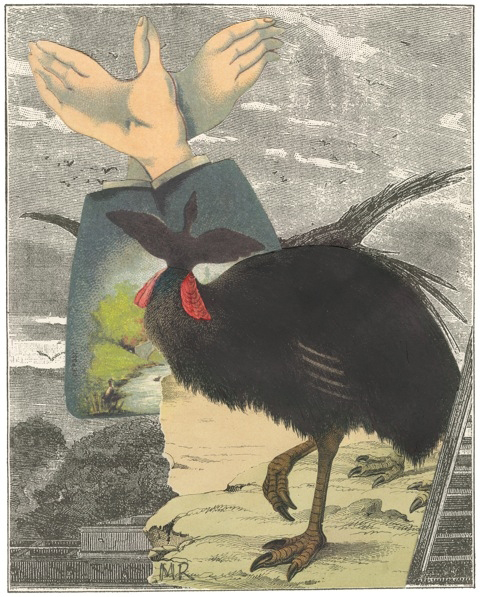 7 May-30 June 2014
Marcus Ratliff: Recent Collage
Marcus Ratliff spent most of his adult life at the centre of the art universe. In the 1960s, he built a graphic design studio in New York City that made books and catalogs for clients such as Leo Castelli, The Museum of Modern Art, P.S. 1, Whitney Museum of American Art, The Hudson River Museum, Museum of Primitive Art, Aldrich Museum of Contemporary Art, The Phillips Collection, Storm King Art Center, and DIA Center For the Arts. In 2008, he moved to Vermont and now makes art "without assignment".
His exhibition, "Recent Collage", at BigTown Gallery in Rochester, Vermont is a remarkable opportunity to view how this artist uses his graphic design experience to make beautiful, smart collage. "This exhibition focuses on the development of his turn to collage, where he has blended his masterful precision of design, with his intuitive discovery of a new vision," said BigTown owner and director Anni Mackay.
This News and Notes item originally appeared in Issue Eight. To see other News and Notes from the world of collage, SUBSCRIBE to Kolaj or PURCHASE ISSUE EIGHT.
---
INFORMATION
BigTown Gallery
99 North Main Street
Rochester, Vermont 05767 USA
(802) 767-9670
Hours:
Wednesday-Friday, 10AM-5PM
Saturday, Noon-5PM
Sunday-Tuesday, by appointment only
Image:
Flight Lesson
by Marcus Ratliff
8.375″x7.5″
collage
2012
Courtesy of the artist and BigTown Gallery, Rochester, Vermont