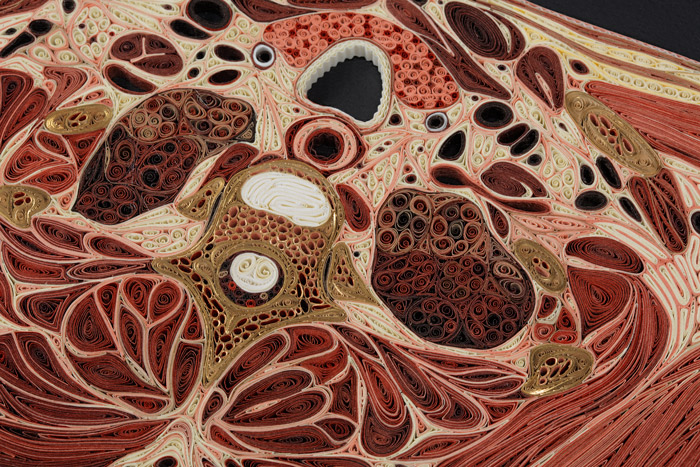 10 October-9 November 2013
Lisa Nilsson's "Connective Tissue" at Pavel Zoubok Gallery
Exhibition Review by Elizabeth Hazard
Anatomy and art collided at artist Lisa Nilsson's "Connective Tissue" at Pavel Zoubok Gallery in New York City's Chelsea neighborhood. On view were Nilsson's recreations of cross sections of the human body made from an ancient art form known as "quilling" that dates back to the 16th century. Quilling or art filigree, as it is also called, involves the intricate rolling, shaping and gluing together of individual pieces of paper to form a design. Nilsson uses a combination of Japanese mulberry paper and gilt edges of old books for her "Connective Tissue" series of work. Nilsson kept within a select group of colours to represent the different body parts: yellow paper representing fat deposits, muscles depicted by pinks and darker shades of red, and white exhibiting bone. The female and male torso, cranium, shoulders, and abdomen are just a few of the cross sections of the human body on view at the exhibition. The artwork is showcased in glass boxes covered by repurposed hardcover bookbinding.
Self admittedly, Nilsson finds inspiration from scientific imagery. Like a surgeon working with a scapula, she intricately and painstakingly works with the paper as if she is maneuvering body parts, each piece forming together into realistic-looking anatomical structures. Each work of art in the exhibit took around two months to complete. This latest collection of work fits well in line with a common thread Nilsson sees throughout her portfolio of work, which in her words is "intricate, multifaceted complex, detailed and time consuming."
Much like the nuns and monks who first used quilling to cover religious books, Nilsson also draws creative inspiration from religion. In a recent interview for Installation Magazine, she said "attention to detail and careful observation are, for me, a means of practicing devotion, a practice common to the scientists and makers of religious art that I admire." "Connective Tissue" presents a strong relationship between science, art and religion, proving that the three can not only coexist, but when melded together, they can create truly beautiful art form.
This review appeared in Issue 7 of Kolaj Magazine. To get your own copy or to subscribe, visit http://kolajmagazine.com/content/subscribe.
---
INFORMATION
Pavel Zoubok Gallery
531 West 26th Street, 2nd Floor
New York, New York 10001 USA
(212) 675-7490
Hours: Tuesday-Saturday, 10AM-6PM
Image:
Shoulders (detail)
by Lisa Nilsson
mulberry paper collage with mixed media box and antique glass
12.5″x22.75″x1.5″
2013
Image courtesy of Pavel Zoubok Gallery, New York