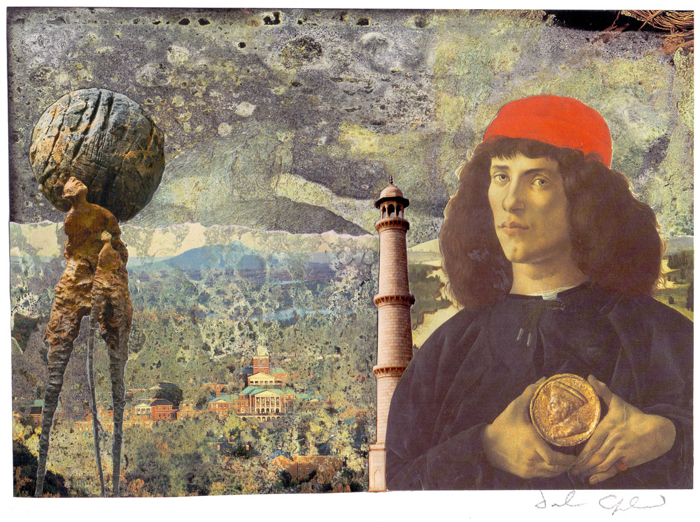 FROM KOLAJ #23
International Collage Exhibition/Exchange Comes to an End After Twenty Years
"In 1999, Cecil Touchon, a collage artist living in Mexico, had the good idea of inviting artists to each send him a pack of thirteen collages. He would keep one from each artist for his own collection (he had the aim of establishing a museum of collage) and send a mixed pack of all the others back to each participating artist. He called the exchange "The Baker's Dozen". (In the 1260s, bakers were severely punished for selling short, so would always include an extra bun in a bag of twelve.) Touchon had a great idea, but there was a major problem: the postal service in Mexico was notoriously unreliable and several collage packs (including mine) went missing. So after two years, Touchon asked for someone in a different country to run the exchange and send him the collection each year. I offered and enjoyed it. Seeing the work of different artists and having first choice of the exchanges was wonderful!" In Kolaj #23, Dale Copeland tells the story of the International Collage Exhibition/Exchange.
This article appeared in Kolaj #23. To see more, SUBSCRIBE to Kolaj Magazine or Get a Copy of the Issue.
Believing that the world can't have too many opportunities for artists to show their work, I created a new one.
2018 marks the twentieth and final International Collage Exhibition & Exchange. The collection, one work from each artist, has been donated to Stone Valley Arts at Fox Hill in Poultney, Vermont, USA and is also online, first at Virtual Tart and then it will join the previous exchanges at Copeland's outofsight site. The selling exhibition hung in the Percy Thomson Gallery in Stratford, New Zealand, 25 July-19 August 2018 and is online on at Virtual Tart. To see the one work from each artist that went to a permanent collection from ICE7 to ICE19, visit www.outofsight.co.nz/Bakers. To learn more about The Copeland Collection, visit the Puniho Art Press site at www.dalecopeland.co.nz/Press.
This article appeared in Kolaj #23. To see more, SUBSCRIBE to Kolaj Magazine or Get a Copy of the Issue.
Images courtesy of Dale Copeland.