Kolaj Magazine reintroduces the Cut-Out Page
Kolaj Magazine is pleased to announce the reintroduction of The Cut-Out Page. A staple of the first three years of the magazine, we retired the feature with Issue 12, but recently revived the concept when we invited collage artists to design cut out pages for the World Collage Day Special edition. The feature was not only popular, it was informative to see how artists selected and organized the fragments. We have decided to once again make The Cut-Out Page a regular feature of the magazine.
To submit your Cut-Out Page for consideration, visit our call to artists HERE.
You can also download a PDF of the page should you wish to not cut up your copy of the magazine. Download it HERE.
---
FROM KOLAJ #23
Pink is an Attitude
Sue Guildford | Sandbach, Cheshire, U
nited Kingdom
Miley Cyrus once said, "Pink isn't just a colour, it's an attitude." And with that, we are pleased to introduce this cut out page from Sue Guildford.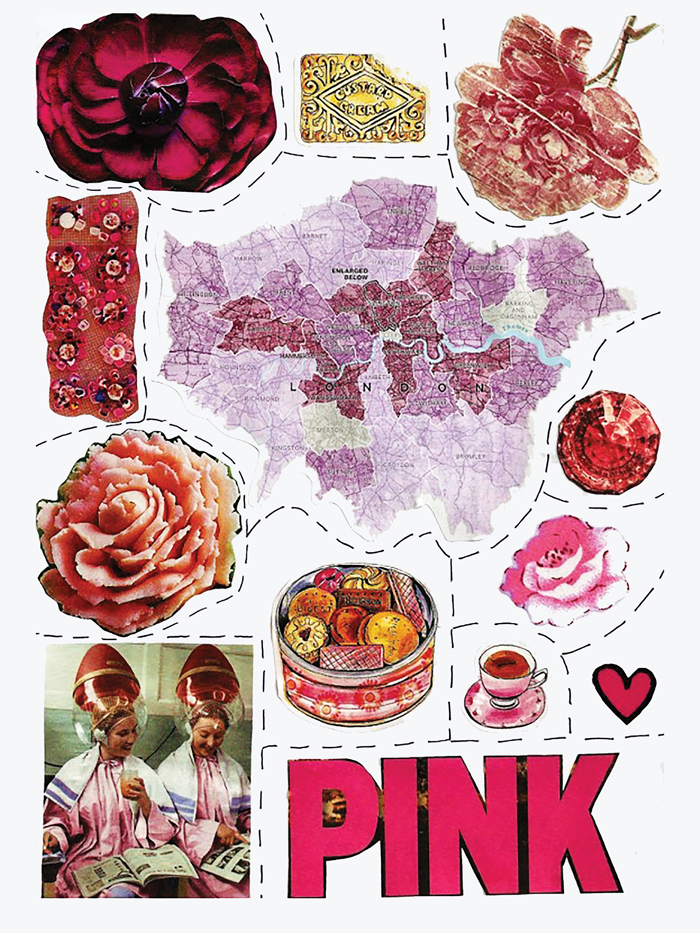 Guildford spends a lot of her time encouraging the creativity of others. She operates Junk Art Creations, a workshop for schools and community groups where she encourages participants to look at everyday items, especially those destined for the scrap heap, completely differently and then shows how to turn them into something that is fun, functional or fantastic. She also works with Sketchbook Circle, a year-long collaborative project established to encourage artist educators to make time for their own personal work.
She often uses collage in her art education because "it's easy to do and that anybody can access it as an art form," and yet "it's harder than you think and requires concentration and focus." She writes about her advice to aspiring collage artists, "Inspiration can be found on seeing an image that interests you or grabs your attention but, you need lots of other images to build around this core piece. Therefore, as soon as you see an image you like cut it out and start collecting. Decide how you want to file images—e.g., have zip wallets and set a theme, one might be faces or people, another flowers or plants, another fish or sea-life…This will make it quicker and easier to locate items for your collage."
See more of Guildford's work on Facebook @junkartcreations999 and occasionally on her website, www.junkartcreations.co.uk, which concentrates on the work she does with schools and in the community.
This Cut-Out Page appeared in Kolaj #23. To see the entire issue, SUBSCRIBE to Kolaj Magazine or Get a Copy of the Issue.