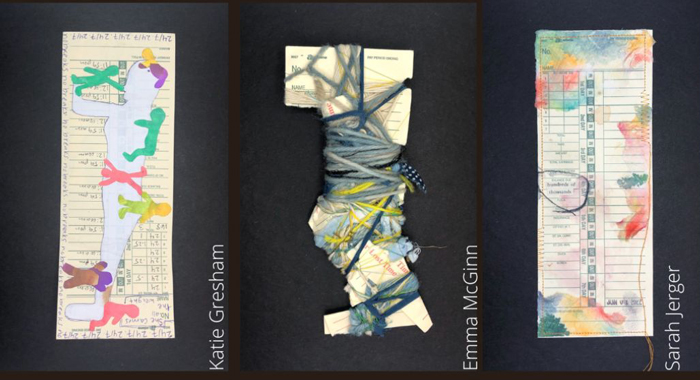 COLLAGE ON VIEW
Clocking in for Unpaid Labo(u)r Canada
to be shown in the Vancouver, British Columbia area
Late Spring or Summer 2024
Open to Canada-resident Artists only
Deadline: 31 March 2024
Coordinated by artists Jennie Johnston and Shamina Senaratne, this project was created by Chicago, Illinois artist Elaine Luther in 2021, as she explored labour, domestic labour, and unpaid caring work. Expanding in the last three years, the project has now had multiple exhibits and many of the pieces submitted by artists across the United States will soon appear in a book.
Time cards record the hourly work done by workers in paid institutions. In many ways they are obsolete today, but we invite you to ponder the work that you do without getting paid. Whether the work you do without pay is emotional labour, housework, caregiving, or unpaid aspects of freelance work, we invite you to make a time card.
There are no restrictions on type of media. Ideally, art will not extend more than two inches beyond the time card itself, and some portion of the time card should remain visible. Work needs to be lightweight and able to be hung on the wall with a 3M Command Strip (or two).
This is a community art project. Jennie and Shamina hope to exhibit the collection works in late spring or summer 2024. (Learn more about the project so far at Elaine Luther's website and see the gallery of finished time cards here.)
To Participate:
For artists who live in the Vancouver, British Columbia area, send an EMAIL to Jennie Johnston for a local pick up.

For artists who live outside the Vancouver, British Columbia area, complete the registration form HERE to receive a mailing address.
Once you are registered:
Mail Jennie a self-addressed, stamped business sized envelope (#10 size, 4.125″x9.5″)
Jennie will mail you two time cards. Once you receive your time cards, create away.
Once you are finished, email Jennie a photo of the card and a short artist statement (two sentences to one paragraph), and mail the card back.
Be sure to sign the back of your time card with your name and social media details.
All participants will be kept informed of the project's developments. Please note these cards will not be returned to the artist.
Open to Canada-resident Artists only
Deadline: 31 March 2024
(This text was provided by Jennie Johnston. Please direct questions to her via EMAIL.)