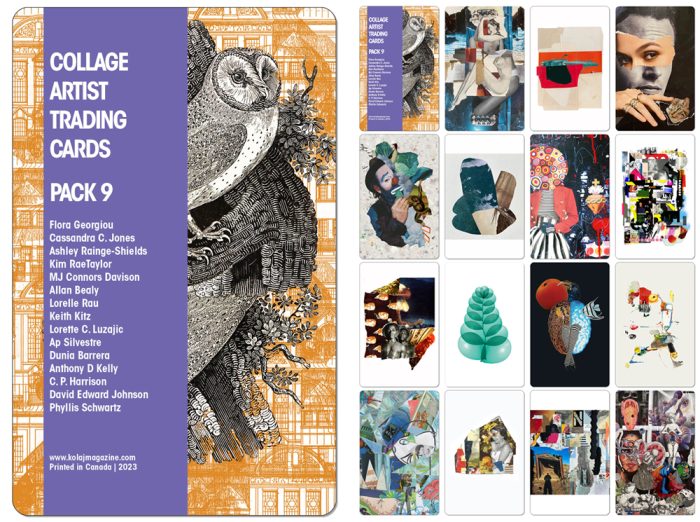 Collage Artist Trading Cards Pack 9 Is Now Available
Collage Artist Trading Cards Pack 9 is sent automatically to members of the Silver Scissors & Golden Glue Societies. These special subscribers support the work of Kolaj Institute while receiving an item from Kolaj each month. Join before 20 November 2023 to start your subscription with this item.
Kasini House Artshop works with the Kolaj Magazine Artist Directory to produce curated packs of the Collage Artist Trading Cards. Each card is a full-color, 5.5" x 3.5" postcard with rounded corners. An example of an artist's work is on the front of the card and the artist's public contact information is on the back. Collage Artist Trading Cards come in packs of 15.
You can frame the cards you like as mini-prints; collect and curate your very own exhibition. You can also use the cards for discovering contemporary, fine art collage. We think they are a great way to be introduced to the artwork of collage artists.
Collage Artist Trading Card packs provide an interesting foray into artist practice.
For Flora Georgiou (Brunswick, Victoria, Australia), collage is an exploration of the psyche sourcing images and making connections between lines, form, and color. Cassandra C. Jones (Ojai, California, USA) uses digital photography to create collage works, wallpaper installations, and videos that spin narratives and present a prismatic reflection of our self-involved, technology-based, snap-happy contemporary lifestyles. Equal parts graphic designer and artist, Keith Kitz (Boston, Massachusetts, USA) is not exclusively defined by these labels; he is equally identified as a poet, painter, or simply a maker. Themes that make up the collage work of Ap Silvestre (Lisbon, Portugal) include nature and our relationship to it; human identity and our inner animality, (de)construction of identity/ies; gender-body-mind relationships; aging; housekeeping and the invisibility of this work and, last but not least, the nothing—doing without having to think or mean something. Scissors, double-sided tape, and a self-healing cutting mat are at the core of the practice of Ashley Rainge-Shields (Savannah, Georgia, USA).
Dunia Barrera (Munich, Germany) writes, "I like to work with found materials and discarded paper that I find on the streets. Graphic design and affichiste art are big influences in my practice." The collage work of Kim Rae Taylor (West Palm Beach, Florida, USA) is usually rooted in drawing, allowing more traditional media to interact with castoff bits like discarded paper, shards of plastic, vinyl, and signage. MJ Connors Davison (Portland, Oregon, USA) composes visual spaces using collage, offering portals to happenings that interact with our subconscious mind. Imagery that evokes the archetypal, ancestral, and natural world inspires her the most.  Lorette C. Luzajic (Toronto, Ontario, Canada) is "driven by eclectic curiosity and by the joy of juxtaposition." 
The harmonious compositions of Lorelle Rau (Boise, Idaho, USA) piece together snippets of found paper and captured imagery to create graceful linear vistas and abstract scenes that coordinate color, texture, and shape with balanced intention. Allan Bealy (Brooklyn, New York, USA) writes, "Collage is about isolating fragments and imposing a new relationship between disparate elements. New connections can leak from one layer to the next. I spend a lot of time staining and distressing paper, creating a palimpsest of hidden and revealed meaning."
The collage practice of C. P. Harrison (Austin, Texas, USA) embraces the philosophy of "joy as resistance." Anthony D Kelly (Castlebar, County Mayo, Ireland) believes the arts have an essential role in the maturation and the restorative humanization of our society; by providing us with a means to share lived experiences, reflect on the harsh realities of today, and imagine infinite possible futures through the vehicle of creativity. For David Edward Johnson (Skaneateles, New York, USA), the rhythmic, the esoteric, the mystic, the poetic, and the intuitive drive his work. All of those shape his aesthetic and give his pieces backbone. With nothing more than a pair of scissors and a glue stick, Phyllis Schwartz (Victoria, British Columbia, Canada) layers together different pictures from news, fashion, and architecture magazines to create hybridized images that challenge traditional notions of context and meaning.
Collage Artist Trading Cards, Pack Nine
5.5″x3.5″ | 15 full-color postcards with title cards in clear plastic bag | 2023 | Published by Kolaj Magazine | Printed in Canada
PURCHASE
U.S. & International Purchasers go HERE | Canadian Purchasers go HERE