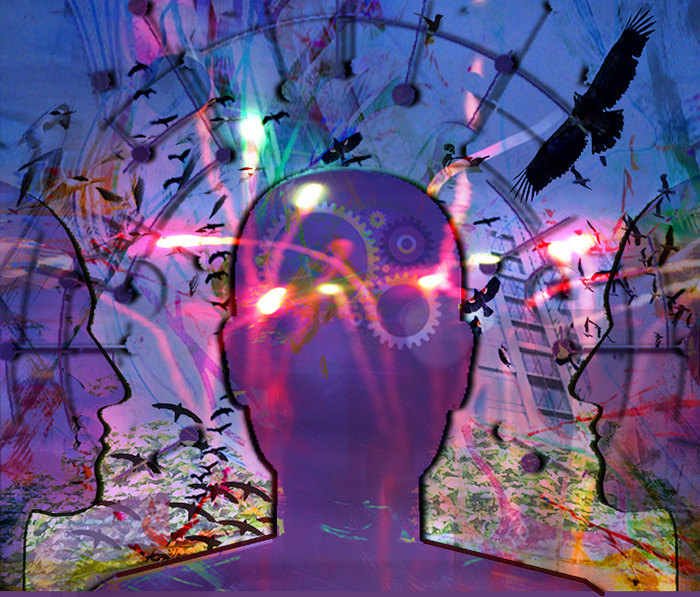 image courtesy of Collage Artists of America
CALL TO ARTISTS
Internal Dialogues
An Open Virtual On-Line Juried Exhibit
1-30 November 2022
Deadline: 6 October 2022 at Midnight PDT (3AM EDT)
Collage Artists of America (CAA) is accepting international entries for "Internal Dialogues: An Open Virtual On-line Juried Exhibit", 1-30 November 2022. We all have conversations going on in our head with questions and answers that boggle our minds and conjure up images. CAA encourages artists to reflect on these ideas to learn more about what influences their work. Every artist creates with different intentions, processes, and techniques, so show us what your internal dialogues look like.
The Juror of Selection and Awards, Jim Morphesis, is considered one of the most influential members of the expressionist art movement in Southern California. His extensive collection of showings include forty-five solo exhibitions and over one hundred and thirty invitational group exhibitions in museums and galleries. Morphesis' paintings can be seen in the permanent collections of more than thirty museums including: the Los Angeles County Museum of Art, the Museum of Contemporary Art San Diego, the Oakland Museum of California, the Phoenix Museum of Art, and the San Francisco Museum of Modern Art.
There are cash awards totaling $1100. These awards will be given to artists in first ($500), second ($300), and third ($200). One artist will receive the Carolann Watterson Award ($100) and there will be four Honorary Mentions.
How to Enter:
For more information, including eligibility, qualifying entries, and submission requirements view their Prospectus and enter the show here: https://www.onlinejuriedshows.com/Default.aspx?OJSID=55456
All accepted entries and winners will be displayed as an on-line exhibit on the SFVACC/SCORE website, and on the Online Juried Shows website's "Published Shows".
DEADLINE: 6 October 2022 at Midnight PDT (3AM EDT)
CAA is a non-profit public benefit corporation founded in 1988 by nine women artists. It celebrates the art of collage, both analog and digital, and has over 200 members worldwide.
(The text of this call to artists was based on materials provided by the organizers, who are solely responsible for its content. All questions should be directed to the Exhibits Chair HERE)