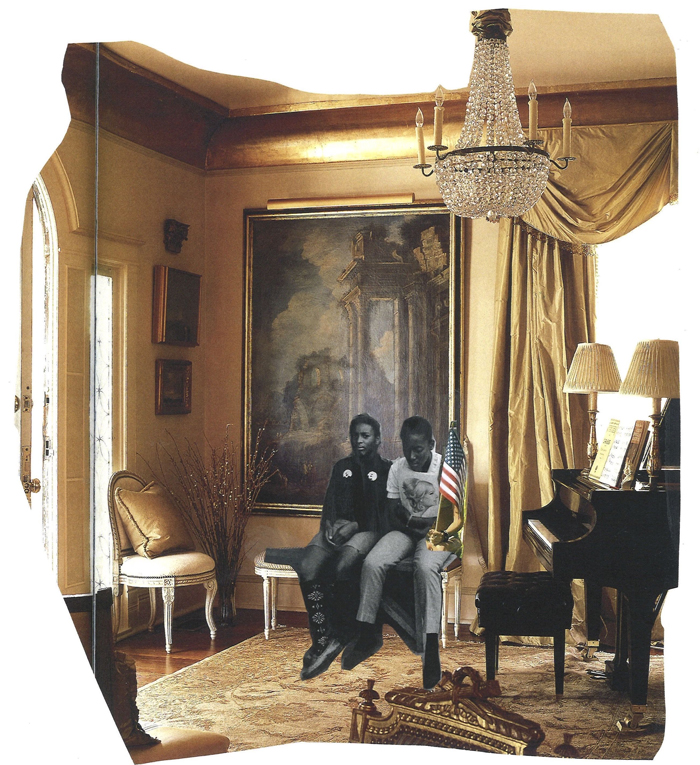 COLLAGE ON VIEW
Many Americas: Art Meets History
at the Wilson Museum at the Southern Vermont Arts Center in Manchester, Vermont, USA
20 August-27 November 2022
"Many Americas: Art Meets History" takes as a premise that we do not share a common history and our divergent histories are the source of our troubled civic discourse. We live in many Americas, each shaped by a different experience of the country and how our nation came to be.
Each of the artworks in "Many Americas: Art Meets History" uses history as its point of departure and speaks to present day issues. The artworks demonstrate the multiple, sometimes competing histories of America. Artists draw upon personal histories and history as understood by their own communities. Some of these may be familiar, some may reflect a part of America that is unknown to us.
In doing this, we invite the viewer to consider the art museum to be a public square where we can come together and explore important civic issues. Artworks raise questions about patriotism, racialized violence, media representation, untold histories, immigration, family trauma, community evolution, gentrification, segregation, inequality, and social justice. The premise is that the more we know about our fellow citizens, the better citizens we can be; that our biases and blind spots are overcome by listening to the stories of others. The more we understand the past, the better we are prepared to make decisions about the present.
The exhibition is Inspired by historian Ronald Takaki's A Different Mirror: A History of Multicultural America. Each of the artists in this exhibition picks up the unfinished work of history and invites a conversation about America's future. To develop the exhibition, guest curator Ric Kasini Kadour undertook an eighteen-month-long research project funded by The Andy Warhol Foundation for the Visual Arts that examined the intersection of history and contemporary art.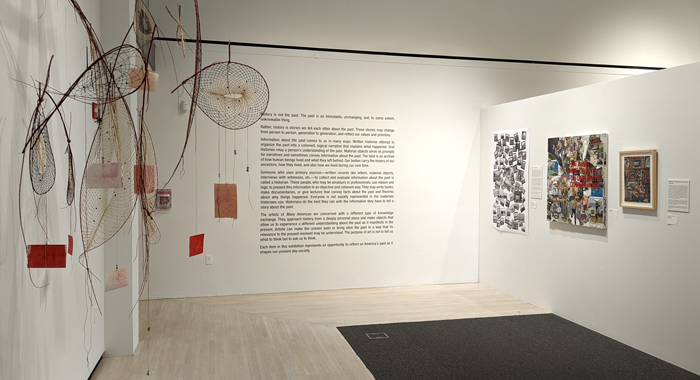 PARTICIPATING ARTISTS
Vakseen's Fear of a Black Planet offers a critique of American animation's connection to minstrelsy and reclaims cartoon characters from the Eighties and Nineties as Black heros.
The 3-foot by 10-foot collage, We Pledge Allegiance, by CoCo Harris uses historical news clippings from The Black Chronicle and black-and-white photographs of the American flag to raise questions about patriotism.
Nell Irvin Painter's You Say This Can't Really Be America illustrates for the viewer how different experiences of America play out in conversations. The artwork makes visible the tension when one person questions and negates the experience of another. Lent by the Minneapolis Institute of Art, The Eugene and Virginia Palmer Fund for Prints and Drawings.
Lillian Trettin pays homage to the Highlander Research and Education Center in New Market, Tennessee for its contributions since the 1930s to the ongoing struggle for organized labor and civil rights.
Dorothea Osborn's large, woven tapestry shows a personal family history as layers of sediment, each one informing and blending into the other.
A monumental artwork by EveNSteve explores the history of an American city and its cycles of destruction and creation.
Karsten Creightney's painting of a Chicano cemetery on the outskirts of Albuquerque, New Mexico illustrates how the sacred space of one community is not necessarily treated as such by others.
Michael Ryder (Ojibwe) presents a contemporary Dream Catcher that uses personal archive of historical photographs to talk about bodily trauma and to highlight the displacement of native people
Takako Konishi is "inspired by contradictions of one of America's greatest industrial behemoths, the cotton industry."
Sharon Shapiro's collage paintings of swimming pools call upon the viewer to consider the legacy of recreational segregation. A visual storyteller, Shapiro's work embodies what it means to have grown up as a white woman in the American South in the 1980s–well after segregation was no longer the law, yet still lived everyday.
Ger Xiong's embroidered tapestry speaks to the experience of refugees in America, specifically the Hmong people.
A lithograph by Detroit-artist Mario Moore remembers three African American artists: Henry Ossawa Tanner, Bob Thompson, and David Bustill Bowser.
An installation that combines items from the Dorset Historical Society and items from a private collection speaks to the role material culture plays in shaping history.
Informed by African practices of adornment, Erin Smith Glenn's paintings celebrate Black Hair Culture and invite viewers to consider the role hair salons have played in the Civil Rights Movement and continue to play in the fight for social justice.
Phyllis Famiglietti's collages speak to the history of redlining and reference racial violence that took place in 1943 around the Sojourner Truth Housing Project in Detroit.
Glenyse Thompson collages and paints affidavits from the early 20th century to the present as a way of inviting the viewer to consider the consistent application of racial violence as a means of social control and repression that continues to this day.
A collage of photographs from the Albuquerque Museum's Photography Archive and a collaborative artwork made with material referencing The Historic New Orleans Collection speak to how artists draw upon historical materials to create a sense of place.
The exhibition will also include artwork from Southern Vermont Arts Center's Permanent Collection by Arthur S. Siegel, Dwight D. Eisenhower, Simon & Herta Moselsio, Dong Moy Chu Kingman, Luigi Lucioni, Cleade Enders, Irwin Hoffman, Gordon Samstag, Ernst Ludvig Ipsen, Leonebel Jacobs, and Horace Day.
Exhibition support provided by the Charles Wood Foundation, the Manchester Business Association, and Vermont Humanities.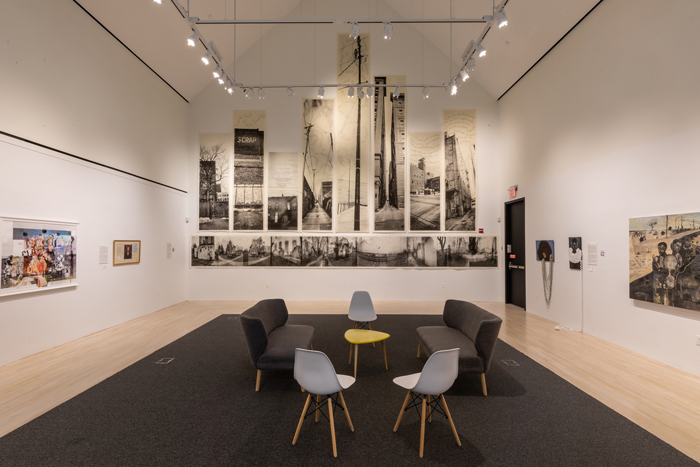 ABOUT THE CURATOR
Ric Kasini Kadour
Ric Kasini Kadour, a 2021 Andy Warhol Foundation for the Arts Curatorial Fellow, is a writer, artist, publisher, and cultural worker. Working with the Vermont Arts Council, Kadour curated four exhibits: "Connection: The Art of Coming Together" (2017) and Vermont Artists to Watch 2018, 2019 and 2020. In 2017, he curated "The Art of Winter" at S.P.A.C.E. Gallery in Burlington, Vermont. In 2018, Kadour curated "Revolutionary Paths: Critical Issues in Collage" at Antenna Gallery in New Orleans, which bought together collage artists whose work represents the potential for deeper inquiry and further curatorial exploration of the medium; followed in 2019 by "Cultural Deconstructions: Critical Issues in Collage" at LeMieux Galleries in New Orleans, which furthered the conversation. Since 2018, he has produced Kolaj Fest New Orleans, a multi-day festival & symposium about contemporary collage and its role in art, culture, and society. As Curator of Contemporary Art at Rokeby Museum in Ferrisburgh, Vermont in 2019 and 2020, he curated three exhibitions, "Rokeby Through the Lens" (May 19-June 16, 2019), "Structures" (August 24-October 27, 2019), and "Mending Fences: New Works by Carol MacDonald" (July 12-October 25, 2020). He also curated "Contemporary American Regionalism: Vermont Perspectives" (August 17-October 20, 2019); "Where the Sun Casts No Shadow: Postcards from the Creative Crossroads of Quito, Ecuador" (November 1-30, 2019); and "Many Americas" (August 20-November 27, 2022) in the Wilson Museum & Galleries at the Southern Vermont Arts Center. "The Money $how", co-curated with Frank Juarez, was presented at the AIR Space Gallery at Saint Kate-The Arts Hotel in Milwaukee, Wisconsin (April 10-September 12, 2021). For Birr Vintage Week & Arts Festival in Birr, County Offaly, Ireland (August 13-20, 2021), he curated "Empty Columns Are a Place to Dream", which traveled to the Knoxville Museum of Art in January-February 2022. At 516 ARTS in Albuquerque, New Mexico, Kadour co-curated with Alicia Inez Guzmàn two exhibitions: "Many Worlds Are Born" (February 19-May 14, 2022) and "Technologies of the Spirit" (June 11-September 3, 2022). Kadour is the editor and publisher of Kolaj Magazine. He has written for a number of galleries and his writing has appeared in Hyperallergic, OEI, Vermont Magazine, Seven Days, Seattle Weekly, Art New England (where he was the former Vermont editor) and many others. Kadour maintains an active art practice and his photography, collage, and sculpture have been exhibited in and are part of private collections in Australia, Europe and North America. In January-February 2020, he was artist-in-residence at MERZ Gallery in Sanquhar, Scotland. He holds a BA in Comparative Religion from the University of Vermont. Kadour splits his time between Montreal and New Orleans. www.rickasinikadour.com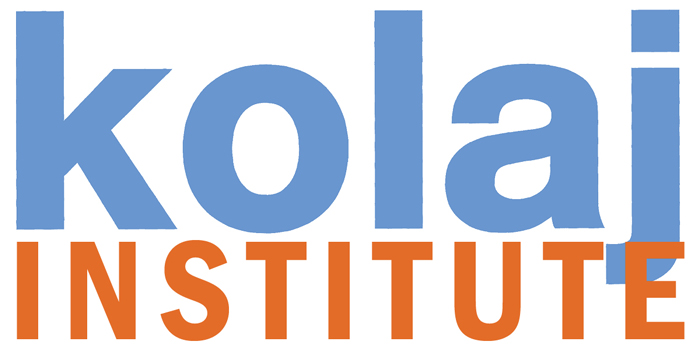 ABOUT KOLAJ INSTITUTE
The mission of Kolaj Institute is to support artists, curators, and writers who seek to study, document, & disseminate ideas that deepen our understanding of collage as a medium, a genre, a community, and a 21st century movement. Kolaj Institute operates a number of initiatives meant to bring together community, investigate critical issues, and raise collage's standing in the art world. kolajinstitute.org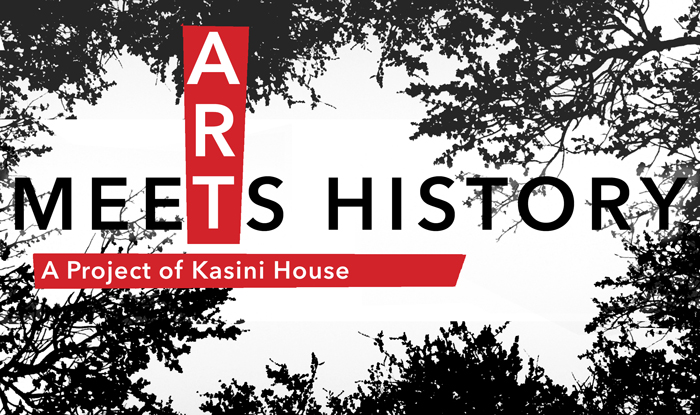 ABOUT ART MEETS HISTORY
Art Meets History is an initiative of Kasini House that works to build connections between contemporary art and history-focused organizations. Symposiums and talks promote the idea and value of art and history working together. Artist Labs and an online directory connects artists and history organizations. With this work, we develop exhibitions, curatorial projects, and publications. Our vision is that artists pick up the unfinished work of history and speak to contemporary civic discourse around social, economic, and environmental issues.  kasinihouse.com/art-meets-history
ABOUT THE SOUTHERN VERMONT ARTS CENTER
The Southern Vermont Arts Center (SVAC) is a multidisciplinary arts organization in Manchester, Vermont with a mission to promote and nurture the arts. SVAC strives to provide opportunities for local and regional artists, to introduce the wider community to artwork and performances of national relevance, and to engage diverse audiences. To do this, SVAC creates a community space for the arts through concerts and performances in the Louise Arkell Pavilion; adult art workshops and children's summer camps in the Hay Madeira Education Studios; trails throughout its 100-acre campus and the Stroup Family Sculpture Park; and through exhibitions and events at Yester House and the Elizabeth de C. Wilson Museum. Opened in 2000, the Wilson Museum & Galleries provide a contemporary, state-of-the-art exhibition space for visiting artists and exhibitions. The Wilson also serves as a secure repository for our Permanent Collection, featuring over 900 works by Luigi Lucioni, Ogden Pleissner, Grandma Moses, Lorenzo James Hatch, and others. www.svac.org
---
INFORMATION
Wilson Museum
Southern Vermont Arts Center
860 SVAC Drive
Manchester, Vermont 05254 USA
(802) 362-1405
Hours:
Tuesday-Sunday, 10AM-5PM