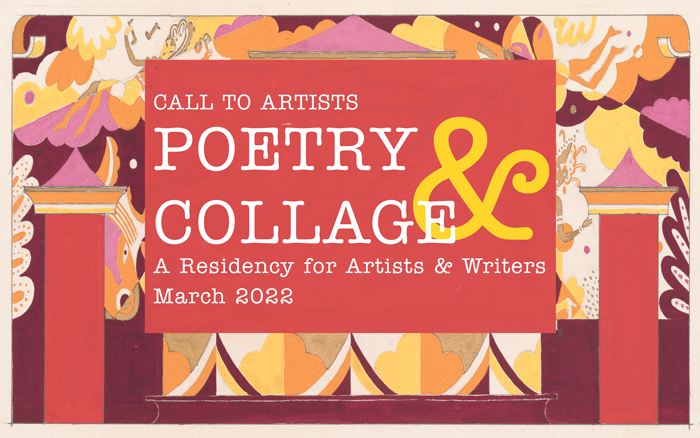 CALL TO ARTISTS
Poetry & Collage Residency
A four-week, virtual/online residency
with Kolaj Institute in March 2022
Deadline to apply: Wednesday, February 2, 2022
It says something that in the Poetry Foundation's Glossary of Poetic Terms, "collage" is one of the few visual art terms they define. Perhaps this is because so many poets have also been collage artists. In recent years, we've seen exhibitions from John Ashbery and Marc Strand, whose collage "dates back to his student days at Yale in the 1950s where he studied with Josef Albers, the renowned Bauhaus artist and color theorist, and also Bernard Chaet." Arthur Solway recalled, "Though we were eight thousand miles apart we would have weekly Skype calls, and he was always eager and excited to show me the latest batch of collages he was working on." A 2017 book of Helen Adam's collages, which fellow poet Robert Duncan referred to as "pleasing weird", has sold out. Keith Waldrop, Barbara Guest, John Wieners, Norma Cole, the list is long.
This project-driven residency is open to artists and poets. Participants will work together to investigate the intersection of collage and poetry by exploring concepts of found poetry, blackout poetry, collage poems, haikus, centos, response collages, response poems, word scrambles, concrete poetry, scatter collage poems, and other poems and artwork that inhabit this world. Together we will create working definitions and document techniques.
Guest speakers will share their practice, knowledge and experience. Portland, Oregon-based Kevin Sampsell is an editor, publisher, bookstore employee, collage artist, and author. His forthcoming book of collage art and poems, I Made an Accident, is being published by Clash Books. Renée Reizman is an interdisciplinary curator, artist and writer specializing in social practice and civic engagement. Her workshop, "Deconstructing Legalese", uses found poetry to examine contracts and codes imposed upon us by bureaucratic systems, and reconstructs the language to reclaim our personal histories. Rod T. Boyer creates art and poetry under the moniker our thomas, exploring themes of redemption, mystery, and transformation. In Kolaj #32, his article, "Mind the Gap," explored how collage and haiku share similar mechanisms of juxtaposition and disjunction.
In several virtual meetings over four weeks (see schedule below) and through ongoing, online discussion, artists will leave the residency with a deeper understanding of the intersection of collage and poetry. Individual participants will each create 3-5 page spreads that will be included in a forthcoming book of collage and poetry from Kolaj Institute. The pages may be entirely text, entirely images, or some combination of the two.
WHO IS THIS FOR?
Collage Artist Residencies are intended for self-motivated writers and artists, at any stage in their career, who want to develop their practice by exploring a topic or working method and collaborating with others to produce a final product. Residencies are open to any artist over the age of 21 from anywhere in the world.
COST
The cost of the residency is $500 per artist; however, no artist will be turned away for lack of funds and the organizers will work with artists to build a financial aid package.
HOW TO APPLY
Submit your application HERE.
RESIDENCY LOGISTICS
Dates: March 3rd – March 31st, 2022
SESSION DATES
Saturday, March 5th, 3-4PM EST
Sunday, March 6th, 3-5PM EST
Wednesday, March 9th, 5-6PM EST
Sunday, March 13th, 3-5PM EST
Sunday, March 20th, 3-5PM EST
Wednesday March 30th, 5-7PM EST
The residency will begin with an invitation to join the Slack workspace on Thursday, March 3rd, followed by a one hour, online Meet & Greet on Saturday, March 5th at 3PM EST.
The Introduction and Orientation session will take place on Sunday, March 6th from 3-5PM EST and artists will begin to plan their work and collaborations during a one hour meeting on Wednesday, March 9th at 5PM EST.
Two sessions with guest speakers are scheduled for Sunday, March 13th, and Sunday, March 20th from 3-5PM EST.
The final session will take place on Wednesday March 30th from 5-7PM EST.
Artists are expected to attend all scheduled sessions and complete assignments. The group will individually and collectively produce a series of poems and collages. By participation in the residency, artists grant Kolaj Institute, Kolaj Magazine, and Maison Kasini permission to publish the text and images in book form and in the promotion of the project and book. Any original work made during the residency remains the property of the individual artists with all rights retained.
APPLICATION PROCESS
The submission process asks applicants for:
• Contact information
• Artist or Writer Bio (50-250 words)
• Statement of Artist or Writer Practice (50-300 words)
• 3-5 images of artwork or samples of writing
• Statement of expectations
• Asks questions about your work and needs
QUESTIONS
If you have questions, send an email.
---
FACULTY & GUEST SPEAKERS
Kevin Sampsell's books include the memoir A Common Pornography, the novel This Is Between Us, and a forthcoming book of collage art and poems, I Made an Accident (from Clash Books). He has written about collage for The Rumpus, Kolaj Magazine, and elsewhere. He co-curates (with Cheryl Chudyk) an international collage website called Sharp Hands Gallery. In 2021, he was featured in The Weird Show. He lives in Portland, Oregon, USA. www.kevinsampsell.com
Renée Reizman is an interdisciplinary curator, artist and writer specializing in social practice and civic engagement. Working within diverse communities, she studies the ways infrastructures shape our culture, policy, and environment. She is currently the 2019-2022 Creative Catalyst, an Artist-in-Residence situated within the Los Angeles Department of Transportation, and a professor at Pepperdine University. Renée has organized a number of exhibitions, performances, interactive installations, and workshops for organizations like Kolaj Institute, the Library Foundation of Los Angeles, The Feminist Center for Creative Work, 826LA, the University of California, Irvine, and Machine Project. She has exhibited work at Access Gallery (Vancouver, British Columbia), the Irvine Fine Arts Center (Irvine, California), Unit 5 Gallery (Los Angeles), UCLA Broad Arts Center, California State University Long Beach, and the Museum of Human Achievement (Austin, Texas). Her writing appears in Art in America, New York Magazine, The Atlantic, Vice, Teen Vogue, InStyle, Chicago Magazine, Slate, Hyperallergic, ARTNews, The Awl, and more. Renée has been an Artist-in-Residence at Northwestern Oklahoma State University, NAVEL, Art Farm, and the Museum of Human Achievement. Renée holds an MFA in Critical & Curatorial Studies at the University of California, Irvine. www.reneereizman.com
Rod T. Boyer creates art and poetry as our thomas, exploring themes of redemption, mystery, and transformation. Like the rest of the world, he's trying to make sense of the endless and overwhelming stream of flotsam (physical and metaphoric) that accompanies his life. His collage work has been exhibited in his local area and his haiku have recently appeared in the journals Modern Haiku, Acorn, is/let, Sonic Boom, the Asahi Shimbun newspaper, Trash Panda, and Failed Haiku, among others. His article, "Mind the Gap: Collison and Context in Haiku and Collage" appeared in Kolaj 32. He was named a finalist in the first annual Trailblazer Contest and has had work selected for the forthcoming The Red Moon Anthology of English-Language Haiku, 2021. He can be found wandering the streets in Exeter, New Hampshire, USA and, online, at ourthomasart.com and on Instagram @our.thomas.
Christopher Kurts is a storyteller, artist, and the Coordinator for Kolaj Institute. Kurts is also the co-founder and lead organizer of The Mystic Krewe of Scissors and Glue, a group of creatives in New Orleans who meet monthly to collage, converse and foster community. His work appeared in "The Heart of a Dark Universe" at Bar Redux and in "Unfamiliar Vegetables", a group show and book Kurts helped organize for Kolaj Fest New Orleans at Artisan Bar & Cafe in Summer 2019. In the fall of 2019, Kurts curated, "The Lifting of the Veil: The Optimist's Apocalypse", a group show. He was the art director for the collage illustrated edition of Oh, Money! Money! by Eleanor H. Porter, published by Kolaj Institute and Maison Kasini. His art was also featured in issue #4 of Loner Magazine. www.christopherkurts.com
Ric Kasini Kadour, a 2021 recipient of a Curatorial Fellowship from The Andy Warhol Foundation for the Visual Arts, is a writer, artist, publisher, and cultural worker. With the Vermont Arts Council, he curated "Connection: The Art of Coming Together" (2017) and Vermont Artists to Watch (2018, 2019, 2020). In New Orleans (2018-2019), he curated "Revolutionary Paths" at Antenna Gallery and "Cultural Deconstructions" at LeMieux Galleries. As Curator of Contemporary Art at Rokeby Museum in Ferrisburgh, Vermont (2019-2020), he curated "Rokeby Through the Lens", "Structures", and "Mending Fences: New Works by Carol MacDonald". At the Southern Vermont Arts Center (2019), he curated "Contemporary American Regionalism: Vermont Perspectives" and "Where the Sun Casts No Shadow: Postcards from the Creative Crossroads of Quito, Ecuador". With Frank Juarez, he co-curated "The Money $how: Cash, Labor, Capitalism & Collage" at Saint Kate-The Arts Hotel in Milwaukee, Wisconsin (April-September 2021). For the 52nd Annual Birr Vintage Week and Arts Festival in Ireland (August 2021), Kadour curated "Empty Columns Are a Place to Dream", which will travel to the Knoxville Museum of Art in early 2022. Kadour is editor and publisher of Kolaj Magazine. His writing has appeared in Hyperallergic, OEI, Vermont Magazine, Seven Days, and Art New England (where he was the Vermont editor). In Winter 2020, he was artist-in-residence at MERZ Gallery in Sanquhar, Scotland. He holds a BA in Comparative Religion from the University of Vermont. www.rickasinikadour.com