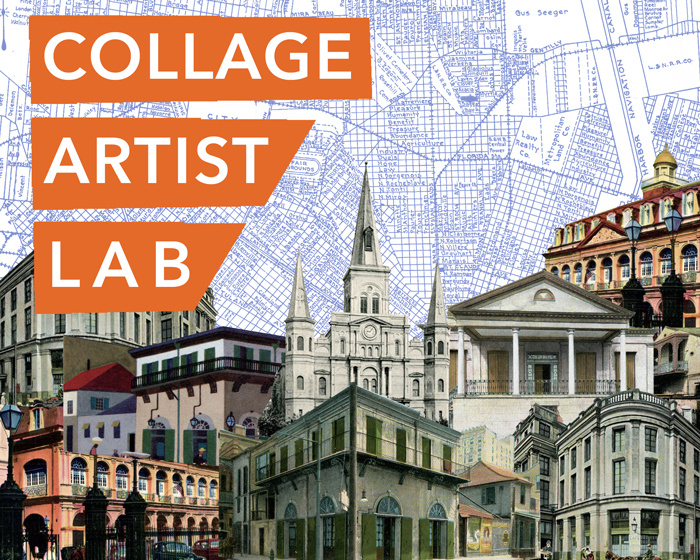 CALL TO ARTISTS
New Orleans Collage Artist Lab: City as Archive
A five-day, in-person Collage Artist Lab with Kolaj Institute
November 2022
Deadline: Rolling with no applications accepted after 30 September 2022.
New Orleans Collage Artist Lab: City as Archive is a five-day intensive of workshops, discussions, and collage making designed to foster the integration of history and place into a collage artist's practice.
The Lab takes as its premise that the urban landscape can be viewed as a sort of archive with which artists can draw from, not unlike a material archive maintained by an institution. Literary critic Michael Sheringham spoke about the city as archive in a 2016 interview. "Many archives combine all sorts of matter; some of it vitally important and a lot of it just stuff, dross, repetitious bumph. But the other crucial ingredient is the idea of the archive as a process, something that takes place by virtue of the activities of compilation, preservation, juxtaposition, accumulation and so forth, that actually make archival space—at least potentially—active and dynamic. It's the archive as a dynamic process that combines heterogeneous timescales, scrambles origins and mashes up elements from different horizons. That is what is exciting to us today…So, to think of a city as an archive is to think in terms of dynamic process, restless motion, multiple chronologies and levels of meaning." Approaching the urban landscape in this way is fertile terrain for collage artists who seek to incorporate a sense of place into their practice.
During this Lab, artists will tour New Orleans with an artist lens and develop strategies for drawing from the city material for their art making. Morning presentations will be followed by afternoons of collage making. Artists will explore working big by collaborating on a large-scale three-dimensional collage sculpture that will debut at Kolaj Fest New Orleans, 7-11 June 2023. After the Lab, artists will be invited to submit 3-5 collages and a statement for inclusion in a book of collage about New Orleans that will be published by Kolaj Institute in 2023.
The goal of the New Orleans Collage Artist Lab is to equip artists with tools and strategies for picking up the unfinished work of history and speak to contemporary civic discourse around social, economic, and environmental issues. Through interactive sessions, collections research, and collaborative collage making, artists will explore their process and practice; present a slideshow of their work; receive supportive, critical, curatorial feedback about their ideas; and discuss contemporary issues. The Lab will speak to issues of appropriation, copyright, and fair use and explore how the artist's choice and understanding of material shapes the narrative of the artwork. Artists will leave the Lab with a new perspective on their art practice.
New Orleans Collage Artist Lab is intended for self-motivated artists, regardless of the stage in their career, who want to develop a practice of working with archives, place, and history and speak to their community about contemporary issues.
MEETING DATES & TIMES
Wednesday, November 2nd, 4-6PM CDT (virtual)
Saturday, November 5th, 2-4PM CDT (virtual)
Wednesday, November 9th, 11AM-4PM CST
Thursday, November 10th, 10AM-4PM CST
Friday, November 11th, 10AM-4PM CST
Saturday, November 12th, 10AM-4PM CST
Sunday, November 13th, 10AM-Noon CST
CURRICULUM
BEFORE THE LAB
Artists will participate in two virtual sessions and engage with materials in the City Archives & Special Collections of the New Orleans Public Library. Artists will work through preparatory modules and be asked to prepare and submit a 5-7 minute slide presentation of their art practice prior to arrival.
DURING THE LAB
Artists will meet virtually for two sessions prior to meeting in person.
Each day will start at 10AM with a gathering of participants and facilitators where we will review and discuss the work for the day. On Wednesday, artists will meet at the historic Milton H. Latter Memorial Library for a public presentation of City as Archive that will be followed with a journey on the St. Charles Streetcar to the French Quarter. On Wednesday afternoon, artists will explore the Quarter and The Historic New Orleans Collection. Thursday through Saturday, artists will meet at Cafe Istanbul in the morning for presentations and then collage making in the afternoon. Each day's programs will end at 4PM. On Sunday, artists will meet at Cafe Du Monde in City Park and make their way to the New Orleans Art Museum for a brief tour.
AFTER THE LAB
Artists will leave the Lab with a network of peer support and a new perspective on their art practice. The large-scale three-dimensional collage sculpture will debut at Kolaj Fest New Orleans, June 7-11, 2023. Artists will be invited to submit 3-5 collages and a statement for inclusion in a book of collage about New Orleans that will be published by Kolaj Institute in 2023.
COST
Artists are responsible for their own travel, accommodations, and meals. The cost of Collage Artist Lab is $750, however no artist will be turned away for lack of funds and the organizers will work with artists to build a financial aid package.
HOW TO APPLY
Submit your application HERE.
APPLICATION PROCESS
The submission process will ask you for: Contact information; Artist Bio (50-250 words); Artist Statement (50-300 words); 5-7 images of artwork; a statement of expectations; and ask you some questions about your work and needs.
QUESTIONS
If you have questions, send an email HERE.
Deadline: Rolling with no applications accepted after 30 September 2022
Notification: Final notifications no later than 3 October 2022.
---
GUEST ARTISTS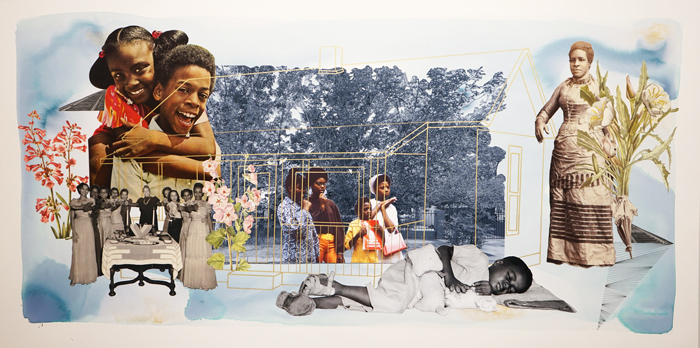 Jeanna Penn
Jeanna Penn will speak about her experience using archives in New Mexico and Vermont to make collage work that brings into view untold stories, lesser appreciated histories, and absences in the archive.
Jeanna Penn is a contemporary artist who lives and works between Oakland and Los Angeles, California. She has been creating art for over twenty-five years in various forms including mixed media collage, soft sculpture, photography, zines and documentary film. Much of Jeanna's work is centered around recontextualizing found imagery and documenting material histories. She received her BA in African American Studies from Morgan State University and continued graduate work in African History at Howard University and Historical Documentary Filmmaking at George Washington University. Jeanna's work has been shown at the Arts Guild of Sonoma; The Art Cave in Santa Cruz; The Barrett Art Center; Eyelevel Centre; Jennifer Perlmutter Gallery; Delaplaine Arts Center; Smith Gallery of Yale Divinity School; 516 Arts & the Henry Sheldon Museum. Her work has been featured in Create Magazine, Albuquerque Journal, Kolaj Magazine & Hyperallergic. In addition to several private collections, Jeanna's work is also a part of the San Francisco Museum of Modern Art's permanent collection. INSTAGRAM
Jill Stoll
Jill Stoll will speak about how she built an archive of "lost women" that she used to make the collage series, "Women Standing Alone". Stoll will also speak about how she uses mapping and collage with her students to develop a sense of place.
Jill Stoll's commitment to art and design has manifested in many creative adventures over the years, such as the time in her 20s when she designed window displays for Neiman Marcus and Bergdorf Goodman. Stoll holds a BFA from the University of North Texas and an MFA from Cranbrook Academy of Art. In addition to being an exhibiting artist, Stoll has been teaching for over 20 years, having snagged her first real teaching job in 1999 at The Dalton School in New York City and then in places as diverse as West Texas, Rome, and New Orleans in subjects ranging from architectural design to drawing, collage, and darkroom photography. She has exhibited her work in New York, New Orleans, Atlanta, San Francisco, Santa Monica, Pittsburgh, Sheboygan, and Melbourne, Australia. Stoll gathers what is lost and broken, be it (metaphorical) shards, sparks, husks or (physical) family snapshots, printed ephemera, hand held objects. She endeavors to repair and make them whole again in her New Orleans-based studio, where she navigates between control and release in her work. www.jillstoll.com

Nonney Oddlokken
Nonney Oddlokken's artwork draws on a rich history of Louisiana folklore to create a visual language of place. She writes, "My work, always symbolic and allegorical fables, combines the indigenous flora and fauna of Southern Louisiana as well as physical elements such as above ground cemeteries and tombs. I also push and pull on Cajun and Voodoo folktale characters such as Feu Follet, Loup Garou, and Voodoo Queens."
Native New Orleanian who makes her home in St. Rose, Louisiana, Nonney Oddlokken holds a BFA from Strykejernet Fine Arts Academy in Oslo, Norway with continuing studies in Women's Studies at the University of New Orleans. She has also spent much time researching, traveling, taking classes and studying paintings at major art museums in the United States and Europe. She started an Arts Enrichment Program at Harahan Elementary School and taught art at Hahnville High School. She also served as the guest lecturer for the St. Charles Parish School Board Arts Program in 2015. Her work was featured in "Revolutionary Paths: Critical Issues in Collage" at Antenna Gallery in July 2018 and the subsequent catalog. She has been a member of the Baton Rouge Gallery since 2017 and her artworks have been exhibited throughout Louisiana, the Gulf Coast, and including the New Orleans Jazz and Heritage Festival and in the permanent collection of the Southern Ohio Museum of Art. 2021, She had a one-woman show at the Cornell Art Museum. In 2022, her collage, Magic in the Bayou Athenaeum, was selected for the 2022 Louisiana Book Festival poster and was added to the collection of the Louisiana State Library. 2023, she is scheduled for her solo show at the Pensacola Museum of Art. www.threadpaperglue.com
---
FACULTY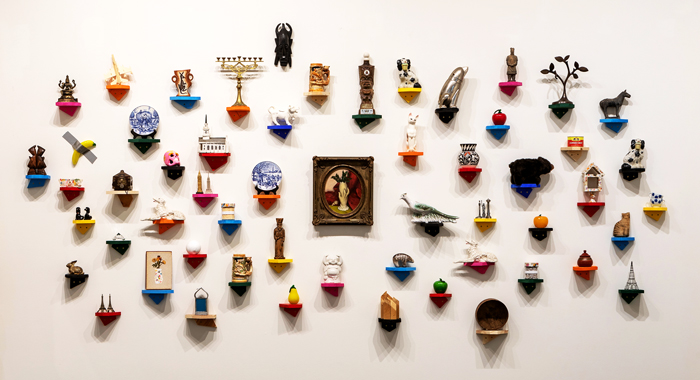 Ric Kasini Kadour
Ric Kasini Kadour, a 2021 Andy Warhol Foundation for the Arts Curatorial Fellow, is a writer, artist, publisher, and cultural worker. Working with the Vermont Arts Council, Kadour curated four exhibits: "Connection: The Art of Coming Together" (2017) and Vermont Artists to Watch 2018, 2019 and 2020. In 2017, he curated "The Art of Winter" at S.P.A.C.E. Gallery in Burlington, Vermont. In 2018, Kadour curated "Revolutionary Paths: Critical Issues in Collage" at Antenna Gallery in New Orleans, which bought together collage artists whose work represents the potential for deeper inquiry and further curatorial exploration of the medium; followed in 2019 by "Cultural Deconstructions: Critical Issues in Collage" at LeMieux Galleries in New Orleans, which furthered the conversation. Since 2018, he has produced Kolaj Fest New Orleans, a multi-day festival & symposium about contemporary collage and its role in art, culture, and society. As Curator of Contemporary Art at Rokeby Museum in Ferrisburgh, Vermont in 2019 and 2020, he curated three exhibitions, "Rokeby Through the Lens" (May 19-June 16, 2019), "Structures" (August 24-October 27, 2019), and "Mending Fences: New Works by Carol MacDonald" (July 12-October 25, 2020). He also curated "Contemporary American Regionalism: Vermont Perspectives" (August 17-October 20, 2019); "Where the Sun Casts No Shadow: Postcards from the Creative Crossroads of Quito, Ecuador" (November 1-30, 2019); and "Many Americas: Art Meets History" (August 20-November 27, 2022) in the Wilson Museum & Galleries at the Southern Vermont Arts Center. "The Money $how", co-curated with Frank Juarez, was presented at the AIR Space Gallery at Saint Kate-The Arts Hotel in Milwaukee, Wisconsin (April 10-September 12, 2021). For Birr Vintage Week & Arts Festival in Birr, County Offaly, Ireland (August 13-20, 2021), he curated "Empty Columns Are a Place to Dream", which traveled to the Knoxville Museum of Art in January-February 2022. At 516 ARTS in Albuquerque, New Mexico, Kadour co-curated with Alicia Inez Guzmàn two exhibitions: "Many Worlds Are Born" (February 19-May 14, 2022) and "Technologies of the Spirit" (June 11-September 3, 2022). Kadour also curated "Artists in the Archives" at the Henry Sheldon Museum of Vermont History in Middlebury, Vermont (September 2, 2022-January 7, 2023) and "Mythical Landscapes: Secrets of the Vale" at MERZ Gallery in Sanquhar, Scotland (September 2022) and the Knoxville Museum of Art (March 2023). Kadour is the editor and publisher of Kolaj Magazine. He has written for a number of galleries and his writing has appeared in Hyperallergic, OEI, Vermont Magazine, Seven Days, Seattle Weekly, Art New England (where he was the former Vermont editor) and many others. Kadour maintains an active art practice and his photography, collage, and sculpture have been exhibited in and are part of private collections in Australia, Europe and North America. In January-February 2020, he was artist-in-residence at MERZ Gallery in Sanquhar, Scotland. He holds a BA in Comparative Religion from the University of Vermont. Kadour splits his time between Montreal and New Orleans. www.rickasinikadour.com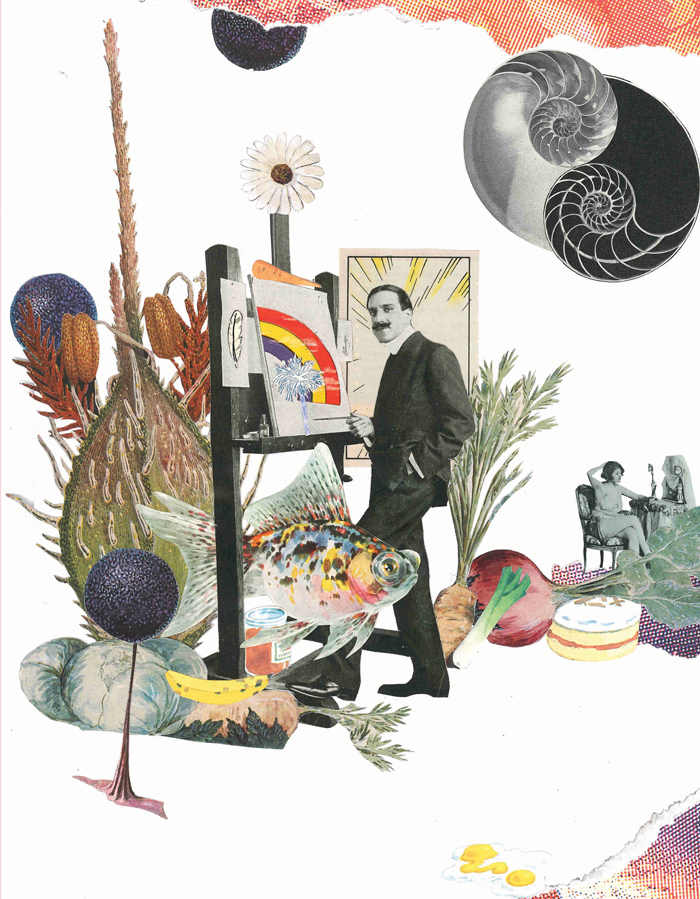 Christopher Kurts
Christopher Kurts is a storyteller, artist, and the Coordinator for Kolaj Institute. Kurts is also the co-founder and lead organizer of The Mystic Krewe of Scissors and Glue, a group of creatives in New Orleans who meet monthly to collage, converse and foster community. His work appeared in "The Heart of a Dark Universe" at Bar Redux and in "Unfamiliar Vegetables", a group show and book Kurts helped organize for Kolaj Fest New Orleans at Artisan Bar & Cafe in Summer 2019. In the fall of 2019, Kurts curated "The Lifting of the Veil: The Optimist's Apocalypse", a group show. He was the art director for the collage illustrated edition of Oh, Money! Money! by Eleanor H. Porter, published by Kolaj Institute and Maison Kasini in 2021. His art also appeared in the exhibition and book, "Empty Columns Are a Place to Dream", which was shown at the 2021 Birr Vintage Week & Arts Festival in Ireland before traveling to the Knoxville Museum of Art in Tennessee in January-February 2022 and MERZ Gallery in Sanquhar, Scotland in May 2022, as well as the exhibition and book, "Artists in the Archive" (September 2, 2022-January 7, 2023), at the Henry Sheldon Museum of Vermont History in Middlebury, Vermont. His work was also featured in issue #4 of Loner Magazine. christopherkurts.com