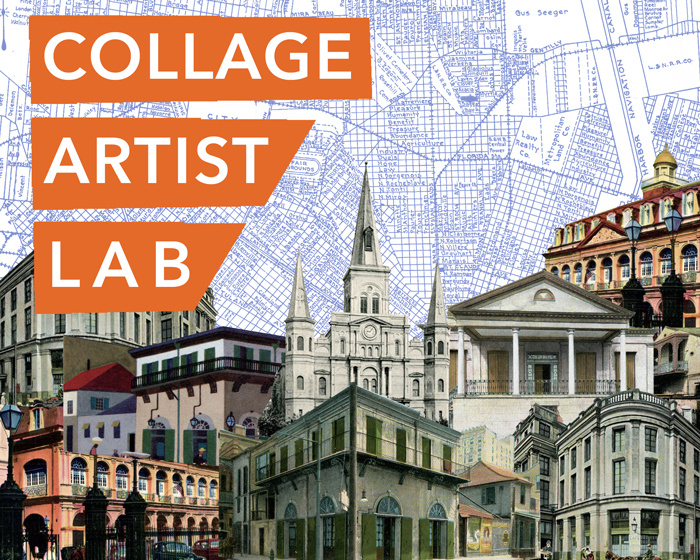 COLLAGE ARTIST LAB
New Orleans Collage Artist Lab: City as Archive
Kolaj Institute is pleased to announce the eight artists selected to participate in the New Orleans Collage Artist Lab: City as Archive, November 2022
Public Talk:
The City as Archive by Ric Kasini Kadour
at the Milton H. Latter Memorial Library
5120 Saint Charles Avenue, New Orleans, Louisiana 70115
11AM-Noon, Wednesday, 9 November 2022
Free and open to everyone
New Orleans Collage Artist Lab: City as Archive is a five-day intensive of workshops, discussions, and collage making designed to foster the integration of history and place into a collage artist's practice.
The Lab takes as its premise that the urban landscape can be viewed as a sort of archive with which artists can draw from, not unlike a material archive maintained by an institution. Literary critic Michael Sheringham spoke about the city as archive in a 2016 interview. "Many archives combine all sorts of matter; some of it vitally important and a lot of it just stuff, dross, repetitious bumph. But the other crucial ingredient is the idea of the archive as a process, something that takes place by virtue of the activities of compilation, preservation, juxtaposition, accumulation and so forth, that actually make archival space—at least potentially—active and dynamic. It's the archive as a dynamic process that combines heterogeneous timescales, scrambles origins and mashes up elements from different horizons. That is what is exciting to us today…So, to think of a city as an archive is to think in terms of dynamic process, restless motion, multiple chronologies and levels of meaning." Approaching the urban landscape in this way is fertile terrain for collage artists who seek to incorporate a sense of place into their practice.
During this Lab, artists will tour New Orleans with an artist lens and develop strategies for drawing from the city material for their art making. Morning presentations will be followed by afternoons of collage making. Artists will explore working big by collaborating on a large-scale three-dimensional collage sculpture that will debut at Kolaj Fest New Orleans, 7-11 June 2023. After the Lab, artists will be invited to submit 3-5 collages and a statement for inclusion in a book of collage about New Orleans that will be published by Kolaj Institute in 2023.
The goal of the New Orleans Collage Artist Lab is to equip artists with tools and strategies for picking up the unfinished work of history and speak to contemporary civic discourse around social, economic, and environmental issues. Through interactive sessions, collections research, and collaborative collage making, artists will explore their process and practice; present a slideshow of their work; receive supportive, critical, curatorial feedback about their ideas; and discuss contemporary issues. The Lab will speak to issues of appropriation, copyright, and fair use and explore how the artist's choice and understanding of material shapes the narrative of the artwork. Artists will leave the Lab with a new perspective on their art practice.
---
PARTICIPATING ARTISTS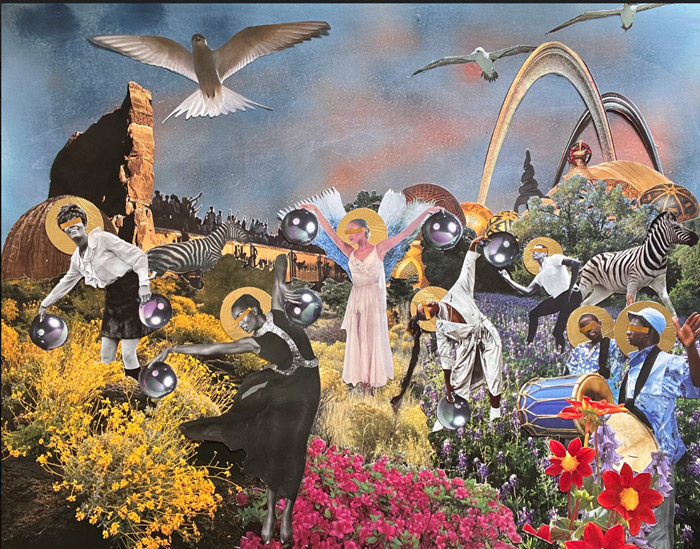 Aisha Shillingford is an anti-disciplinary artist, designer and cultural strategist originally from Trinidad and Tobago, living in Brooklyn, New York. The daughter of an economist/professor and artist/actress mother, and growing up in the theater and carnival spaces of Trinidad, she worked in the fields of community organizing and social movement building for 20 years before realizing that art-making was missing from her life. Initially a self taught collage artist, Aisha has taken classes in Assemblages, Print Making and Contemporary Collage. She has also studied graphic design. She is currently the Artistic Director of Intelligent Mischief, a creative studio unleashing Black imagination to shape the future. She has been artist-in-residence at Boston University Art Galleries during the group show "Occupancies" curated by Lynne Cooney, and an alumni of the Laundromat Project Create Change Fellowship. She has also been Artist in Residence at The Black Mecca Project Petit Marronage residency and at BLKSPACE on Ryder Farm. Her art has been shown at Bette Ono Gallery in Oakland, California, and at Who Owns Black Art by Zeal Coop during 2019's Miami Art Week. Her work has been commissioned by the Movement For Black Lives and Root Rise Pollinate, Creative Wildfire and licensed for the Nonprofit Quarterly and Black Discourse. Aisha also creates immersive experiences and installation art.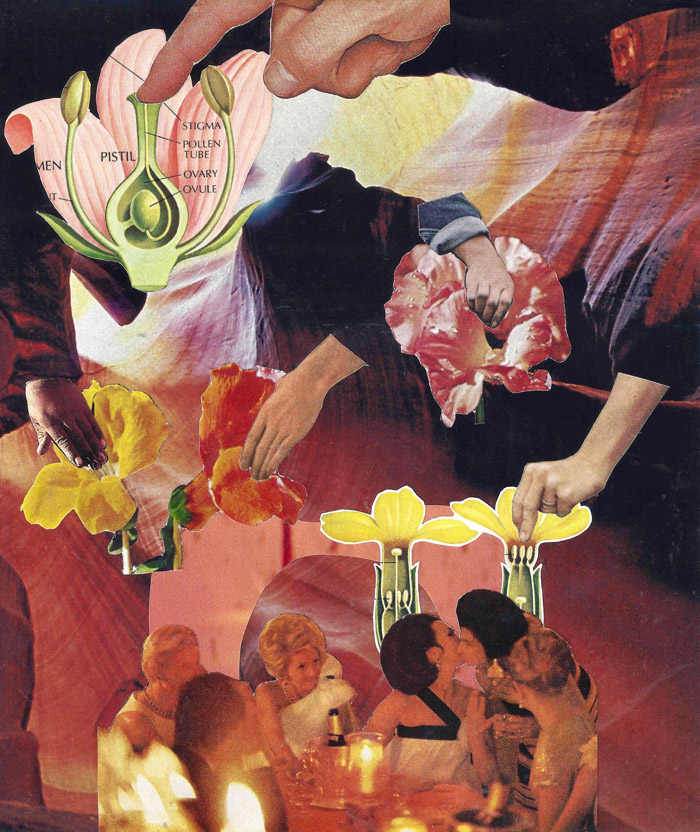 Grace Dunbar (she/her) is a queer woman born and raised in Portland, Oregon on Chinook land. Throughout her life, she has dabbled in a range of mediums including film photography, sculpture, painting, video and printmaking, though recently she has primarily been working with collage. She received a BA in Studio Art from Whitman College in 2019, where her primary focuses were digital art and 3-D installation. Her work has been featured in various publications, including a zine titled 11-09-2016 and volumes 30, 31 and 32 of Blue Moon Art & Literary Magazine, with one of her pieces used as the publication's cover art in 2019. In 2019 she was also a staff illustrator for Quarterlife Art & Literary Magazine, and was commissioned to design and screenprint t-shirts for her college's immigrant rights club. In the fall of 2018, a 3'x4' block print she made was featured in the annual Dia de los Muertos Festival in Walla Walla, Washington. At that time she was also part of a two-person show titled "Cheeky", with pieces varying from intaglio print to plaster castings. Two of her pieces were nominated to be included in her college's Student Art Salon Juried Exhibitions in 2018 and 2019. In 2019, a video piece she created with another art major was screened at an exhibition titled "Life Raft" at the Sheehan Gallery. As part of the art major's senior seminar, she participated in three group gallery shows and critiques culminating in our final thesis show. Her thesis project Flesh Altar transformed a room of the gallery into a surreal bathroom of sorts, with three different videos projected onto a bathtub, vanity mirror, and torso cast, and twenty-one resin-cast vibrators lining the walls. In the summer of 2019, she exhibited a collection of the aforementioned resin sculptures at Fulton Street Collective in a show called "Queer Chicago". In the summer of 2022, she attended a risograph workshop at a local printmaking studio and has since begun incorporating risograph into her art practice.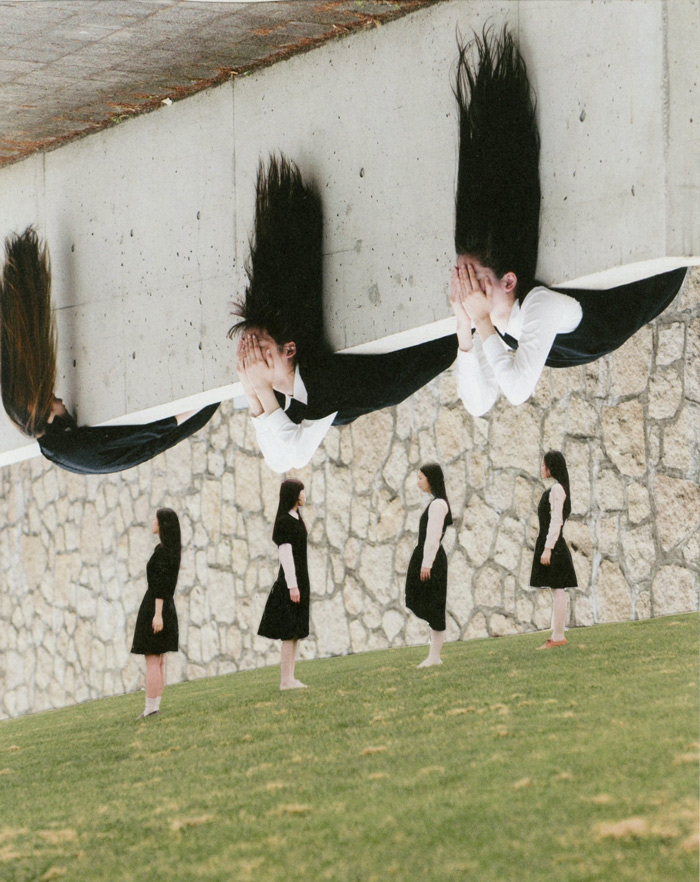 Nadia McKinney is a Haitian-American, non-binary, mixed media artist in Brooklyn, New York. Nadia (a.k.a scoops) works primarily with analog collage, ceramics and song writing. Much of Nadia's work focuses on the intersection between groundedness and the amorphous during the healing journey. Nadia received their BA from Cornell University and their Masters in Social Work from Hunter Silberman School of Social Work. Nadia's collage work will be featured in Firebrand's nearfuturism anthology art book Time and Its Travelers and their songwriting has been featured in the short films The Colored Hospital and Dreams by Terrance Daye and Brandon Hugo. Their collages are inspired by the occult, Afrofuturism, dreamscapes and the basic elemental structures of earth and water to display our inner faculties to flow and ground ourselves. Nadia's work examines how the transience of self is rooted in the constant state of change.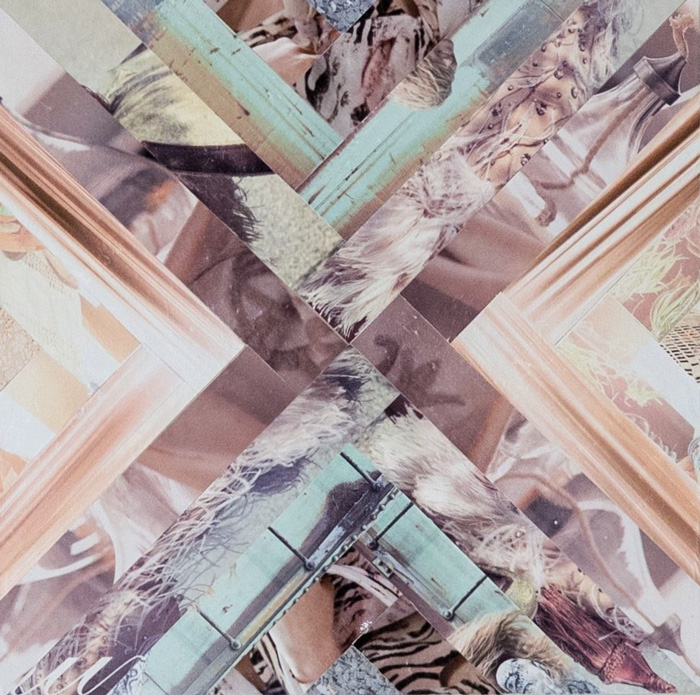 Patricia Doucet was born in Shawinigan, Quebec. After high school, she began studying interior design in 2005, then moved to Montreal in 2008 to work in the field. It was then that she fell in love with the diversity, culture and artistic milieu of the metropolis. Over the years, art has taken up more and more space in her life. Her curiosity and her desire to create lead her to experiment with different types of art. She was first interested in observational drawing, then in painting, before making paper her favorite medium and thanks to it developing a style of her own. Patricia began to present her works to the public in 2016 and a first opportunity to exhibit in a gallery presented itself to her in the spring of 2017, which then led her to participate in various events in the United States, including the Red Dot Art Fair as part of Miami Art Week.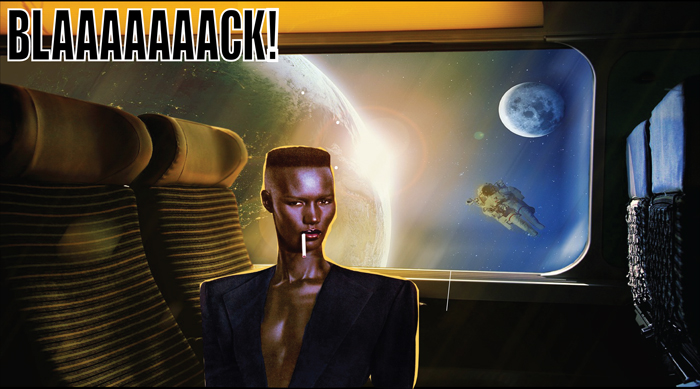 S. Erin Batiste is an interdisciplinary poet and author of the chapbook, Glory to All Fleeting Things. She is a 2022 PEN Emerging Voices Fellow, Toi Derricotte Fellow +Resident at UCROSS, Tin House Debut 40 Writer in Residence, and SWWIM Writer in Residence. Additionally, she has received fellowships and generous support from Cave Canem, PERIPLUS, Bread Loaf Writers' Conference, Rona Jaffe Foundation, Poets & Writers +Reese's Book Club's The Readership, Barbara Deming Memorial Fund, The Jerome Foundation, Assets for Artists +MASS MoCA, Crosstown Arts, and Callaloo. Batiste is a reader for The Rumpus and her own Pushcart, Best New Poets, and Best of the Net nominated work has exhibited in New York, and is anthologized and appears internationally in Interim, Meridians, Michigan Quarterly Review, and wildness among other decorated journals.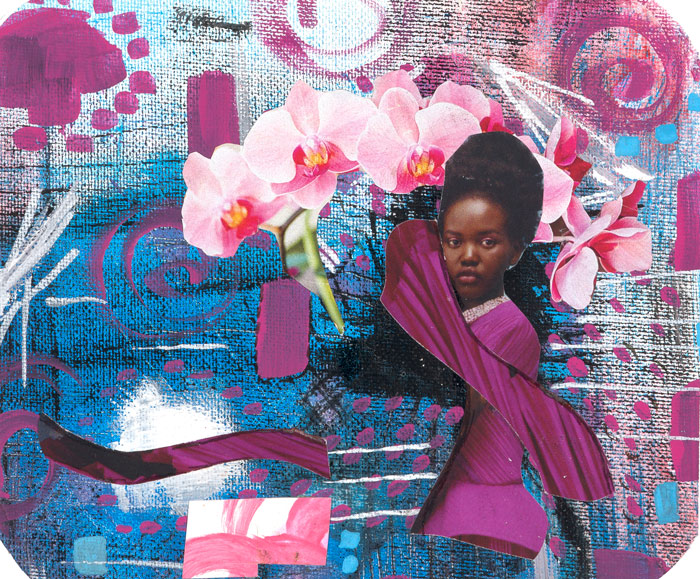 Miami native Shavawn Simmons makes Georgia her home. It is the perfect location for her approach to organic content creation in the world of mixed media collage. For Shavawn, being in a Southern state with so much history, it lends itself to her constant awareness of Black people in America. Simmons is a self-taught artist who began in 2011 combining vintage papers and epherma as a hobby during her summers off from teaching high school English classes. Simmons has developed her colorful portfolio of work under the guidance of a Master Class in 2020-2021 with Kelly Schaub of Collage-Lab. Simmons has also shown work in her first to date through the Arts Clayton Gallery and B'Mari Art Gallery in Jonesboro, Georgia as well as a second show for Ming Joi's Graduation in Atlanta, Georgia.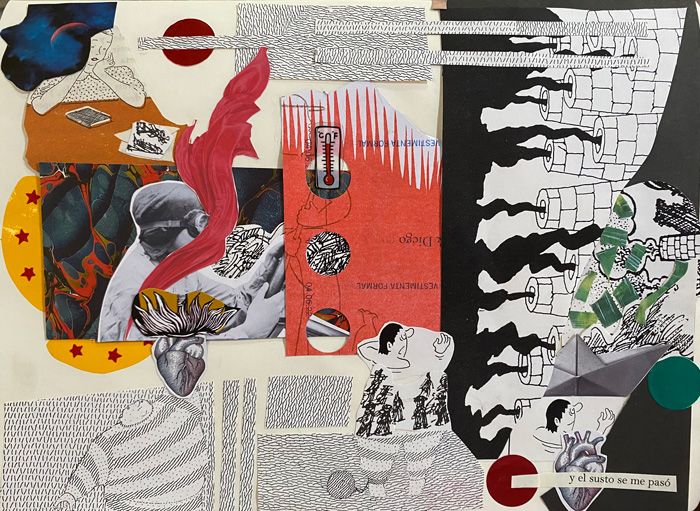 Yanira Matienzo is a Mexican social entrepreneur who is convinced that art's benefits, chaos, and serendipity bring new possibilities to our personal and social transformation. Fortune smiled at her because she can work in art & education and find solace, renewal, and comfort in her amateur art practice of poetry and collage. Her creative endeavors are wide and varied, like her profile. She considers herself a generalist because after studying pedagogy and project management, she embarked on different fields: research, innovation, educational robotics, eCommerce, creativity, futures design, strategic design, experience design, branding, communications, skills development, and art thinking. For the last five years, she summarizes her experience in one word: possibilities. Being an entrepreneur is not an easy task. What keeps her going when nothing is more evident or failure happens is that there is always a possibility and hope. We have the right to new chances. It's more about living the process and letting life surprise you with the outcome. You can learn more about Yanira HERE.
---
GUEST ARTISTS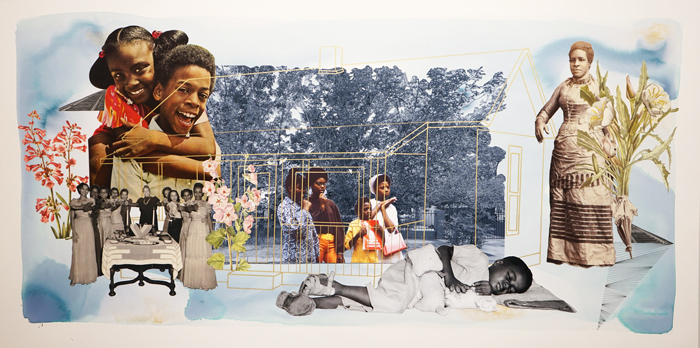 Jeanna Penn
Jeanna Penn will speak about her experience using archives in New Mexico and Vermont to make collage work that brings into view untold stories, lesser appreciated histories, and absences in the archive.
Jeanna Penn is a contemporary artist who lives and works between Oakland and Los Angeles, California. She has been creating art for over twenty-five years in various forms including mixed media collage, soft sculpture, photography, zines and documentary film. Much of Jeanna's work is centered around recontextualizing found imagery and documenting material histories. She received her BA in African American Studies from Morgan State University and continued graduate work in African History at Howard University and Historical Documentary Filmmaking at George Washington University. Jeanna's work has been shown at the Arts Guild of Sonoma; The Art Cave in Santa Cruz; The Barrett Art Center; Eyelevel Centre; Jennifer Perlmutter Gallery; Delaplaine Arts Center; Smith Gallery of Yale Divinity School; 516 Arts & the Henry Sheldon Museum. Her work has been featured in Create Magazine, Albuquerque Journal, Kolaj Magazine & Hyperallergic. In addition to several private collections, Jeanna's work is also a part of the San Francisco Museum of Modern Art's permanent collection. INSTAGRAM
Jill Stoll
Jill Stoll will speak about how she built an archive of "lost women" that she used to make the collage series, "Women Standing Alone". Stoll will also speak about how she uses mapping and collage with her students to develop a sense of place.
Jill Stoll's commitment to art and design has manifested in many creative adventures over the years, such as the time in her 20s when she designed window displays for Neiman Marcus and Bergdorf Goodman. Stoll holds a BFA from the University of North Texas and an MFA from Cranbrook Academy of Art. In addition to being an exhibiting artist, Stoll has been teaching for over 20 years, having snagged her first real teaching job in 1999 at The Dalton School in New York City and then in places as diverse as West Texas, Rome, and New Orleans in subjects ranging from architectural design to drawing, collage, and darkroom photography. She has exhibited her work in New York, New Orleans, Atlanta, San Francisco, Santa Monica, Pittsburgh, Sheboygan, and Melbourne, Australia. Stoll gathers what is lost and broken, be it (metaphorical) shards, sparks, husks or (physical) family snapshots, printed ephemera, hand held objects. She endeavors to repair and make them whole again in her New Orleans-based studio, where she navigates between control and release in her work. www.jillstoll.com

Nonney Oddlokken
Nonney Oddlokken's artwork draws on a rich history of Louisiana folklore to create a visual language of place. She writes, "My work, always symbolic and allegorical fables, combines the indigenous flora and fauna of Southern Louisiana as well as physical elements such as above ground cemeteries and tombs. I also push and pull on Cajun and Voodoo folktale characters such as Feu Follet, Loup Garou, and Voodoo Queens."
Native New Orleanian who makes her home in St. Rose, Louisiana, Nonney Oddlokken holds a BFA from Strykejernet Fine Arts Academy in Oslo, Norway with continuing studies in Women's Studies at the University of New Orleans. She has also spent much time researching, traveling, taking classes and studying paintings at major art museums in the United States and Europe. She started an Arts Enrichment Program at Harahan Elementary School and taught art at Hahnville High School. She also served as the guest lecturer for the St. Charles Parish School Board Arts Program in 2015. Her work was featured in "Revolutionary Paths: Critical Issues in Collage" at Antenna Gallery in July 2018 and the subsequent catalog. She has been a member of the Baton Rouge Gallery since 2017 and her artworks have been exhibited throughout Louisiana, the Gulf Coast, and including the New Orleans Jazz and Heritage Festival and in the permanent collection of the Southern Ohio Museum of Art. 2021, She had a one-woman show at the Cornell Art Museum. In 2022, her collage, Magic in the Bayou Athenaeum, was selected for the 2022 Louisiana Book Festival poster and was added to the collection of the Louisiana State Library. 2023, she is scheduled for her solo show at the Pensacola Museum of Art. www.threadpaperglue.com
---
FACULTY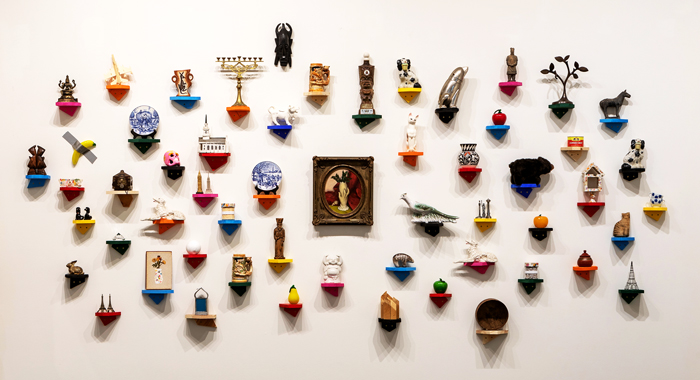 Ric Kasini Kadour
Ric Kasini Kadour, a 2021 Andy Warhol Foundation for the Arts Curatorial Fellow, is a writer, artist, publisher, and cultural worker. Working with the Vermont Arts Council, Kadour curated four exhibits: "Connection: The Art of Coming Together" (2017) and Vermont Artists to Watch 2018, 2019 and 2020. In 2017, he curated "The Art of Winter" at S.P.A.C.E. Gallery in Burlington, Vermont. In 2018, Kadour curated "Revolutionary Paths: Critical Issues in Collage" at Antenna Gallery in New Orleans, which bought together collage artists whose work represents the potential for deeper inquiry and further curatorial exploration of the medium; followed in 2019 by "Cultural Deconstructions: Critical Issues in Collage" at LeMieux Galleries in New Orleans, which furthered the conversation. Since 2018, he has produced Kolaj Fest New Orleans, a multi-day festival & symposium about contemporary collage and its role in art, culture, and society. As Curator of Contemporary Art at Rokeby Museum in Ferrisburgh, Vermont in 2019 and 2020, he curated three exhibitions, "Rokeby Through the Lens" (May 19-June 16, 2019), "Structures" (August 24-October 27, 2019), and "Mending Fences: New Works by Carol MacDonald" (July 12-October 25, 2020). He also curated "Contemporary American Regionalism: Vermont Perspectives" (August 17-October 20, 2019); "Where the Sun Casts No Shadow: Postcards from the Creative Crossroads of Quito, Ecuador" (November 1-30, 2019); and "Many Americas: Art Meets History" (August 20-November 27, 2022) in the Wilson Museum & Galleries at the Southern Vermont Arts Center. "The Money $how", co-curated with Frank Juarez, was presented at the AIR Space Gallery at Saint Kate-The Arts Hotel in Milwaukee, Wisconsin (April 10-September 12, 2021). For Birr Vintage Week & Arts Festival in Birr, County Offaly, Ireland (August 13-20, 2021), he curated "Empty Columns Are a Place to Dream", which traveled to the Knoxville Museum of Art in January-February 2022. At 516 ARTS in Albuquerque, New Mexico, Kadour co-curated with Alicia Inez Guzmàn two exhibitions: "Many Worlds Are Born" (February 19-May 14, 2022) and "Technologies of the Spirit" (June 11-September 3, 2022). Kadour also curated "Artists in the Archives" at the Henry Sheldon Museum of Vermont History in Middlebury, Vermont (September 2, 2022-January 7, 2023) and "Mythical Landscapes: Secrets of the Vale" at MERZ Gallery in Sanquhar, Scotland (September 2022) and the Knoxville Museum of Art (March 2023). Kadour is the editor and publisher of Kolaj Magazine. He has written for a number of galleries and his writing has appeared in Hyperallergic, OEI, Vermont Magazine, Seven Days, Seattle Weekly, Art New England (where he was the former Vermont editor) and many others. Kadour maintains an active art practice and his photography, collage, and sculpture have been exhibited in and are part of private collections in Australia, Europe and North America. In January-February 2020, he was artist-in-residence at MERZ Gallery in Sanquhar, Scotland. He holds a BA in Comparative Religion from the University of Vermont. Kadour splits his time between Montreal and New Orleans. www.rickasinikadour.com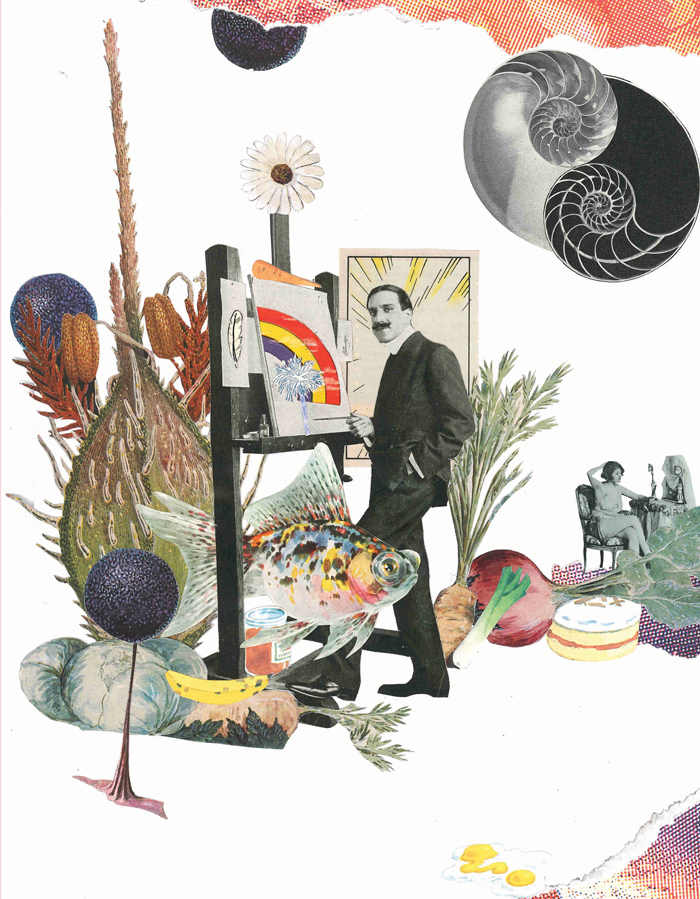 Christopher Kurts
Christopher Kurts is a storyteller, artist, and the Coordinator for Kolaj Institute. Kurts is also the co-founder and lead organizer of The Mystic Krewe of Scissors and Glue, a group of creatives in New Orleans who meet monthly to collage, converse and foster community. His work appeared in "The Heart of a Dark Universe" at Bar Redux and in "Unfamiliar Vegetables", a group show and book Kurts helped organize for Kolaj Fest New Orleans at Artisan Bar & Cafe in Summer 2019. In the fall of 2019, Kurts curated "The Lifting of the Veil: The Optimist's Apocalypse", a group show. He was the art director for the collage illustrated edition of Oh, Money! Money! by Eleanor H. Porter, published by Kolaj Institute and Maison Kasini in 2021. His art also appeared in the exhibition and book, "Empty Columns Are a Place to Dream", which was shown at the 2021 Birr Vintage Week & Arts Festival in Ireland before traveling to the Knoxville Museum of Art in Tennessee in January-February 2022 and MERZ Gallery in Sanquhar, Scotland in May 2022, as well as the exhibition and book, "Artists in the Archive" (September 2, 2022-January 7, 2023), at the Henry Sheldon Museum of Vermont History in Middlebury, Vermont. His work was also featured in issue #4 of Loner Magazine. christopherkurts.com