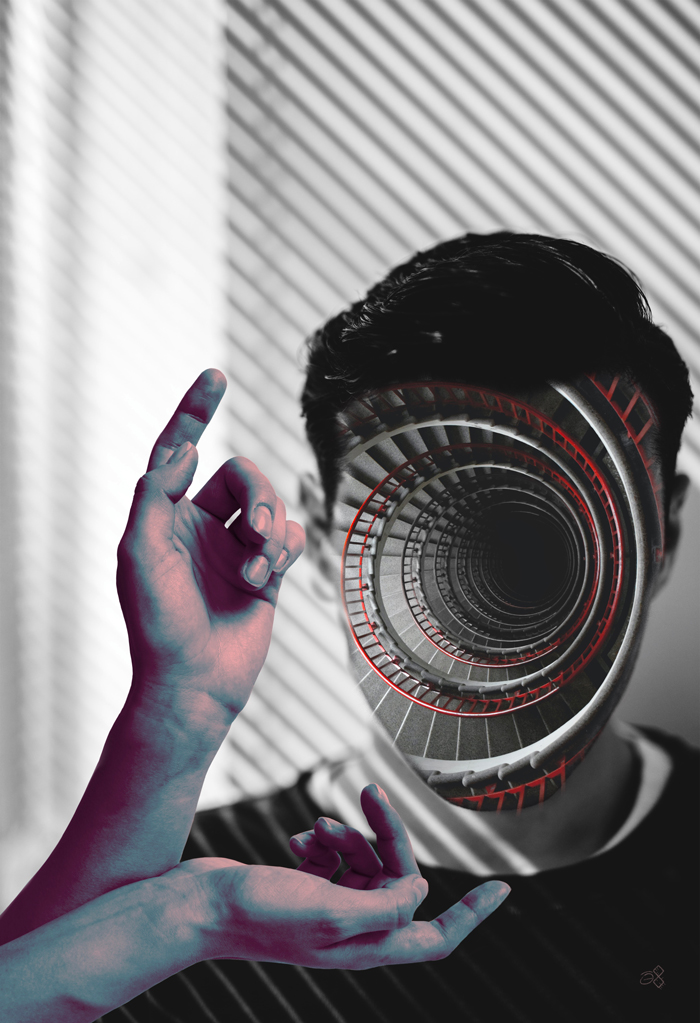 WORKSHOP REPORT
Jonny Garcia: Crystallized Feelings
Curator Celia Crane
Brazil-born Jonny Garcia was a member of a São Paulo street dance crew, a circus performer, a magician, and a hypnotist before moving to Toronto, Ontario in 2014. There, he became engrossed in the development of role-playing game scenarios designed to transport participants out of their normal realms of existence. But the move and its subsequent isolation had a major effect on Garcia, who struggled to adjust to being the proverbial stranger in a strange land. He set about to catalog this period of emotional turmoil, disconnection, and despair in a series of digital collage.
Garcia's collage practice began after an auspicious visit to the Tokyo Metropolitan Teien Art Museum, where he saw an exhibition of Toshiko Okanoue's Surrealist photo collage. Okanoue's bizarre and unsettling sepia tone arrangements shattered his preconceived notion of the medium. "By combining his own extensive investigations into psychoanalysis and hypnosis with a flair for nonverbal artistic expression, we see the spirit of André Breton's ideology ride again in Jonny Garcia's dreamlike oeuvre, where symbolic representation takes center stage," writes Curator Celia Crane. "Much like the German artist Max Ernst, whose detailed understanding of Freud's theories inspired the Surrealists to reach new levels of self-examination, Garcia's background in modern psychology assists him in searching for hidden truths through the medium of collage, eschewing rationality whilst undergoing a deliberate and aggressive process of self-exploration. In keeping with this premise, the artist has compared building a collage to entering into dialogue with himself."
"By exposing his deepest vulnerabilities, Garcia finds a voice in the darkness, transforming his trials into a shared sense of intimacy. Through the medium of collage, strangers become witnesses; and witnesses become comrades. They feel simultaneously wounded and inspired by the beauty of the artist's pain and join him in clinging to a certain hopeful skepticism for the future."
About the Artist
Originally from Brazil, Jonny Garcia is a self-taught collagist living in Toronto. He is a psychoanalyst and performance artist, including hypnosis and mime. Garcia's work was shown in "Impromptu IV" at the Cultural Center of Cape Cod, January-March 2020; the "Cut/Paste/Resist Pop-up Exhibition" at the University of New Brunswick Art Centre, September-December 2020; and is part of Schwitters' Army at MERZ Gallery in Sanquhar, Scotland. Garcia also has an Artist Spotlight at the Light Space & Time Online Gallery. Learn more at www.garciacollage.com.
About the Curator
In 2019, Celia Crane left an 18-year marketing career to focus on fiction writing and other creative pursuits. Collage soon became the primary interest and motivation in her life. During the isolation of the COVID-19 pandemic, she celebrated World Collage Day 2020 by converting an 8'x8′ garden shed into the Vayo Collage Gallery and held its first show, "Garden Within the Garden" in June 2020. Crane lives and works in Rochester, New York. Learn more by visiting her website www.celiacrane.com or Instagram @celia_crane and @vayocollagegallery.
About the Curating Collage Workshop
The Curating Collage Workshop was a four-week, virtual/online workshop held in Fall 2020 with the University of Vermont's Fleming Museum of Art. The Workshop trained the twenty-one participating artists as curators. The group explored the fundamentals of curating, how to create critical context for collage, and various strategies for presenting collage to an audience. They also investigated art writing; gallery and museum issues; documenting artist practice; and working with art professionals. Each artist curated a collage from the collection of the University of Vermont's Fleming Museum of Art. They also curated each other's work to produce a statement of practice, biography and critical context for a body of work, which was developed into a proposal for an exhibition or book. To learn about upcoming workshops from Kolaj Institute, sign-up to the mailing list.