COLLAGE ON VIEW
Mixed Messages: Poster Collages
at Sharon Weiss Gallery in Columbus, Ohio, USA
4-28 February 2021
About a year-and-a-half ago, Jeff Kallet was asked about making larger collages and he thought he'd give it a try. Almost all of his previous work in collage has been much smaller in scale, and he wasn't sure he could manage the step up to these poster-sized pieces. In some cases, he expanded upon tried-and-true concepts like pattern pieces. For those collages, it was a matter of stamina, taking the extra time to add and add until he had a critical mass that would fill the page, then laying the pieces out, arranging, and adhering them. In other cases, he was able to see new possibilities for how to present images that would have been either too large or necessarily truncated in a smaller scale format. That was exciting, and it even gave him ideas for a grander project, like a collage mural.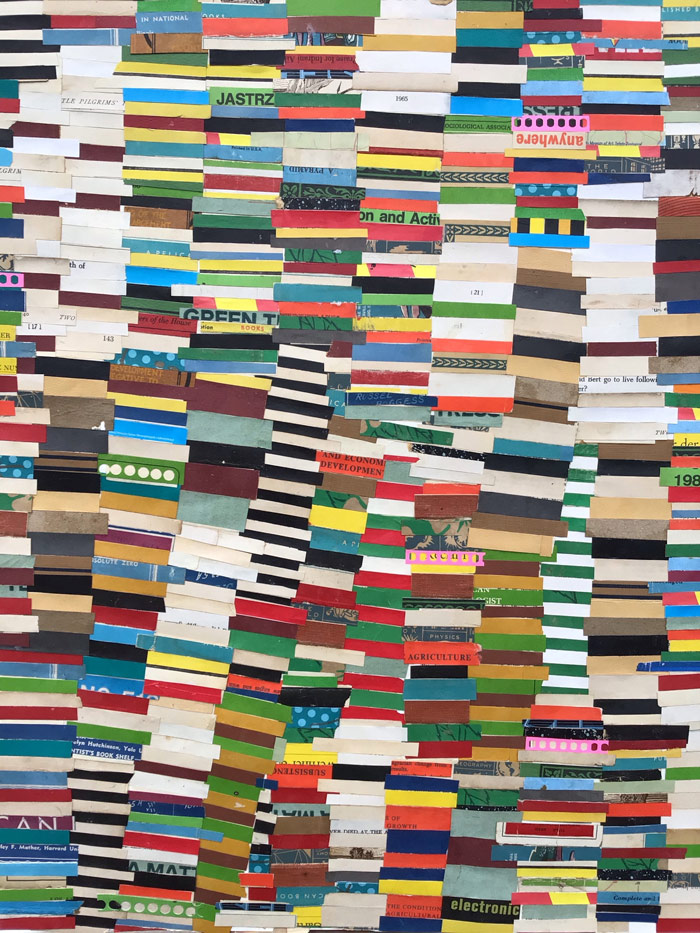 "Mixed Messages" refers to a mix of materials and the different kinds of collage approaches Kallet took while constructing them. Also, a few of the pieces include images of people whose presence, juxtaposed with other images, may appear to signal a message, however unclear, what that message might be.
Jeff Kallet is a collage artist in Athens, Ohio. Found papers, most of them old magazines, books, pamphlets, and other ephemera, are the materials he uses to create pieces. Abstract, narrative, expressionist, pop–the style depends upon the materials at hand and the inspiration of the moment.
(text adapted from the artist's press materials)
---
INFORMATION
Sharon Weiss Gallery
20 East Lincoln Street
Columbus, Ohio 43215 USA
(614) 291-5683
Hours:
Thursday, Noon-4PM
Friday and Saturday, Noon-5PM
Sunday, 1-4PM