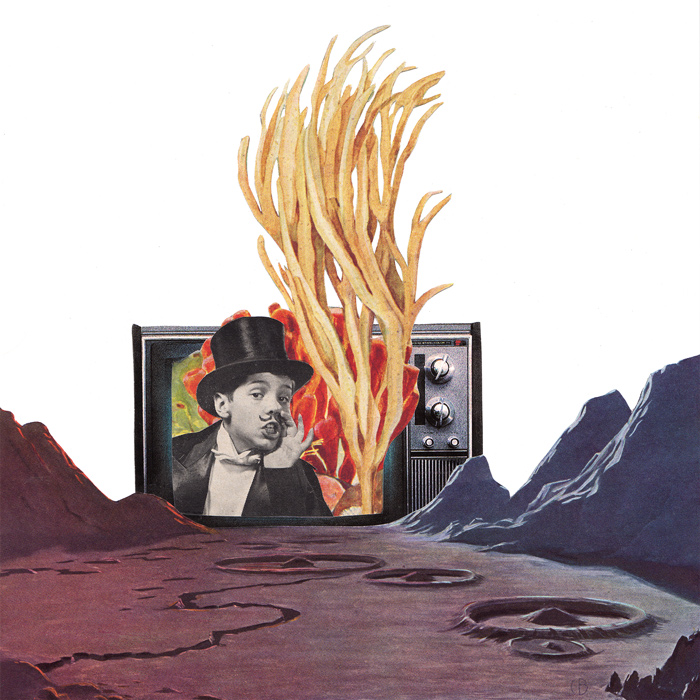 WORKSHOP REPORT
Games & Stories: Christopher Kurts
Curated by Jonny Garcia
Christopher Kurts pairs collage and short stories and presents to the viewer "a mythical place and describes its dwellers, their culture, animals, and the geography," writes curator Jonny Garcia. "The stories presented are myths and legends that populate our minds and invoke personal feelings." Planned as a book of thirty-four collages, the project is intended as a tool for role playing. Here, the reader is not a passive viewer but an active participant making their way through the "magical and foreign land" Kurts creates.
"We have been telling stories since the beginning of time. We bond with one another through our own personal stories allowing ourselves to create deep feelings of connection and belonging," writes Garcia. "Throughout this collage series, Kurts creates a reality that reinvents his own personal journey. Kurts' collages allow the audience to see themselves and relate to their own personal stories."
Once published, Kurts and Garcia have planned two activities to complement the book, narrative games that invite the audience to explore the collages in a different way. One activity adapts John Harper's space exploration game, Lasers & Feelings. Rather than traveling on an interstellar scout ship, players will tour Kurts' collage and engage with the places, animals, and people they find there. A second activity draws on Norweigian game designer Matthijs Holter's Orc in the Well. Players are invited to become an element in one of Kurts' collages and to share its story with the other players. This strategy allows the viewers "to explore their own personal realities while creating a connection to and deepen their engagement with Kurts' work."
About the Artist
Originally from Baltimore, Maryland, Christopher Kurts made altered books with odd bits of collected ephemera in high school. He spent two years at the Pennsylvania College of Art & Design in Lancaster, but disenchanted with art school, moved to New Orleans in 2008. Kurts is the co-founder and lead organizer of The Mystic Krewe of Scissors and Glue, a group of New Orleans creatives who meet monthly to collage, converse and foster community. Kurts is the Coordinator of Kolaj Institute in New Orleans. Learn more at www.christopherkurts.com.
About the Curator
Originally from Brazil, Jonny Garcia is a self-taught collagist living in Toronto. He is a psychoanalyst and performance artist, including hypnosis and mime. Garcia's work was shown in "Impromptu IV" at the Cultural Center of Cape Cod, January-March 2020; the "Cut/Paste/Resist Pop-up Exhibition" at the University of New Brunswick Art Centre, September-December 2020; and is part of Schwitters' Army at MERZ Gallery in Sanquhar, Scotland. Garcia also has an Artist Spotlight at the Light Space & Time Online Gallery. Learn more at www.garciacollage.com
About the Curating Collage Workshop
The Curating Collage Workshop was a four-week, virtual/online workshop held in Fall 2020 with the University of Vermont's Fleming Museum of Art. The Workshop trained the twenty-one participating artists as curators. The group explored the fundamentals of curating, how to create critical context for collage, and various strategies for presenting collage to an audience. They also investigated art writing; gallery and museum issues; documenting artist practice; and working with art professionals. Each artist curated a collage from the collection of the University of Vermont's Fleming Museum of Art. They also curated each other's work to produce a statement of practice, biography and critical context for a body of work, which was developed into a proposal for an exhibition or book. To learn about upcoming workshops from Kolaj Institute, sign-up to the mailing list.