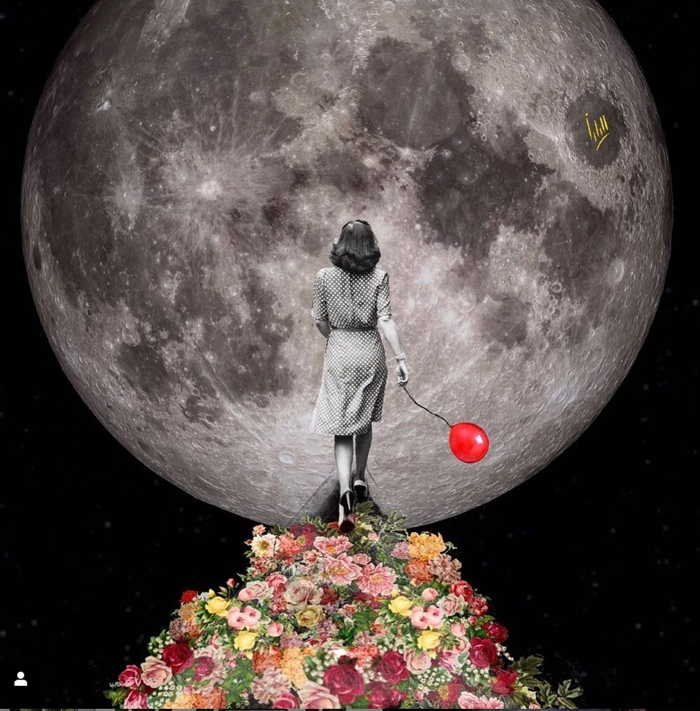 WORKSHOP REPORT
Beautiful Ruins: Elyana Shamselangeroodi and Mohammed Shams Langeroodi
Curated by Susan Reedy
Elyana Shamselangeroodi is a digital collage artist based in Tehran, Iran, where she spent most of her early childhood. She grew up in an artistic and activist household that helped form her world vision. Her father, Mohammed Shams Langeroodi, is a well-known contemporary Iranian poet, author, and researcher. Her mother, a sociologist, set an extraordinary example for Elyana of a vision of empowerment of women despite residing in a country that allows little power or freedom for women. Elyana pursued her higher education in the United States at Virginia Tech. Originally intent on studying law, she found herself drawn to urban planning, ultimately earning a degree in landscape architecture. It was during her time as a graduate student that she began using digital techniques, specifically Photoshop, for visualization. It was within this sphere of a visual arts language that Elyana discovered that she could express herself in ways that had purpose and power.
Mohammed Shams Langeroodi's poetry has been informed at various times by his political, ideological, and personal life. He has also said that "these poems came from the subconscious" and "happened accidentally", a reference that infers the influence of the Surrealists. His time as a political activist, and as someone who experienced life in Iran during the post-election protests of 2009, has also informed his work. In an interview from 2005 he spoke of the difference between the atmosphere of his "Fifty-Three Love Songs" and his previous poems. He stated that "in my previous books my world was a dark, closed, and sad world. I saw the world this way and I did not find any escape or escape in it," yet at a certain point, he "slowly entered the world of light" and with came a new perspective.
Curator Susan Reedy proposes an exhibition that pairs Elyana Shamselangeroodi's digital collage work on canvas with Mohammad Shams Langeroodi's poetry. With the COVID-19 pandemic raging, Elyana returned to Tehran. There, she created work whose sombre themes are informed by the current global crisis, such as the explosion in Beirut and the pandemic, as well as the human condition of loneliness,and disconnection. However, her imagery projects a sense of hope and optimism. As with the works of Dali and Magritte, Elyana forms imagery as in a dream-like state with unusual juxtaposition of forms. Elyana's worldview includes a deep sense of empathy concerning geo-politics, the environment, social justice, human psychological wellbeing and life itself. Her personal vision in her work seeks to create inclusive communities where, despite our differences, we can come together and have a collective human experience.
About the Artist
Iranian-American Elyana Shamselangeroodi is a self-taught digital collagist. Her work has been featured in sixteen group shows in the US and Iran since 2016 and in a 2019 solo show, "Do You See What I See?" at Ace Gallery in Tehran, Iran. The artist was profiled in an article for the Staunton (Virginia) News Leader in 2017. Shamselangeroodi currently lives and works in Tehran. Learn more at www.elyanashamselangeroodi.com.
About the Curator
Susan Reedy holds an MFA from SUNY Buffalo. She has worked as an adjunct college instructor and for SUNY Buffalo's Arts in Healthcare program, placed as an Artist in Residence at Women and Children's Hospital of Buffalo, New York. Reedy's work has been exhibited widely, including solo and two person exhibitions at OK Harris Gallery, Anna Kaplan Contemporary, Hewitt Gallery, Castellani Art Museum, and the Amherst Museum. Group exhibitions include Pierogi Gallery, Merz Gallery, Islip Art Museum, Albright Knox Art Gallery, and the Memorial Art Gallery. Permanent collections include the Castellani Art Museum, Memorial Art Gallery, Hyatt 48 Lex, Roswell Park Comprehensive Cancer Center, and Mobil Corporation. Her work was selected for inclusion in Louis Camnitzer's travelling project The Last Book, and Molly Sampson's public art project Post No Bills. Susan Reedy lives and works in upstate New York. Learn more at the Kolaj Magazine Artist Directory and at www.susanreedy.com.
About the Curating Collage Workshop
The Curating Collage Workshop was a four-week, virtual/online workshop held in Fall 2020 with the University of Vermont's Fleming Museum of Art. The Workshop trained the twenty-one participating artists as curators. The group explored the fundamentals of curating, how to create critical context for collage, and various strategies for presenting collage to an audience. They also investigated art writing; gallery and museum issues; documenting artist practice; and working with art professionals. Each artist curated a collage from the collection of the University of Vermont's Fleming Museum of Art. They also curated each other's work to produce a statement of practice, biography and critical context for a body of work, which was developed into a proposal for an exhibition or book. To learn about upcoming workshops from Kolaj Institute, sign-up to the mailing list.