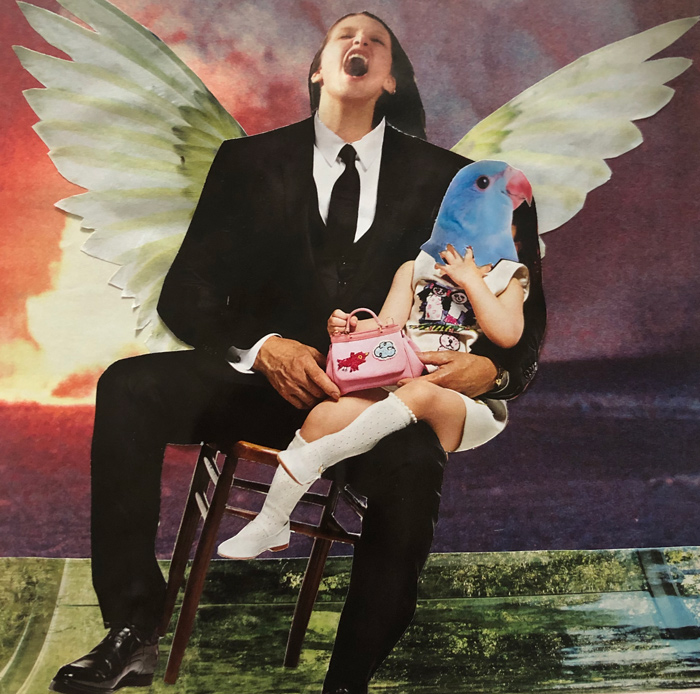 WORKSHOP REPORT
Re-membering Self: Madeleine Rhondeau-Rhodes
Curated by Michelle Concetta Parchini
Madeleine Rhondeau-Rhodes is a collage artist and painter from Charlottesville, Virginia whose work "offers an alternative narrative to the image of women in her work through her intuitive explorations of self and identity," writes Curator Michelle Concetta Parchini. "In doing so, she pushes back against the pictorial and historical tradition of Surrealism and dismantles the perception that a woman's body is a sexual object or a thing of nature. Rich in symbolism and dark thematic undertones, Rhondeau-Rhodes' work is deeply rooted in her own life experience, and heavily influenced by her memory, observations, and imagination." 
In "Re-membering Self", we experience the work of Rhondeau-Rhodes through the conceptual mode of the Wunderkammer. In sixteenth-century Europe, a Wunderkammer (a room of marvels) was used to exhibit a variety of natural and manmade objects and artifacts. The selection of curiosities it contained was used to tell a particular story about the world and our place in it, intimated through a network of concealed connections waiting to be uncovered. In this proposed exhibition, Rhondeau-Rhodes' collage and painting mingle with objets d'art, ephemera and symbolic artifacts–antlers, pomegranates, lambskin–to effect a spirit of mystery in the viewer.
Parchini situates Rhondeau-Rhodes' work as a contemporary presentation of Surrealism. "Her palette of neon tones and bright, acidic colors echos the poetic paintings of Neo Rauch (b.1960) who works figuratively, as well, and conjures dream worlds and brings to mind John Anster Fitzgerald (1819-1906), a Victorian painter who shares the same fascination with fairies as Madeleine does. The Surrealist painter Leonora Carrington (1917-2011) redefined female symbolism and imagery, but rejected the Surrealist ideal of woman as object and muse opting instead to explore confessional themes infused with magic and folklore. Like Carrington, Rhondeau-Rhodes confronts the feminine ideal in her art, but instead poses fashion models, some of which are hybrid-human-fairies, in enigmatic narratives dripping with symbolically feminine imagery. But the characters populating her moody, surreal scapes push back against the male gaze by infusing them with a range of conflicting emotions–they appear vacant, at times defiant, sometimes disinterested. They are subjects in their own narrative, multi-dimensional entities capable of independent action and don't cater to the patriarchal perspective of objectification. The subject-object split, which was one of the core tenets of Surrealism, has been achieved."
"Rhondeau-Rhodes taps into the malleable and magical realm of memory where images are alchemized by experience and emotion. She retraces her memories and investigates the moments of clarity that illuminate self. Strong compositional narratives rich in symbolism and dark thematic undertones lure us into surrealist worlds where themes of memory, fantasy, and identity are explored."  
About the Artist
Madeleine Rhondeau-Rhodes is a collage artist and painter based in Charlottesville, Virginia. She received Dual Degrees in Historic Preservation and Studio Art, with a minor in Urban Studies, from the University of Mary Washington. Madeleine's first solo show, "siren x silence" was presented at Second Street Gallery in Charlottesville in 2018. She was an artist-in-residence at the Maple Terrace Artist Residency Program in Brooklyn in 2019. This residency led to her abstract paintings being shown in three group shows at Paul Booth's Last Rites Gallery in Manhattan. Learn more at mrhondeau.com.
About the Curator
Michelle Concetta Parchini, aka /DRI:M/ARTZ, is an artist from the United States currently based in Saudi Arabia. Prone to escapism from an early age, she finds comfort in the one thing that grounds her to the Real, creating art and shaping her world to fulfill her aesthetic yearnings. Self-taught, her talents cover a broad spectrum of the Arts, but of late contemporary collage has come front and center, refueling her passion for the medium. Her analogue and digital collages as well as her mixed-media photography have been featured in gallery showings, art publications and collectives in the US and internationally. Learn more in the Kolaj Magazine Artist Directory and www.drimartz.com.
About the Curating Collage Workshop
The Curating Collage Workshop was a four-week, virtual/online workshop held in Fall 2020 with the University of Vermont's Fleming Museum of Art. The Workshop trained the twenty-one participating artists as curators. The group explored the fundamentals of curating, how to create critical context for collage, and various strategies for presenting collage to an audience. They also investigated art writing; gallery and museum issues; documenting artist practice; and working with art professionals. Each artist curated a collage from the collection of the University of Vermont's Fleming Museum of Art. They also curated each other's work to produce a statement of practice, biography and critical context for a body of work, which was developed into a proposal for an exhibition or book. To learn about upcoming workshops from Kolaj Institute, sign-up to the mailing list.